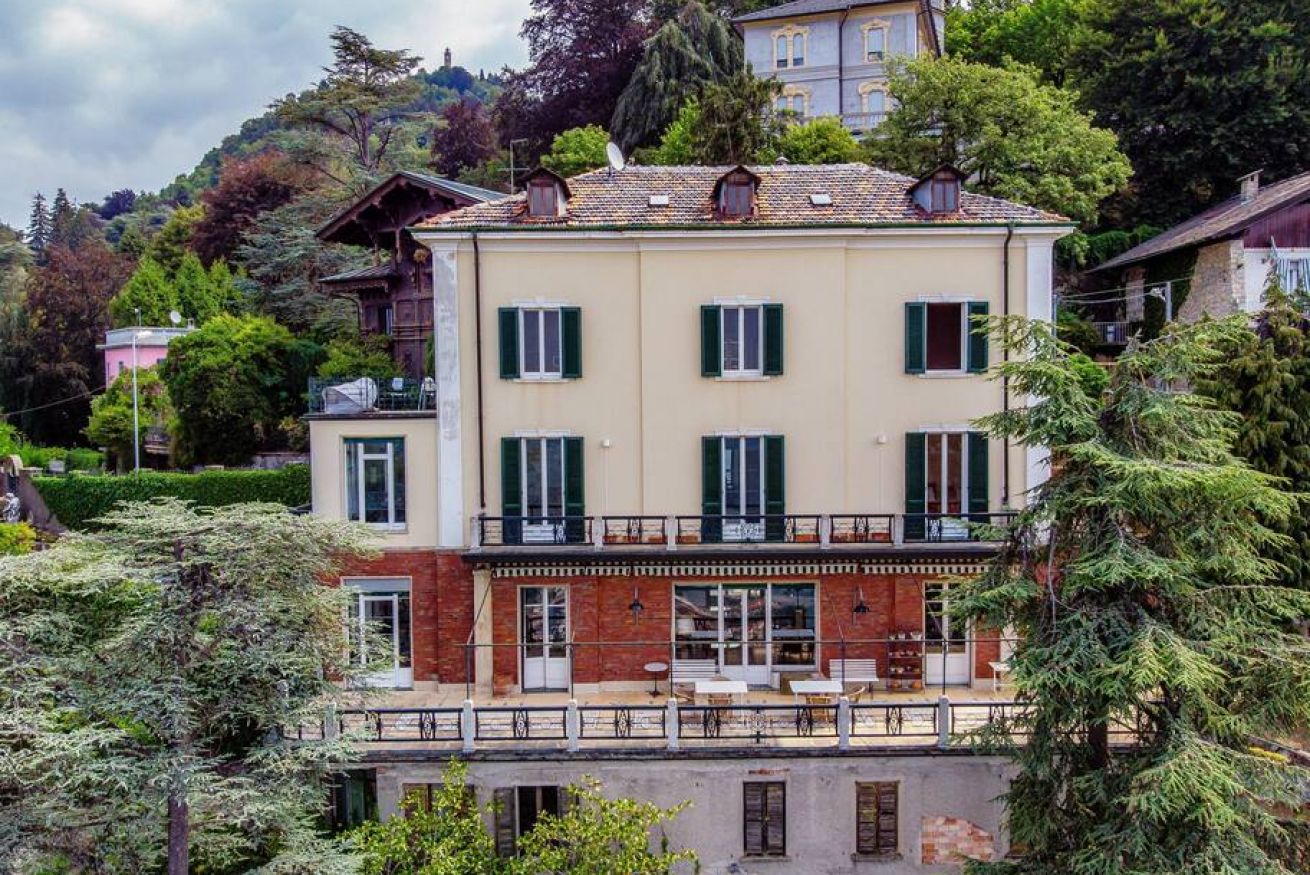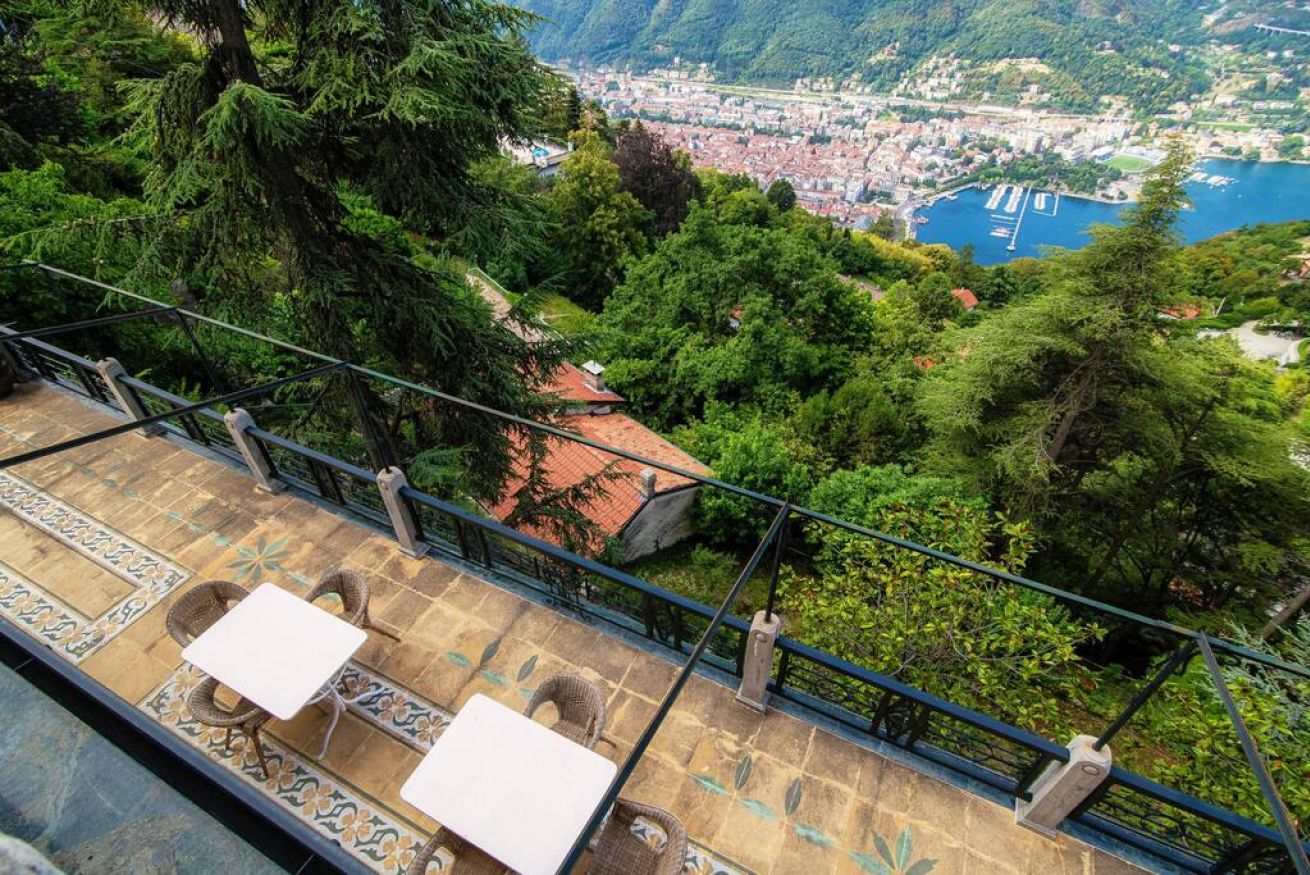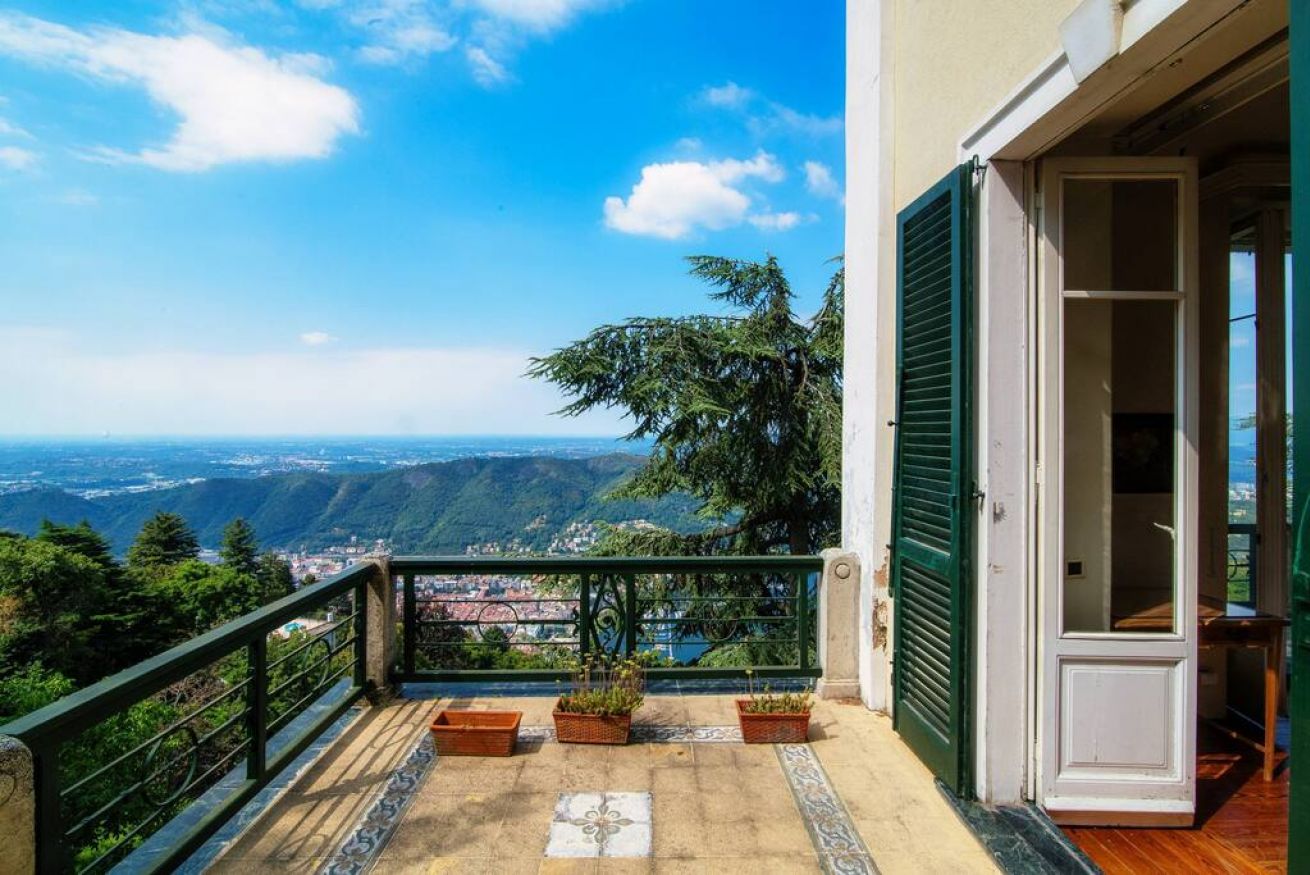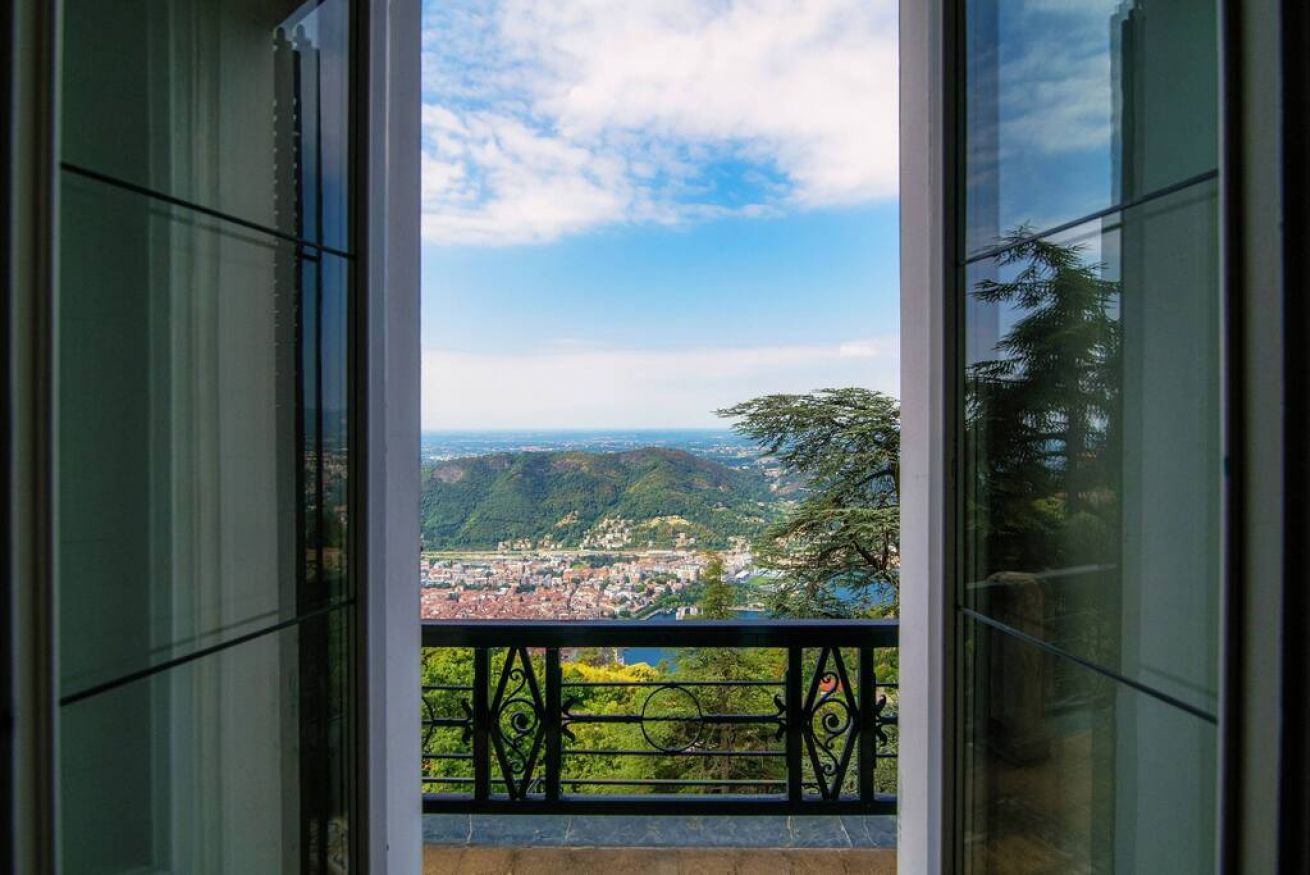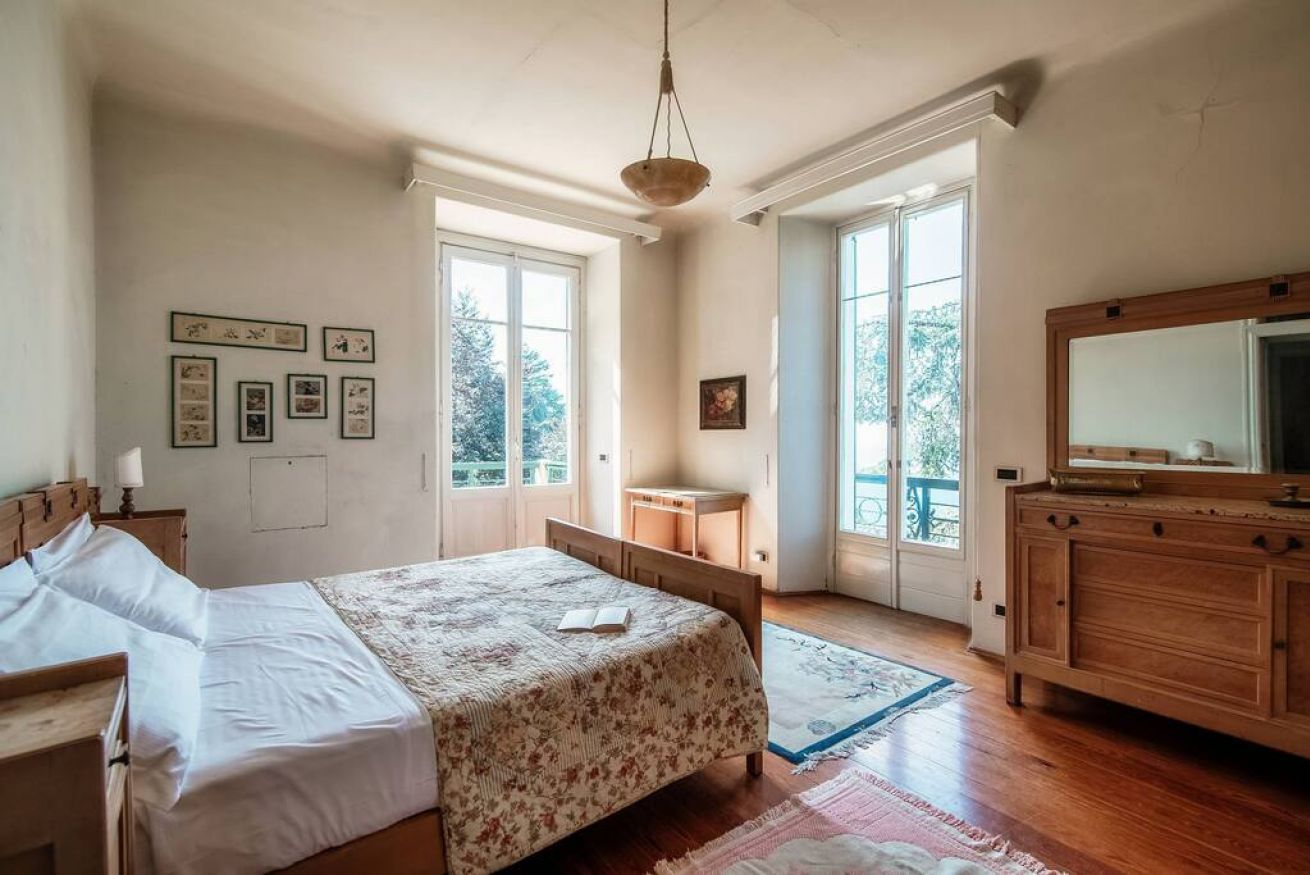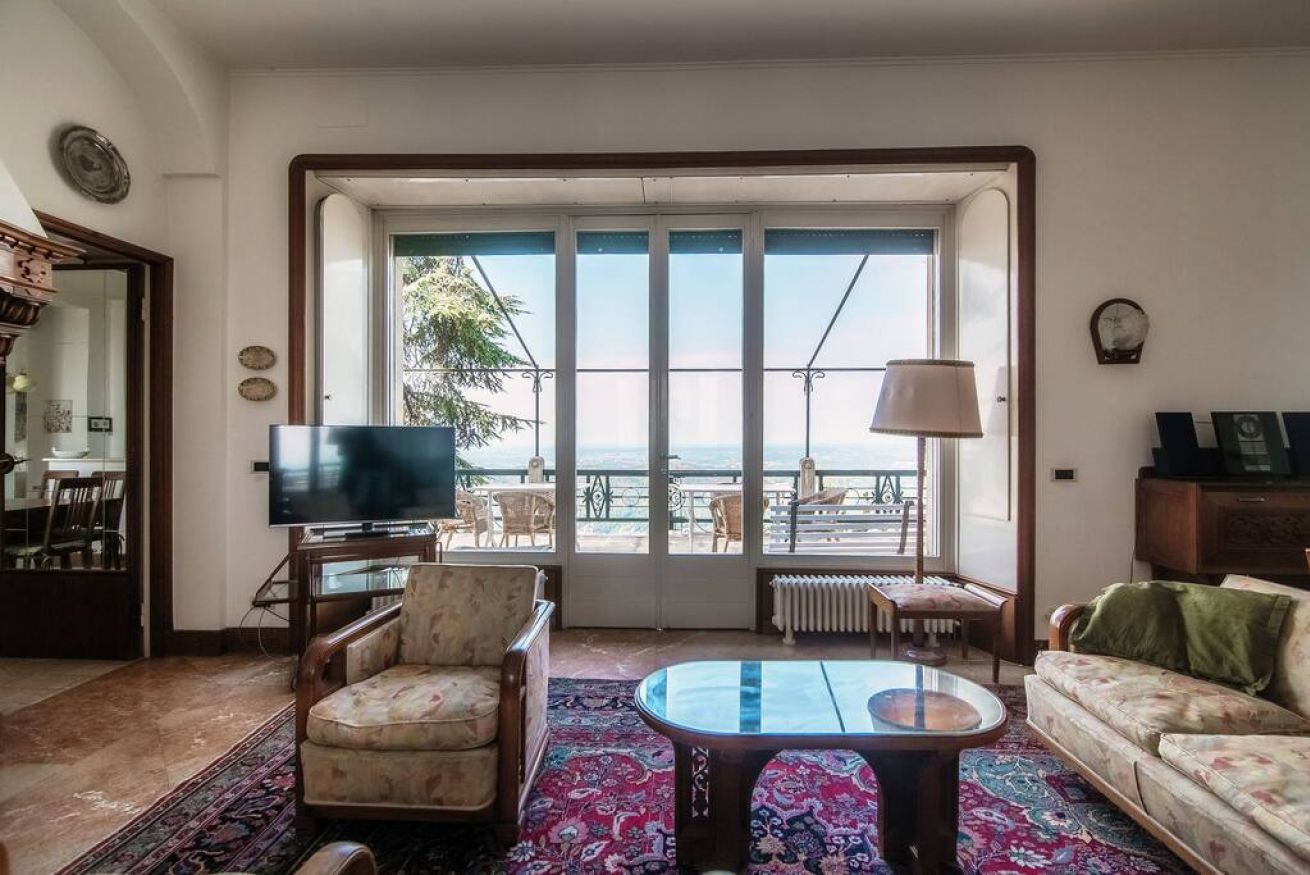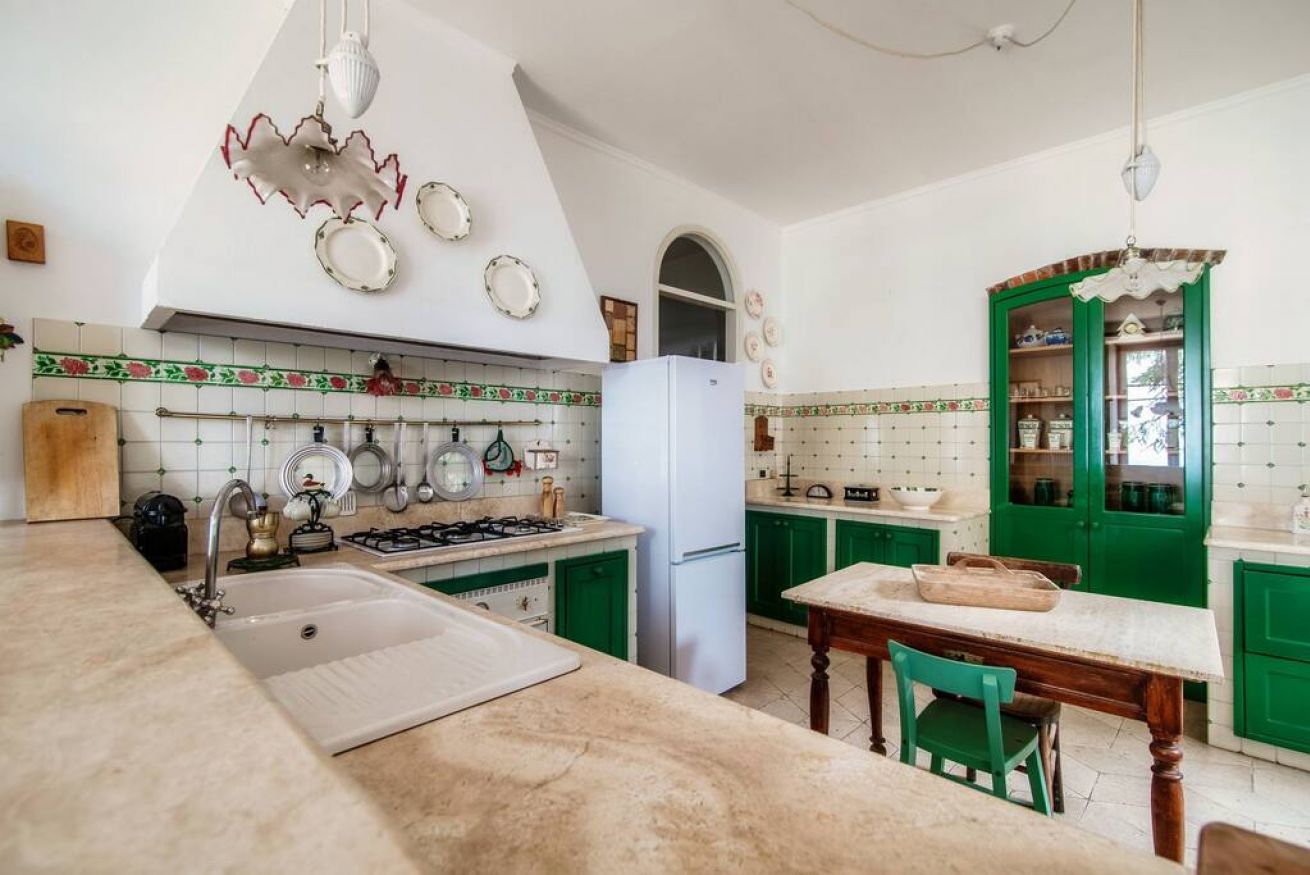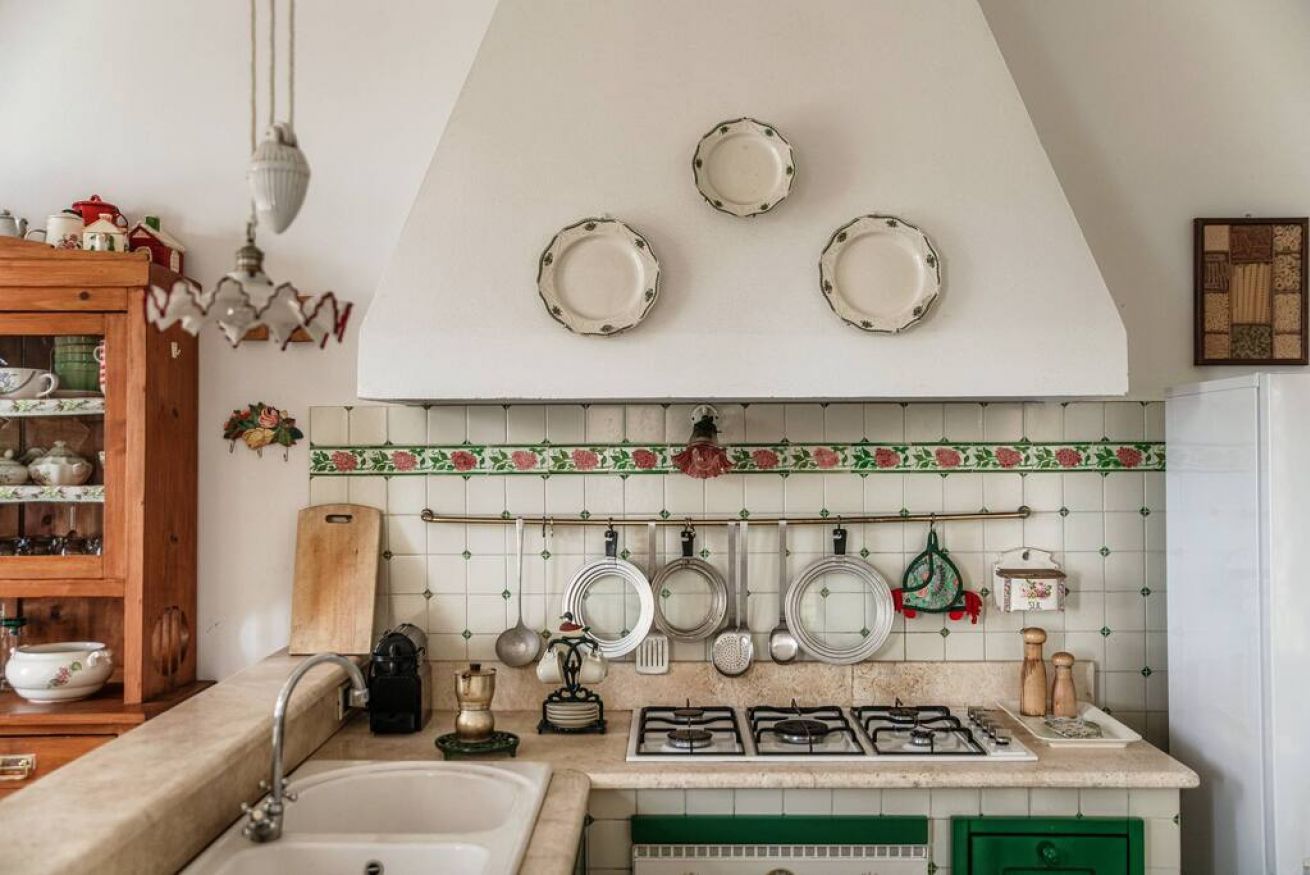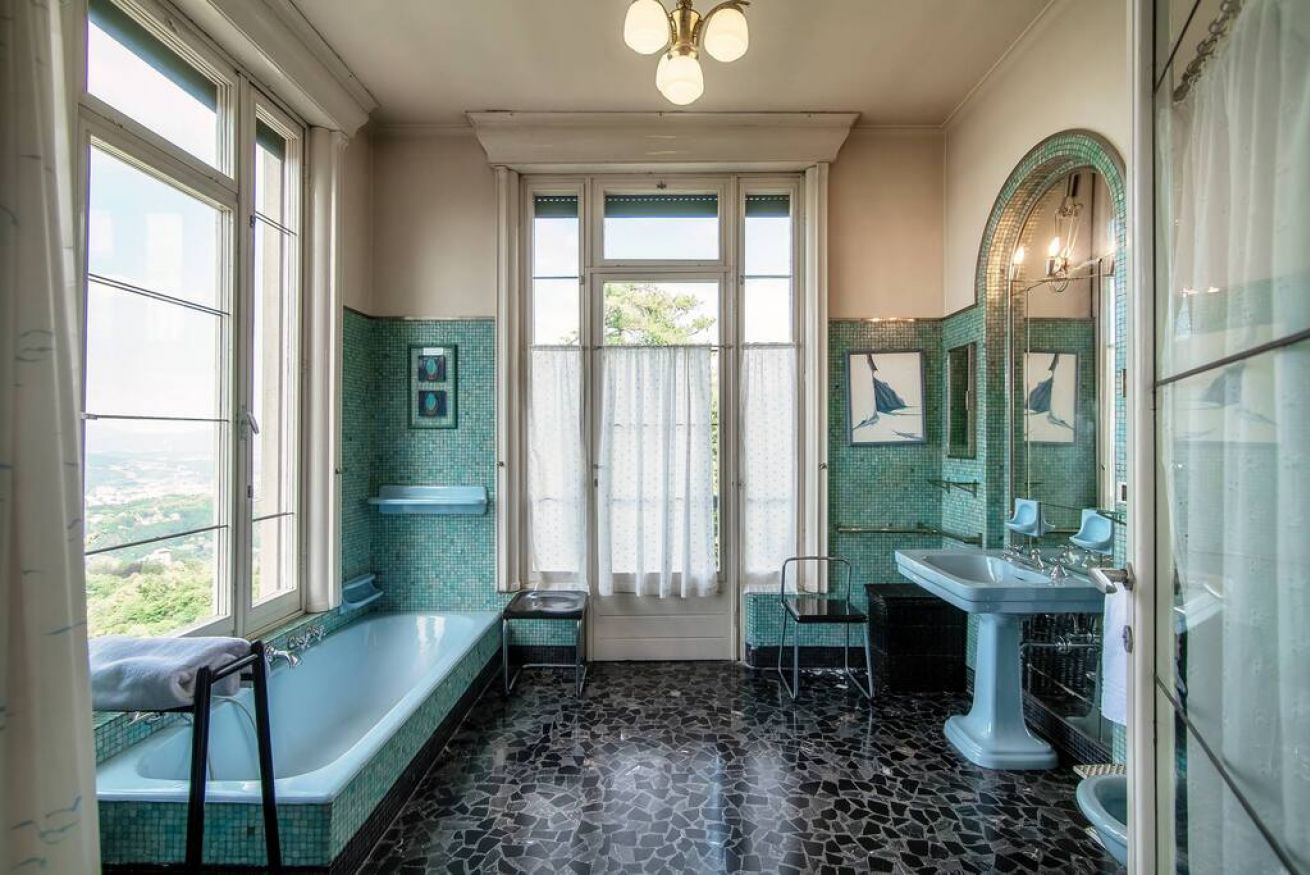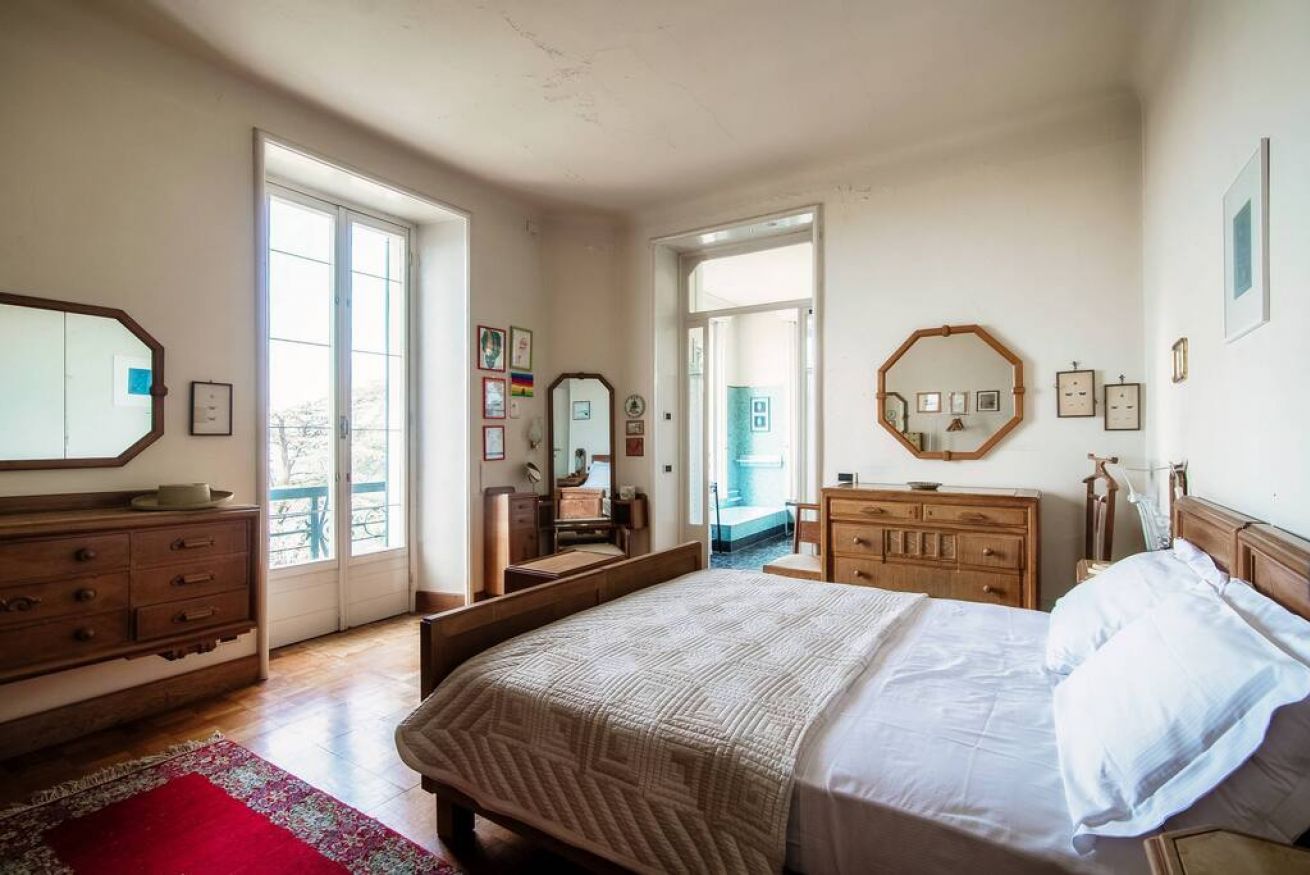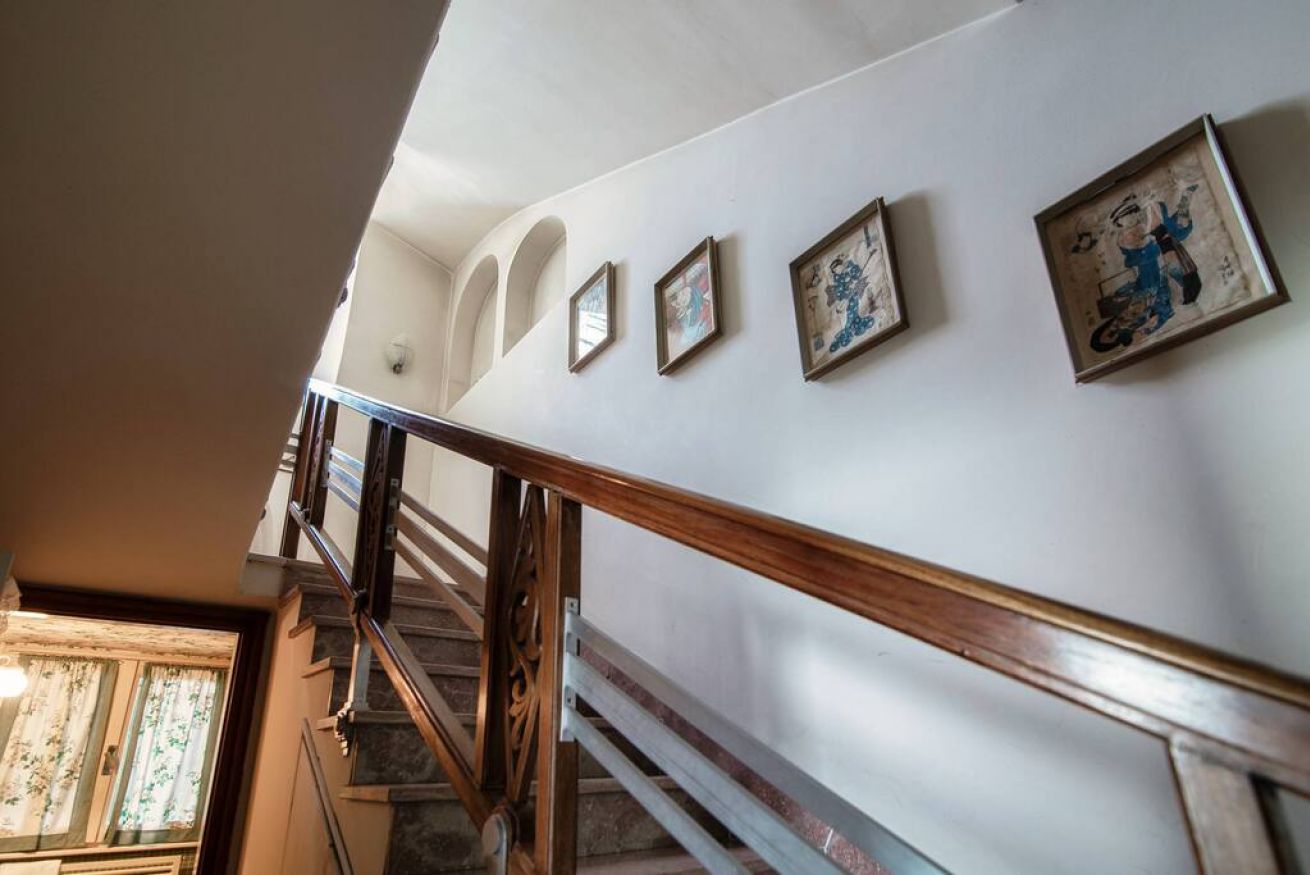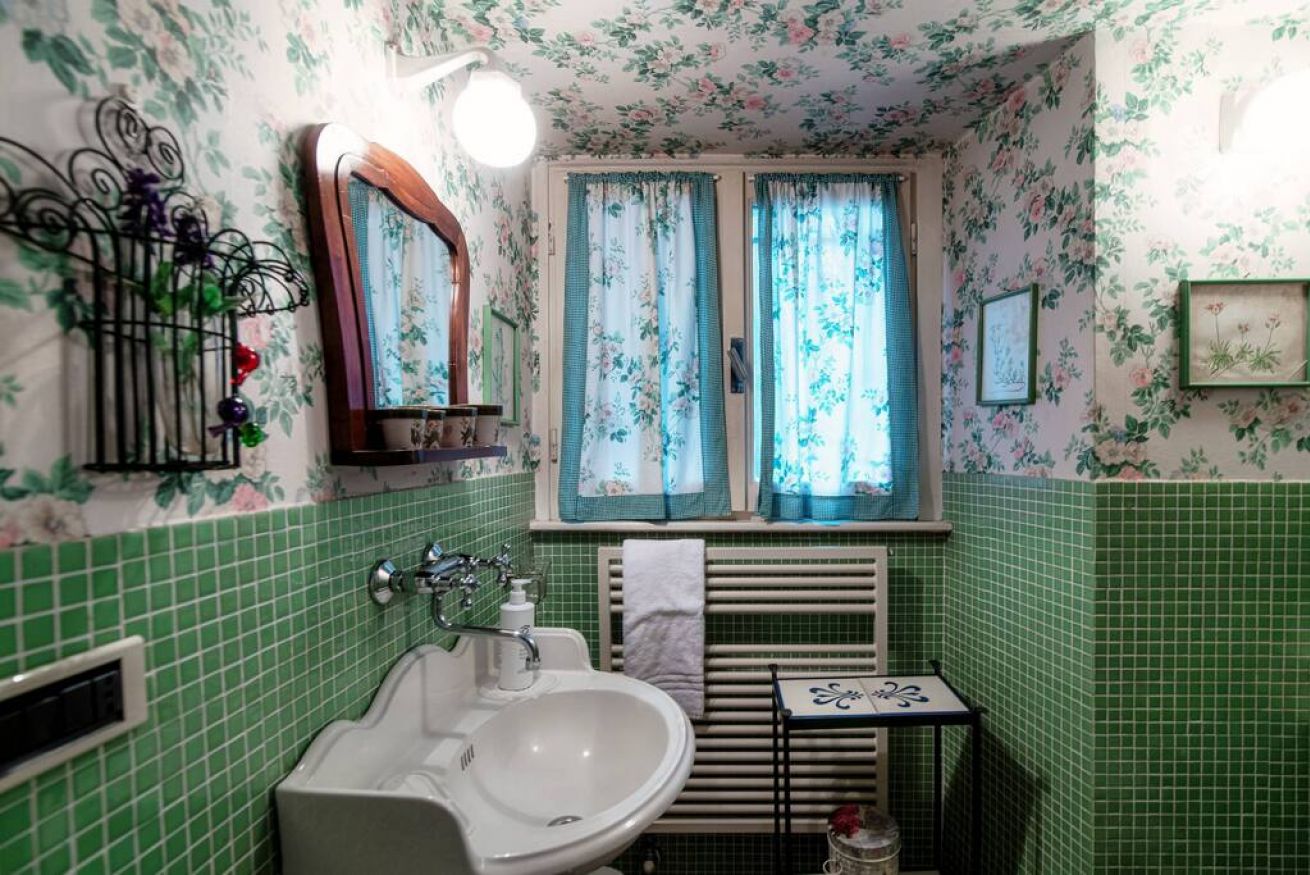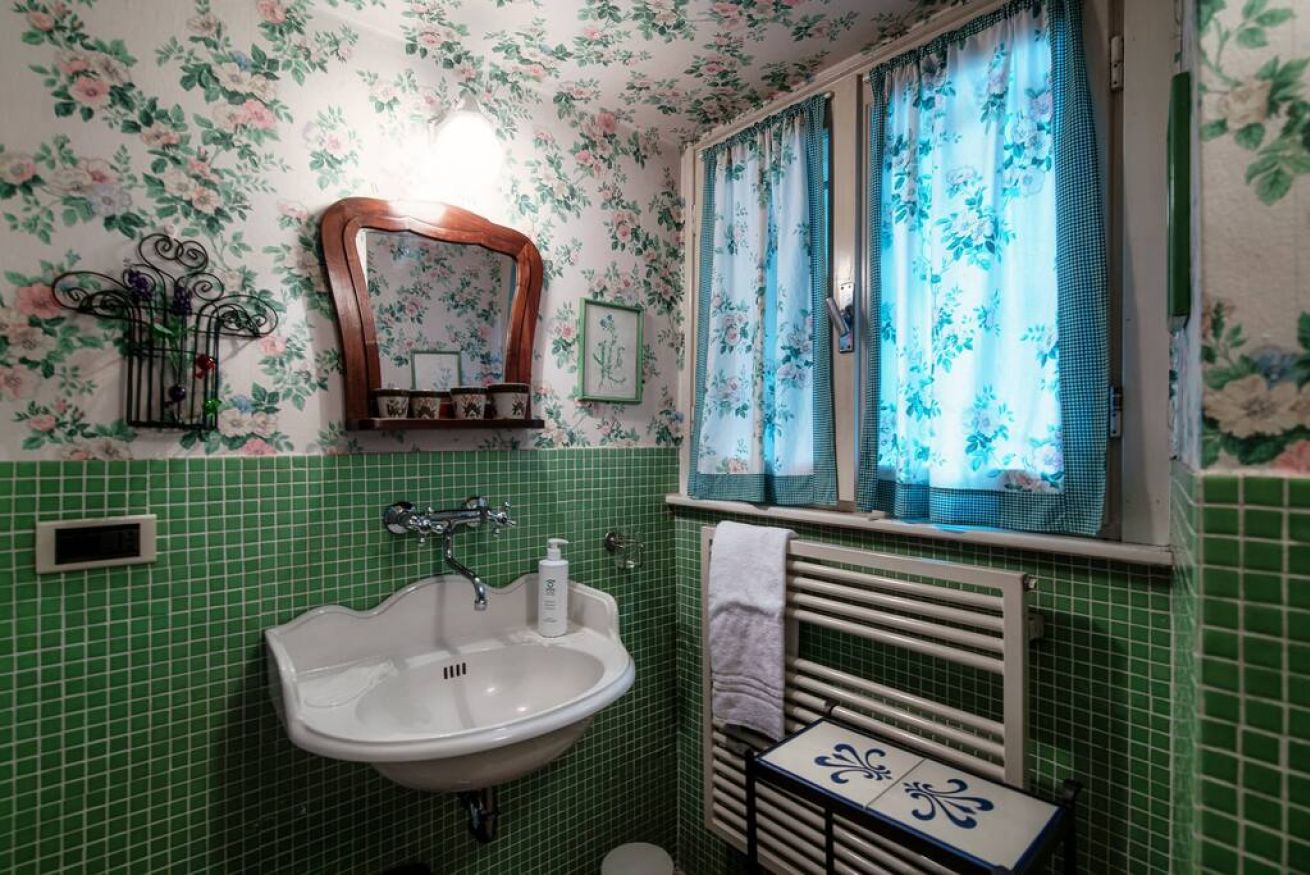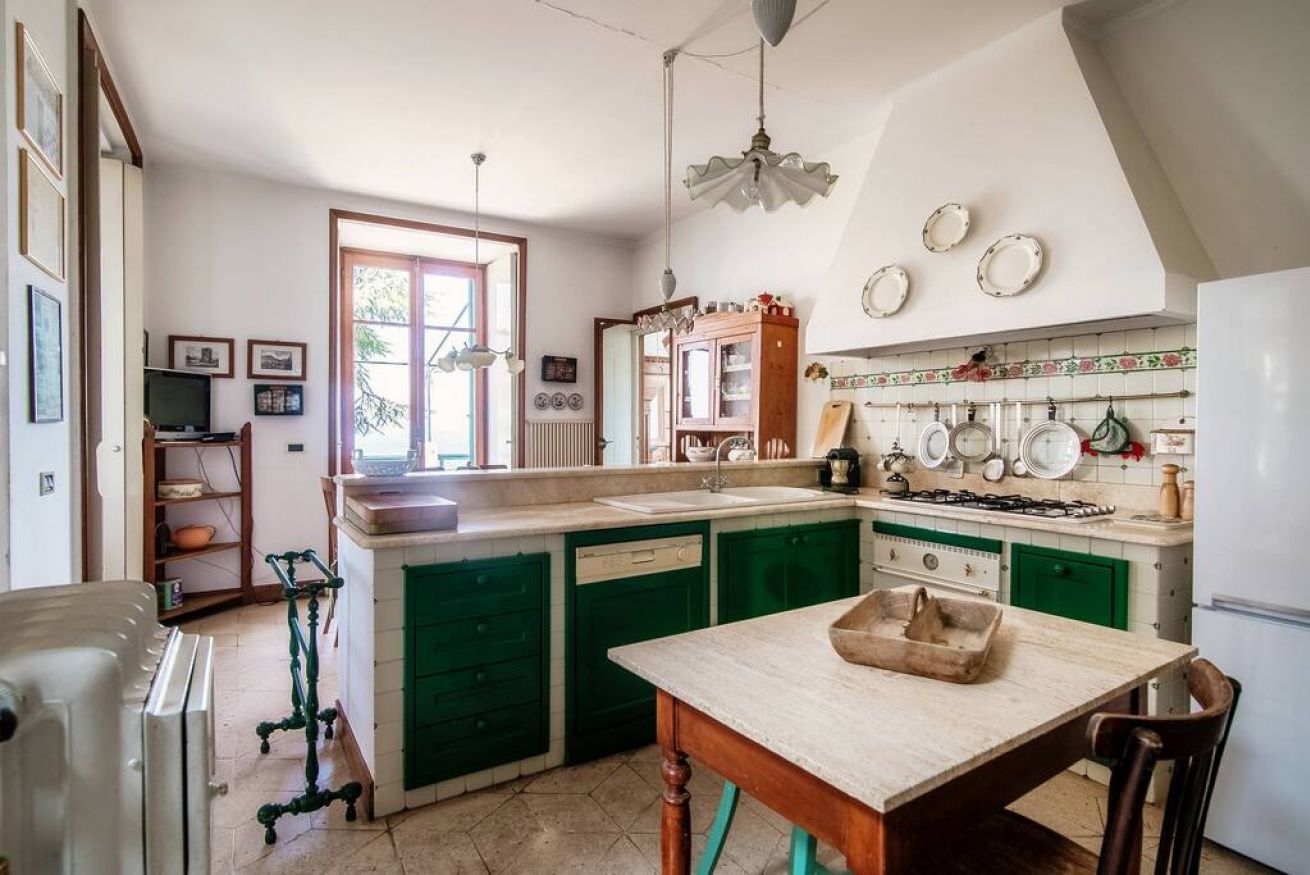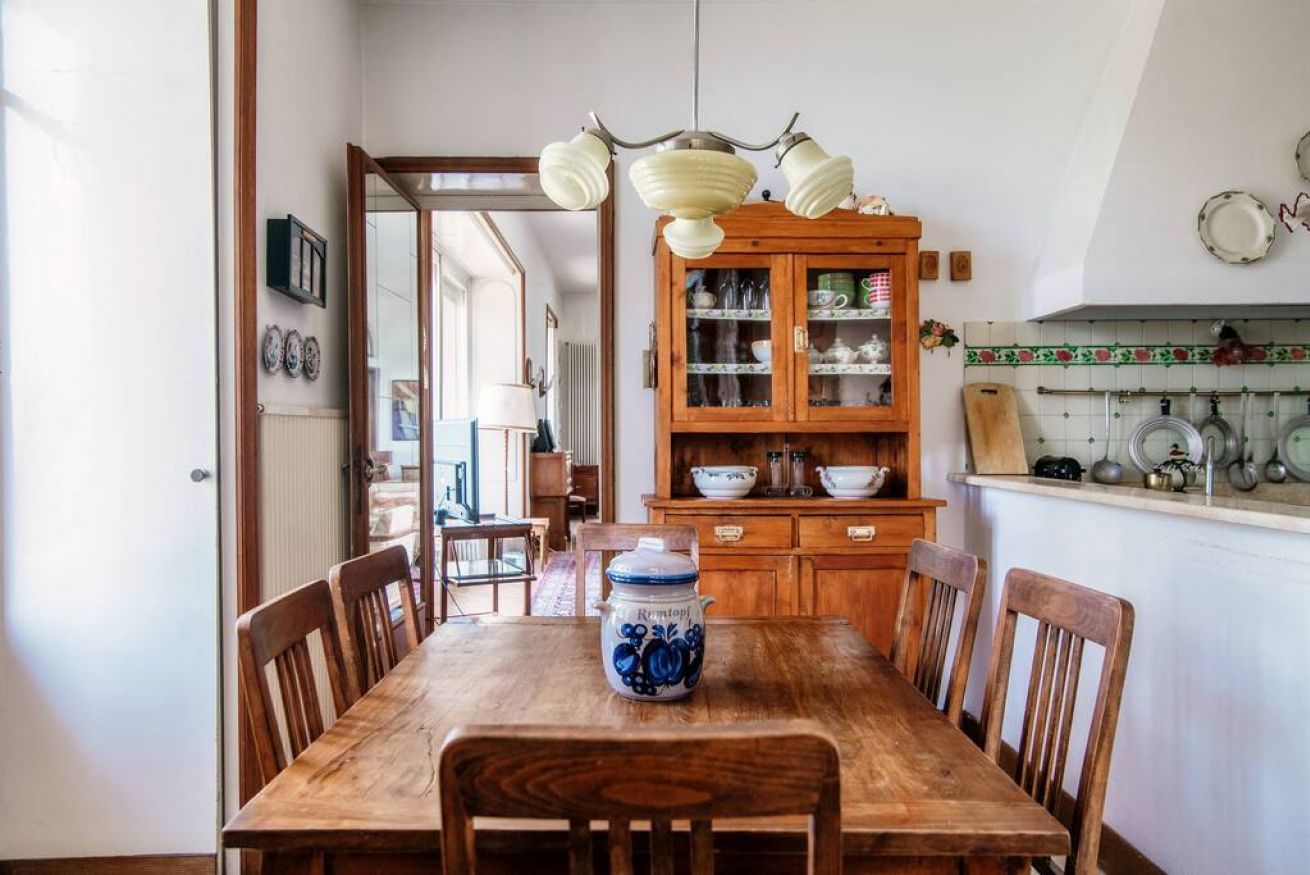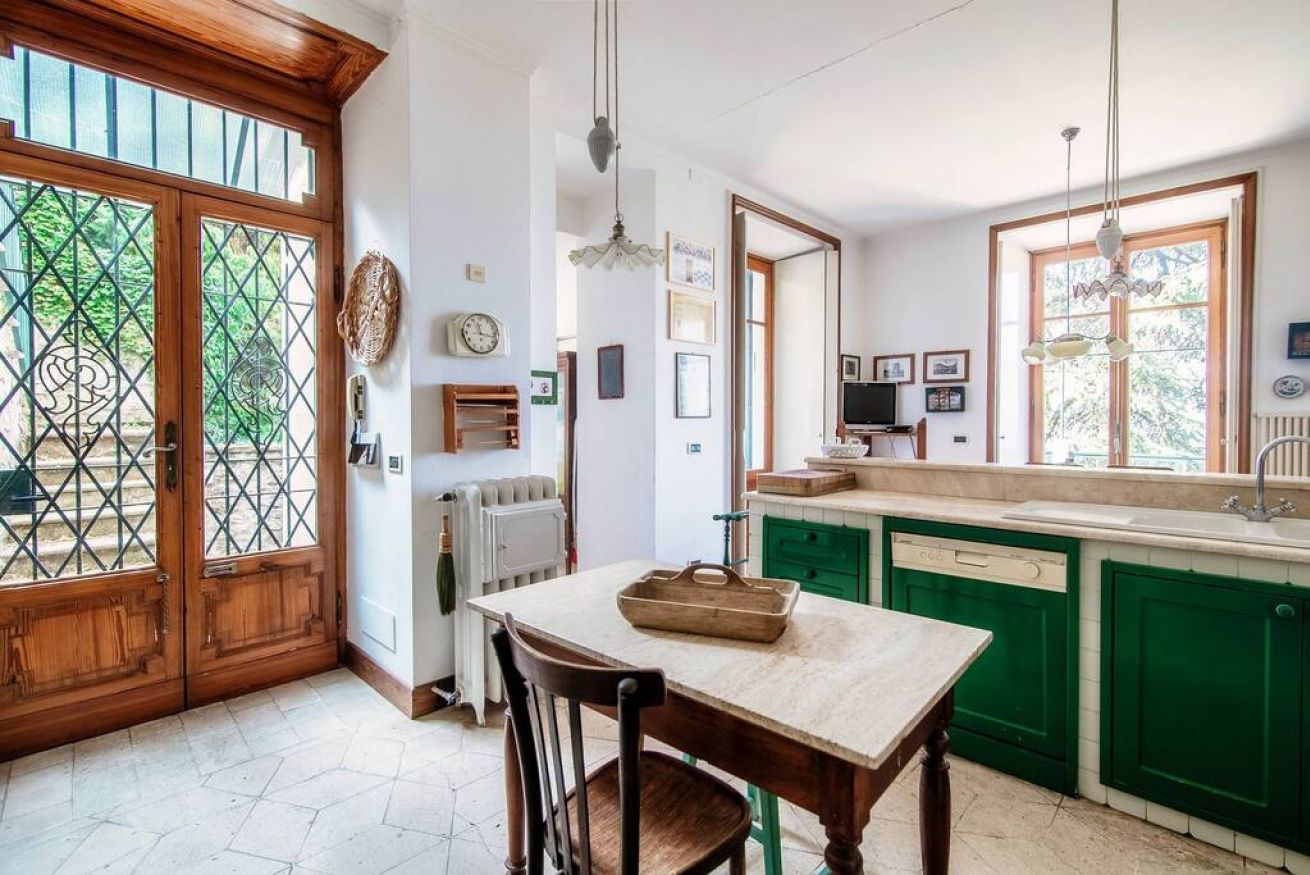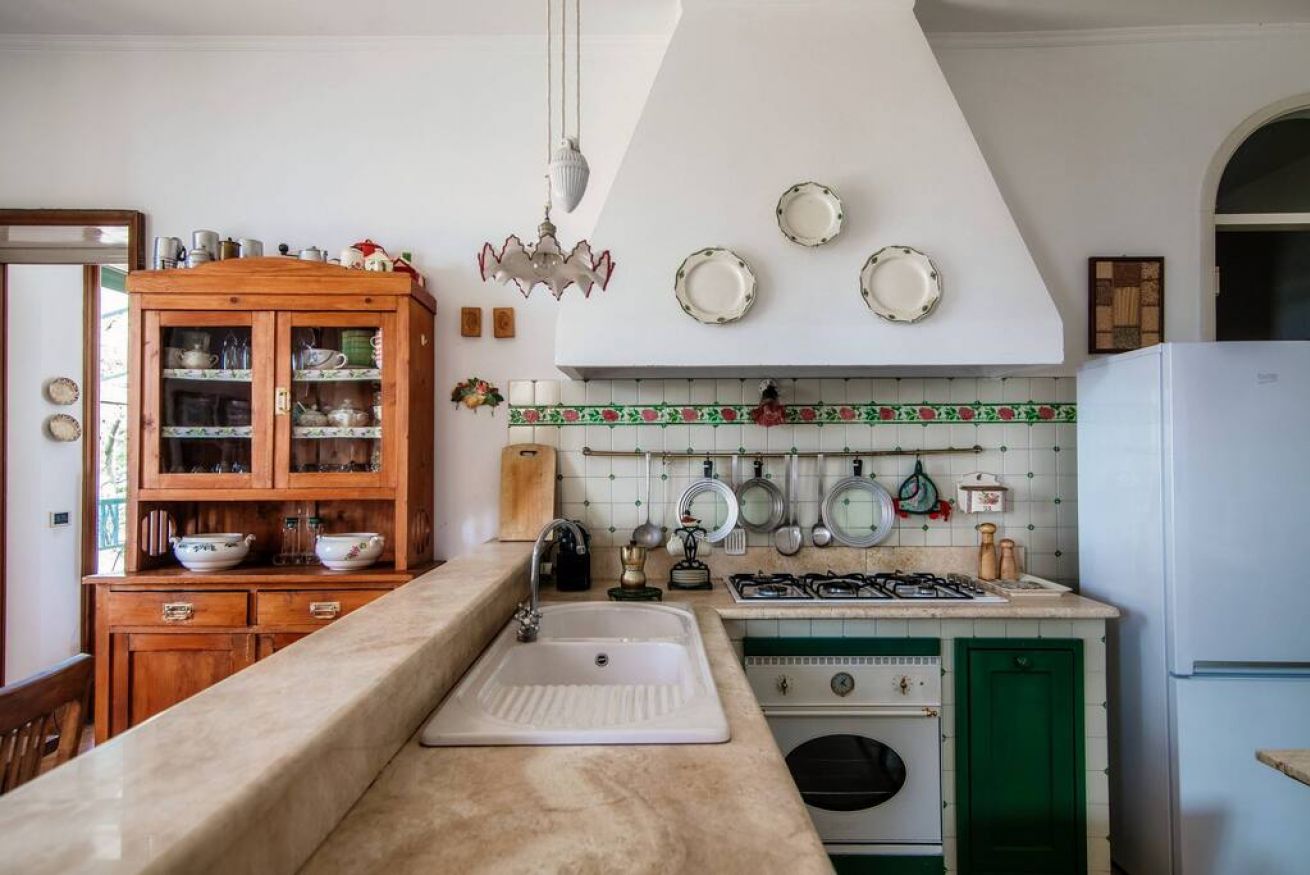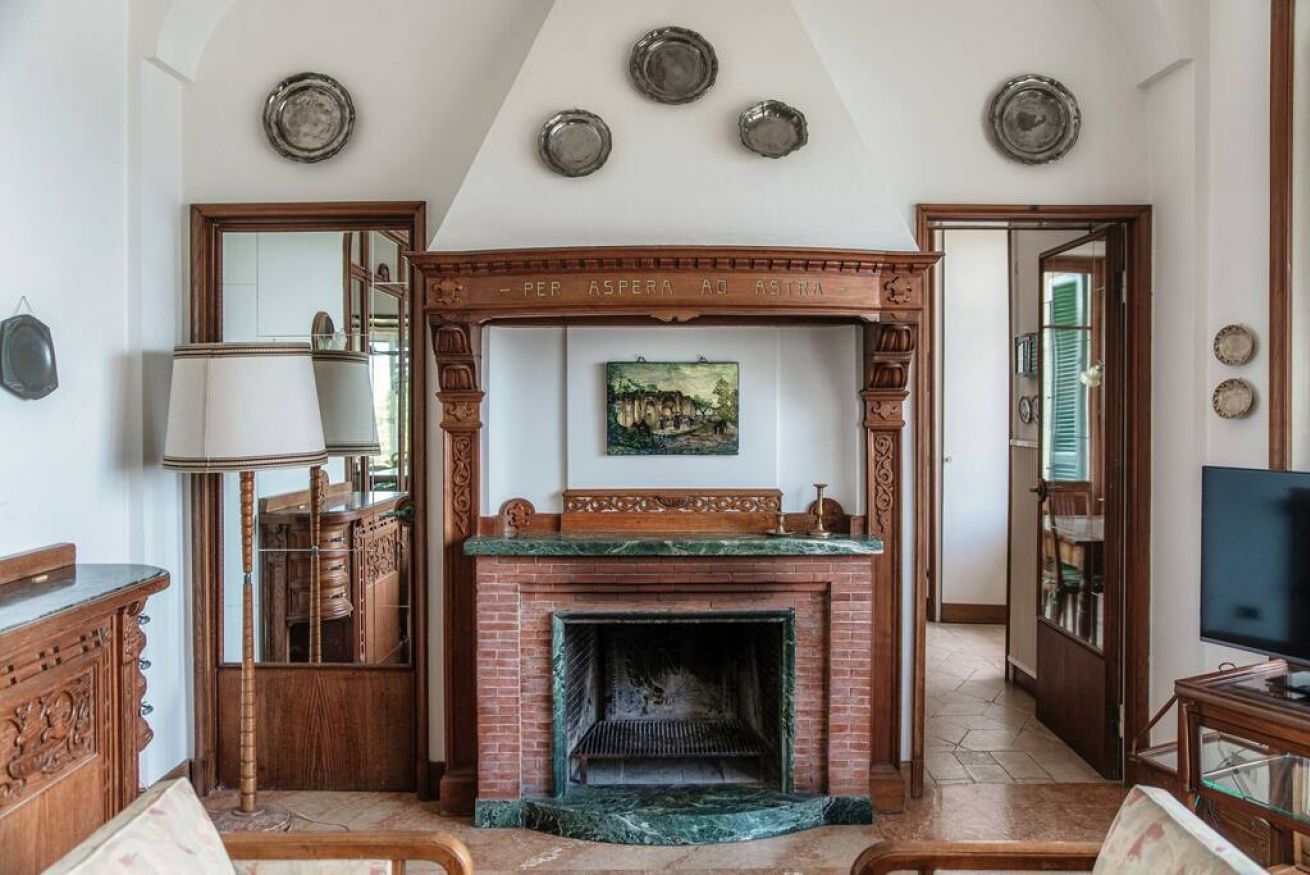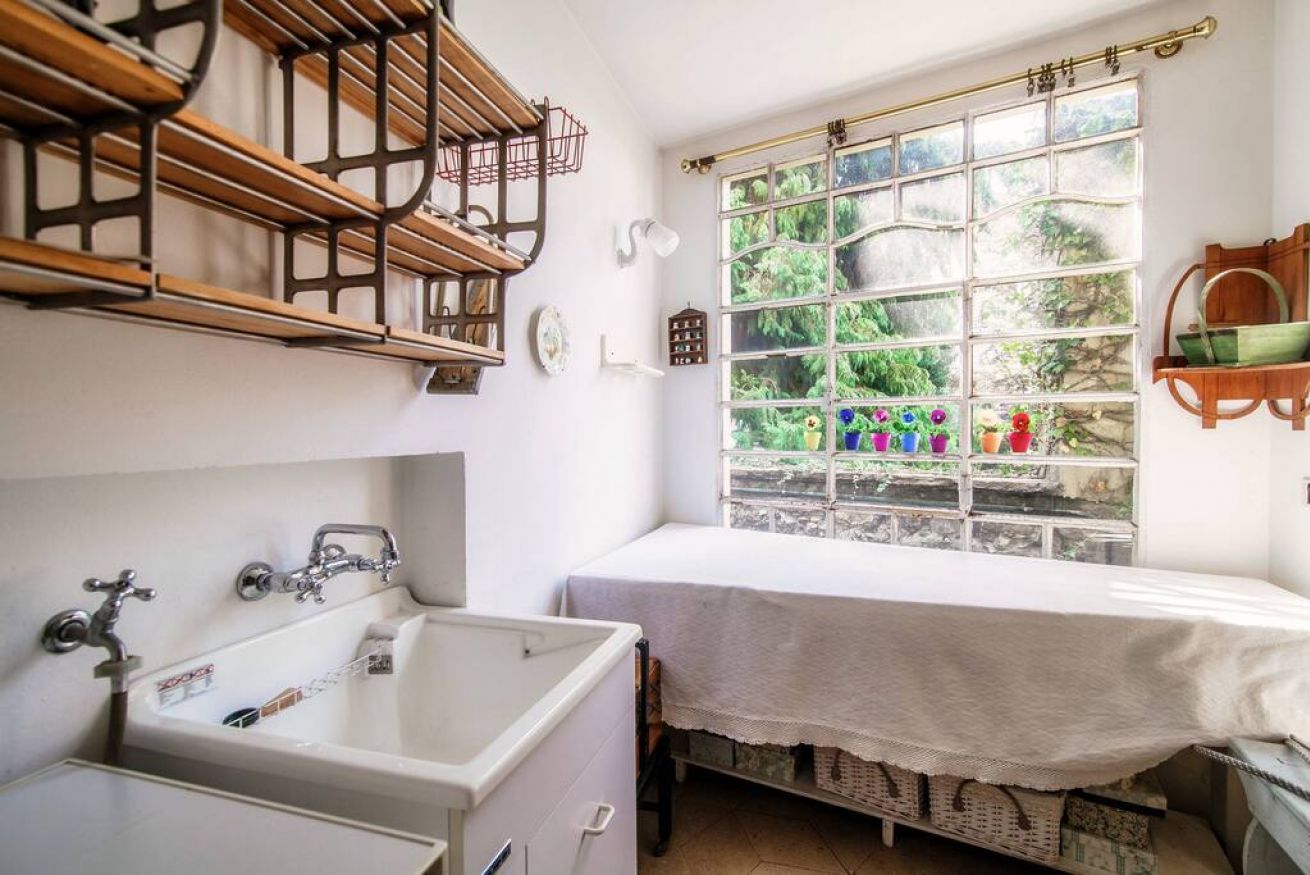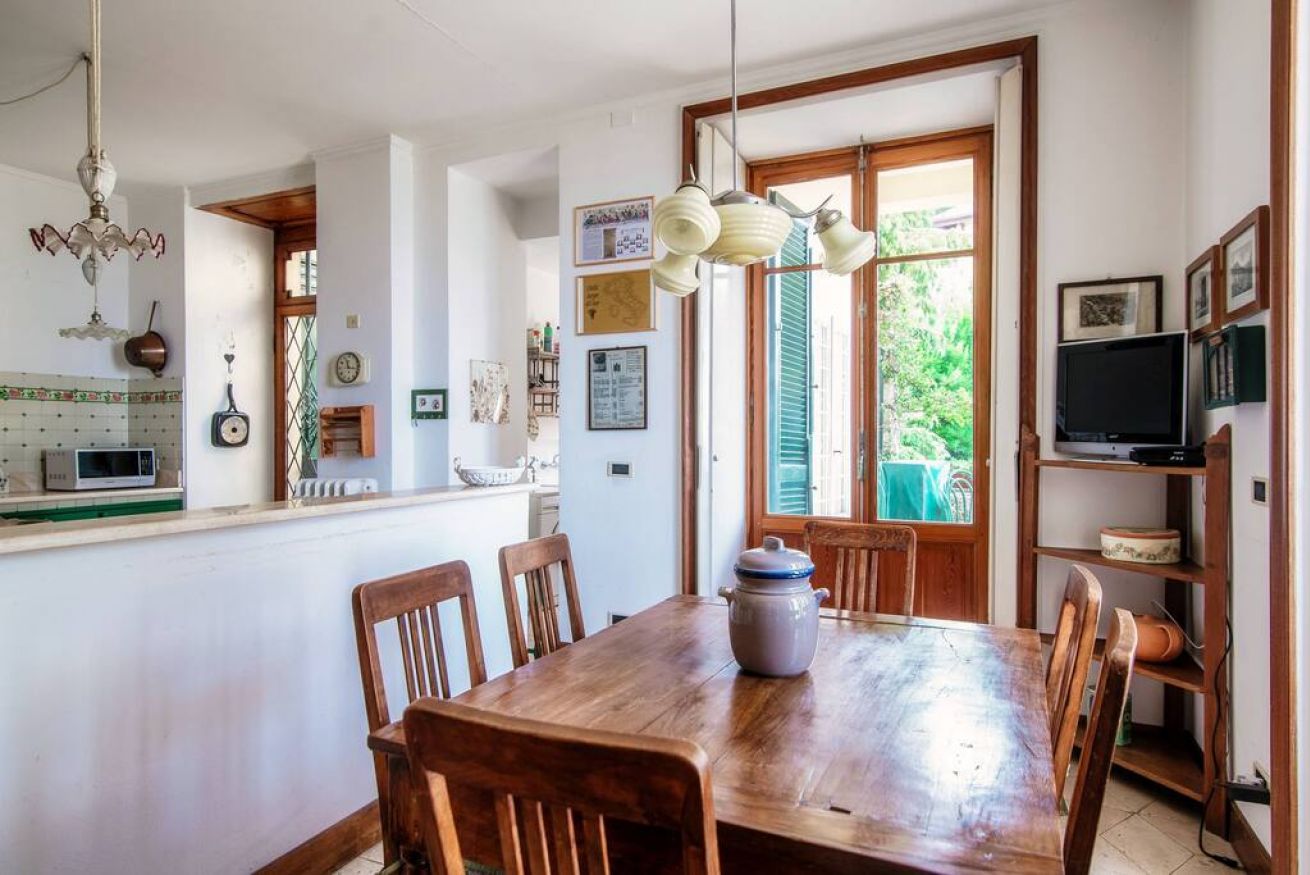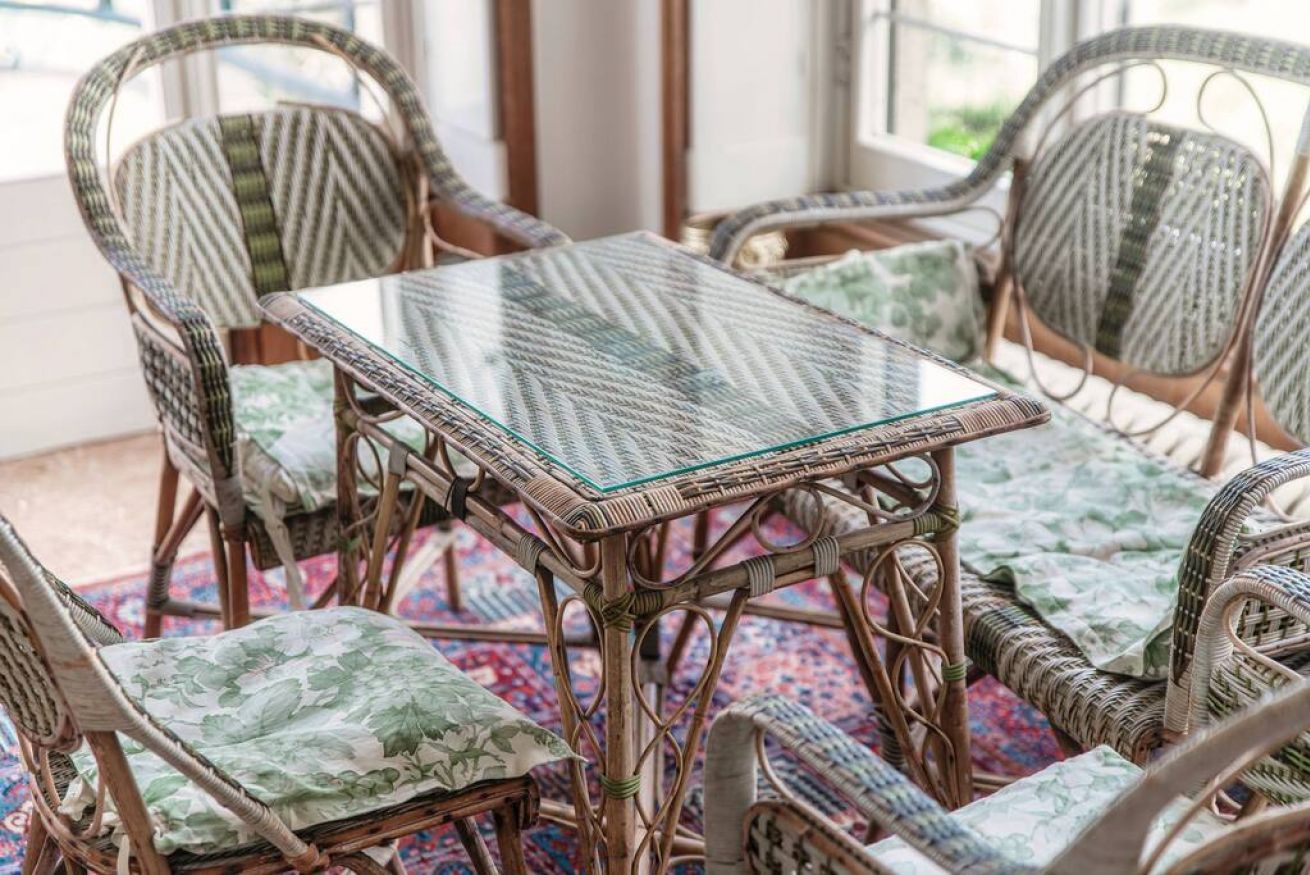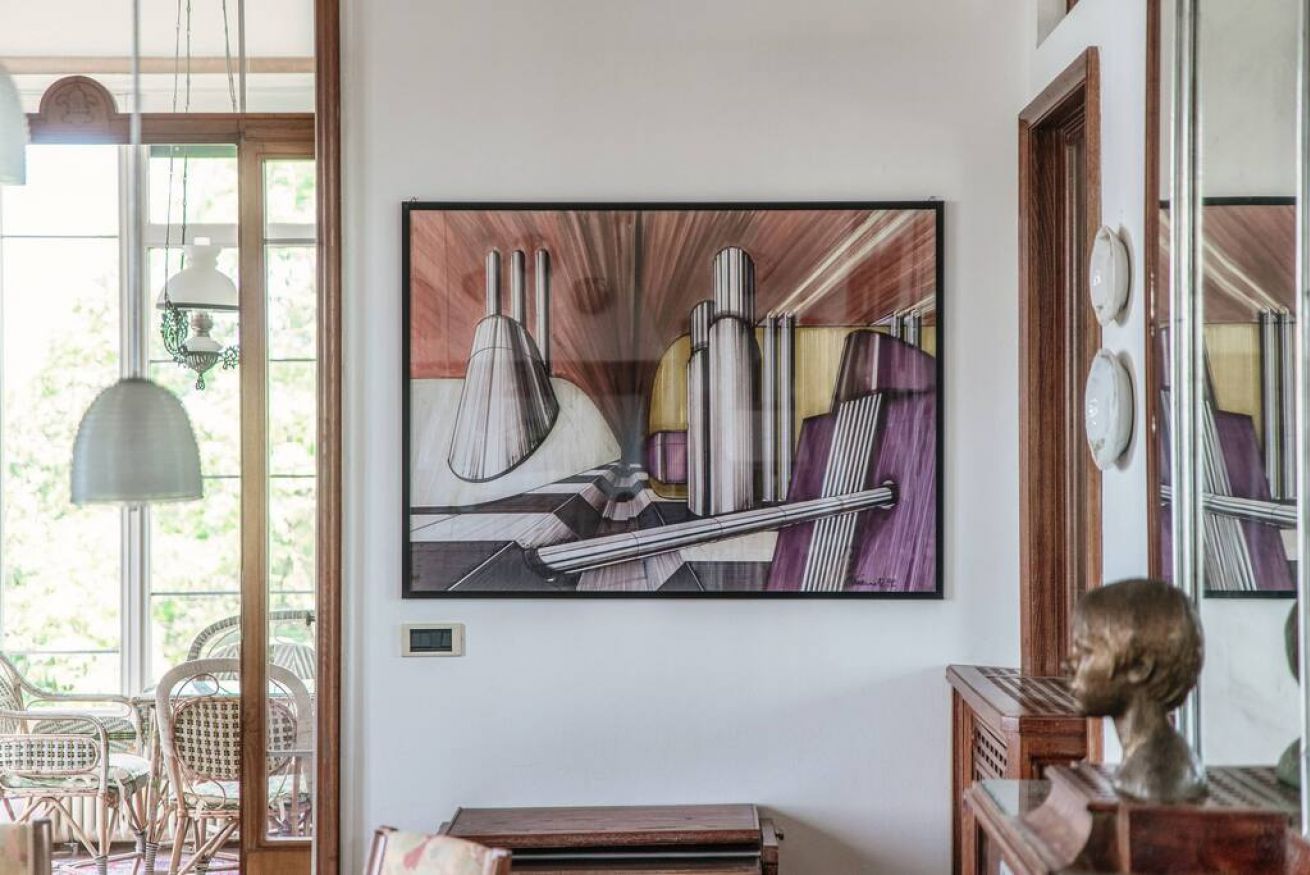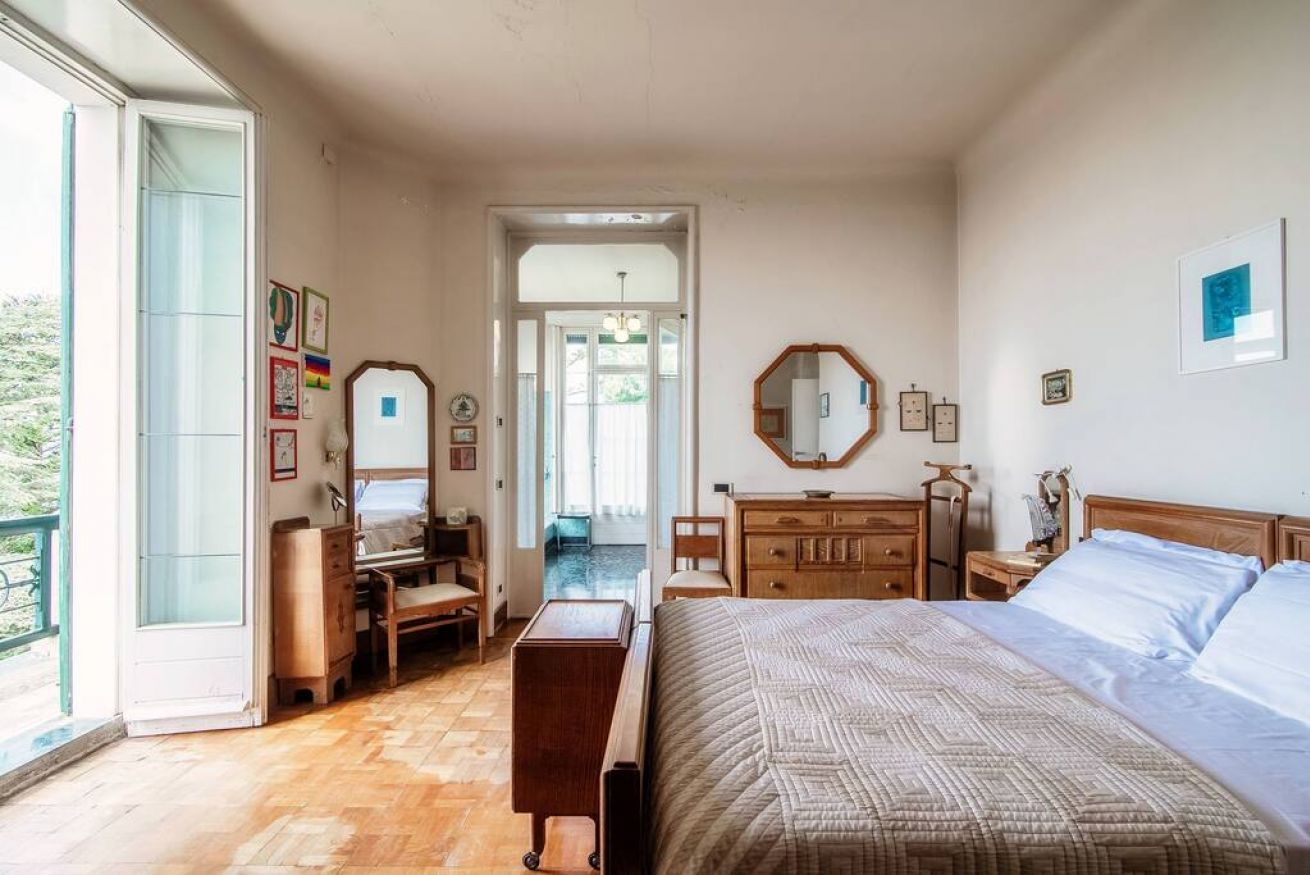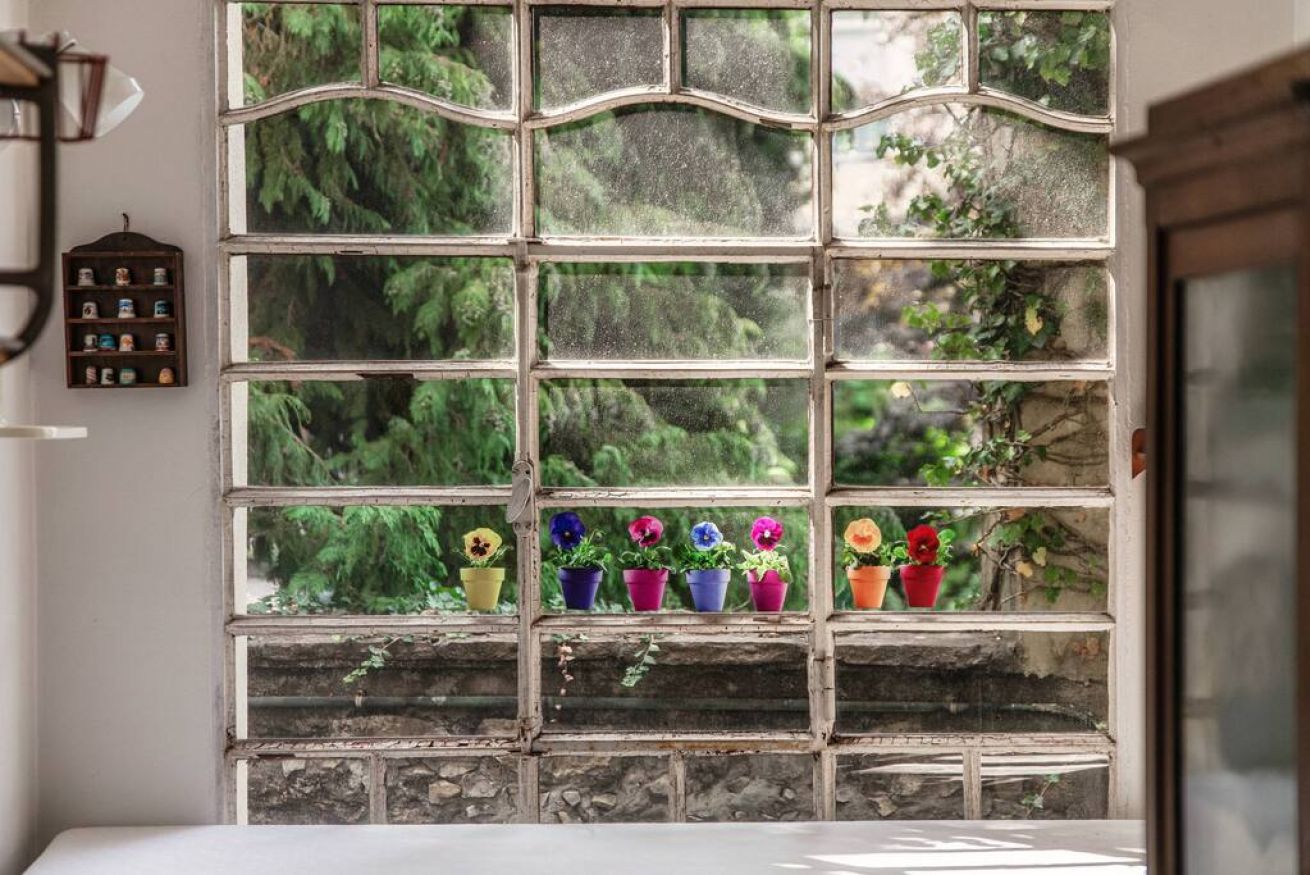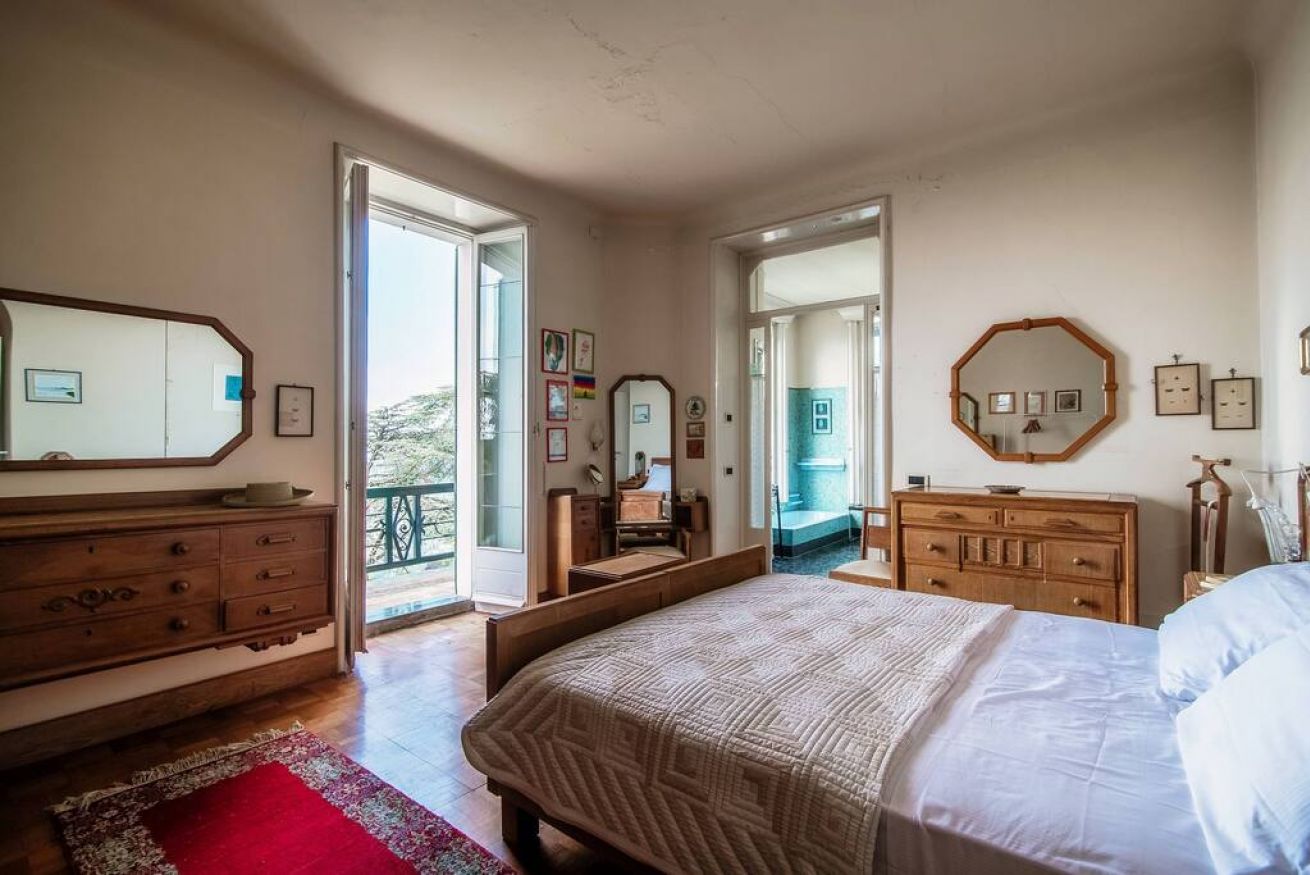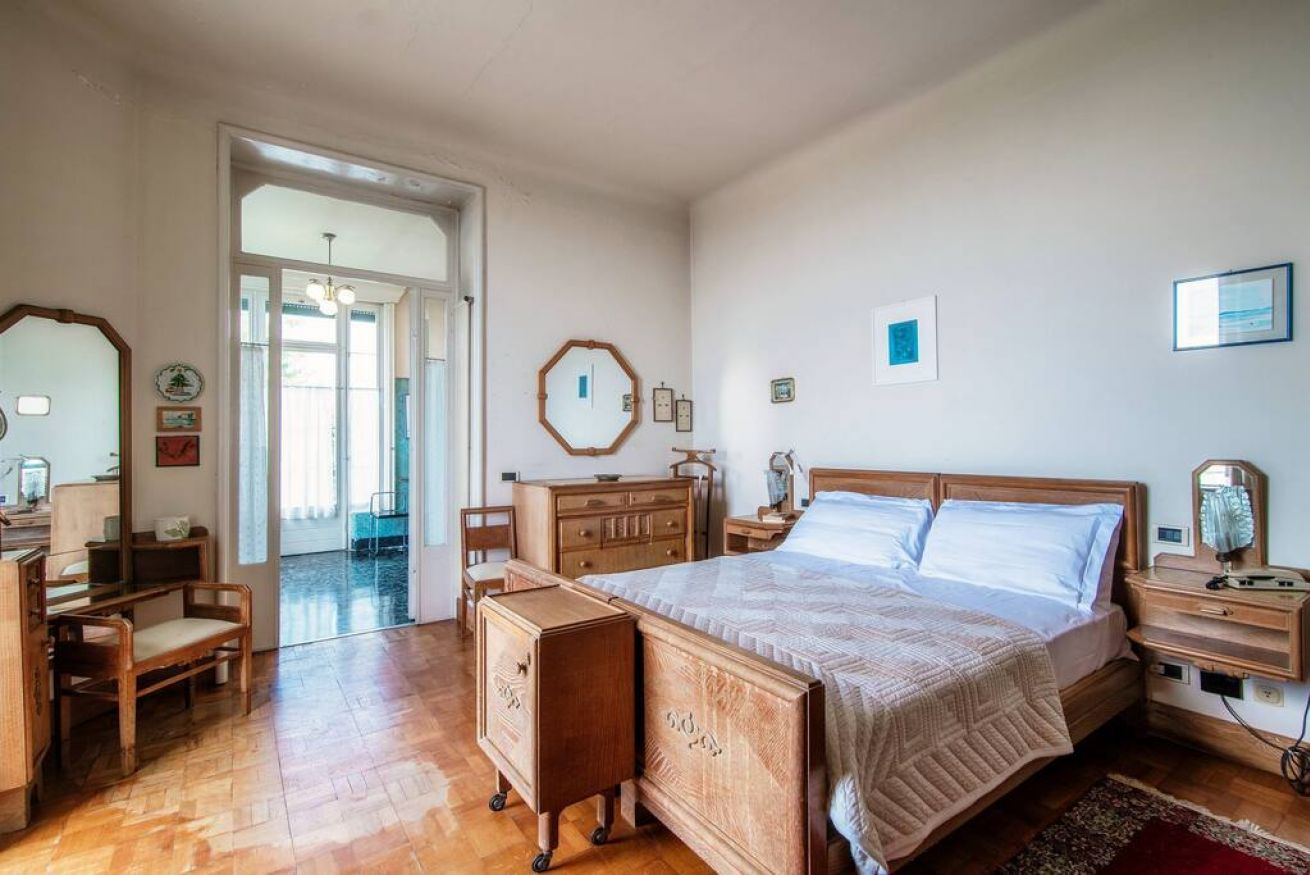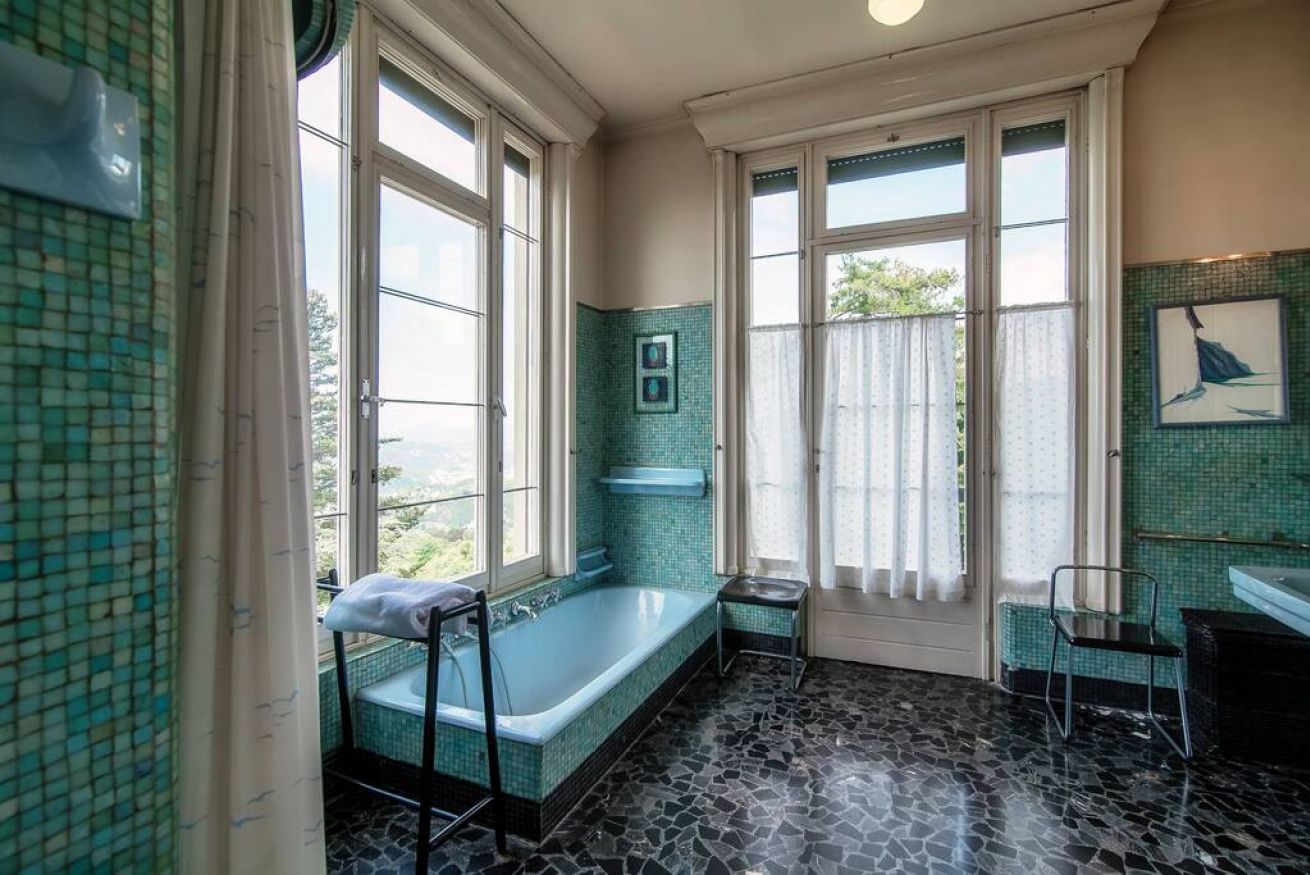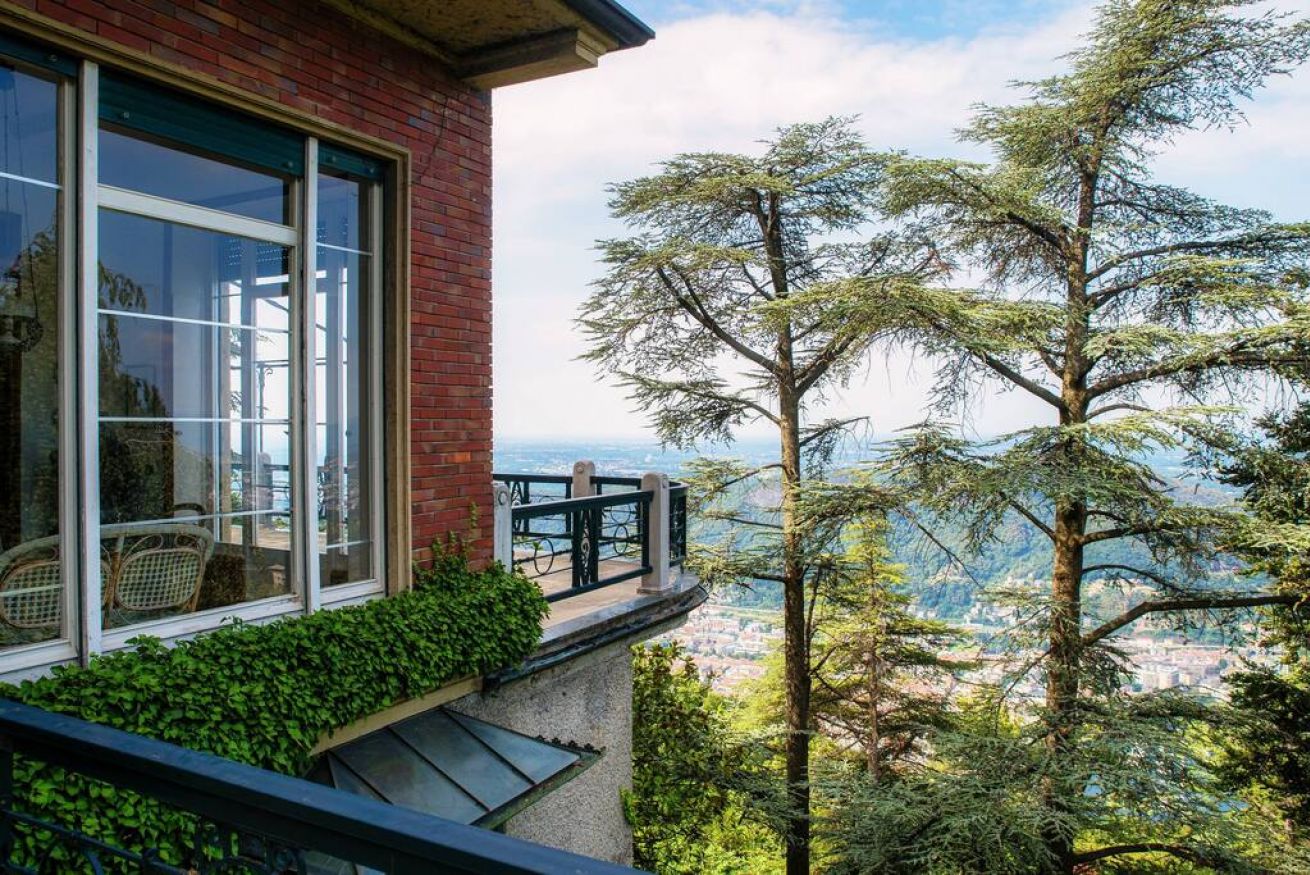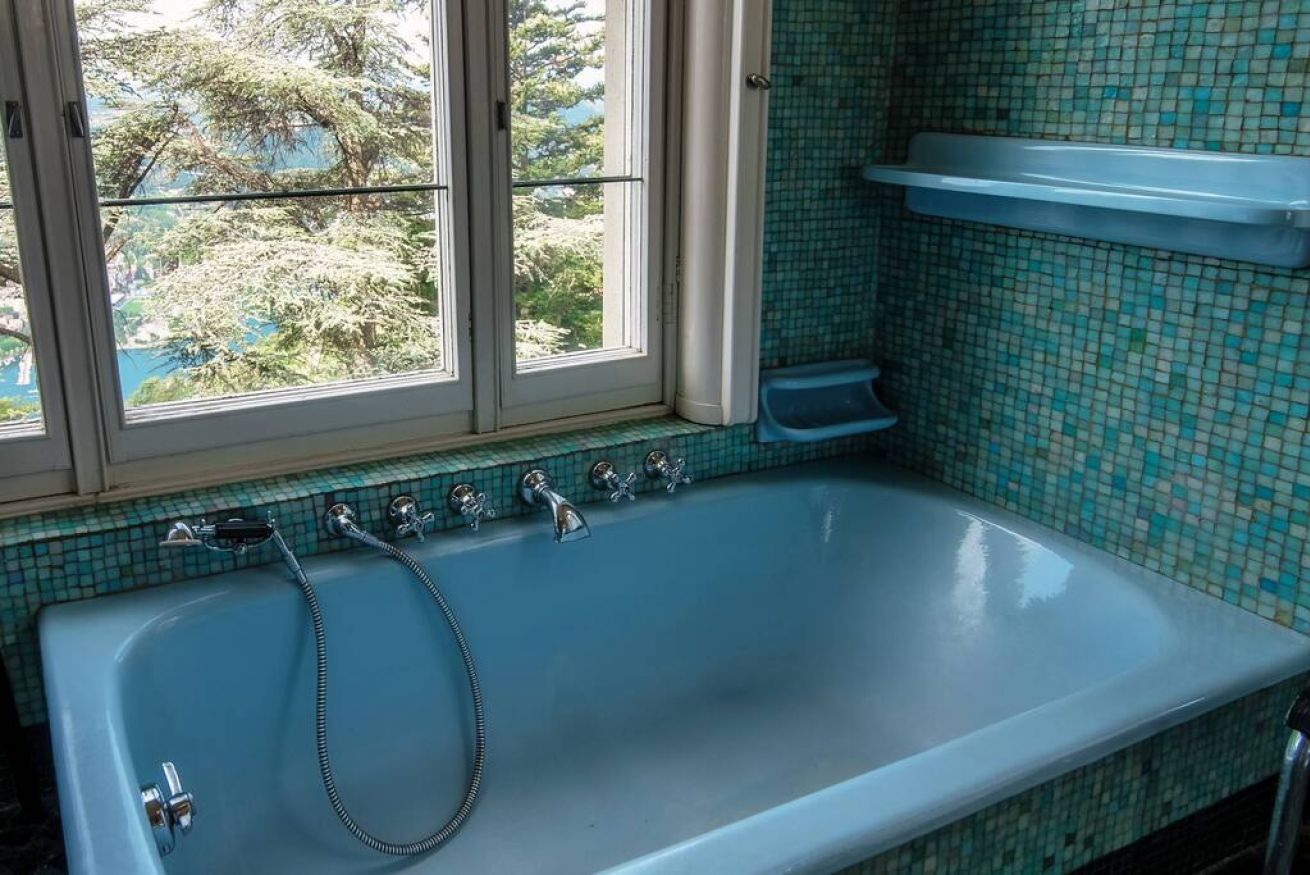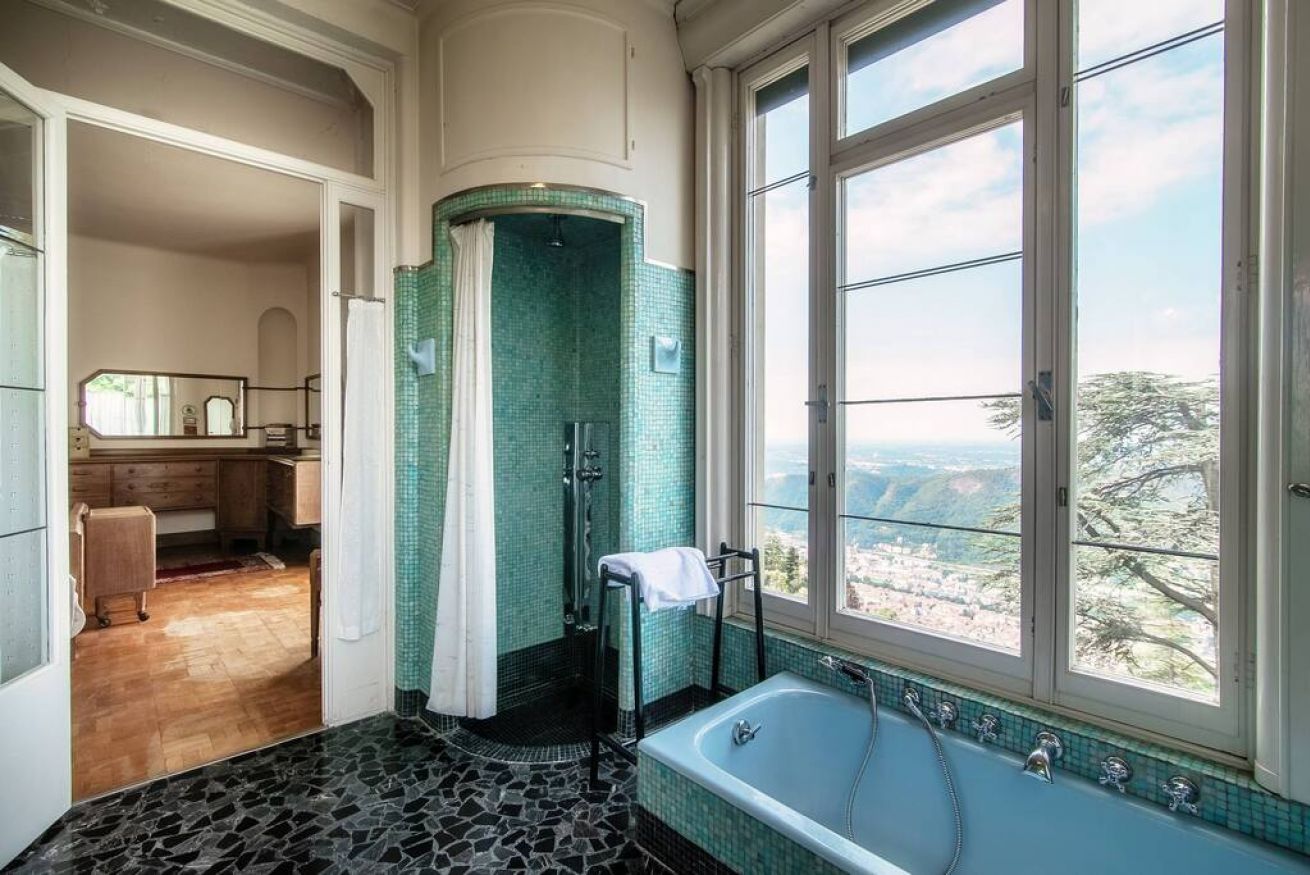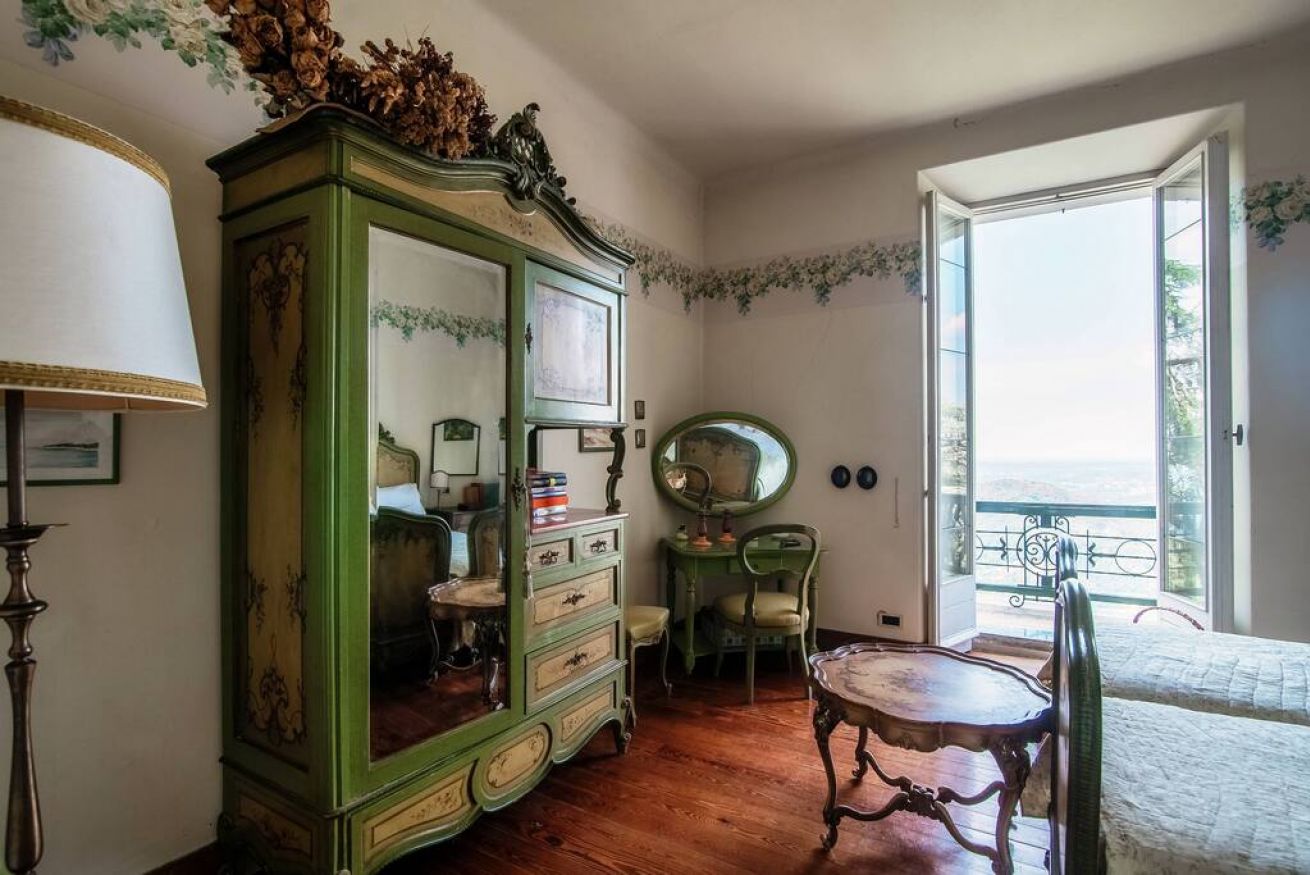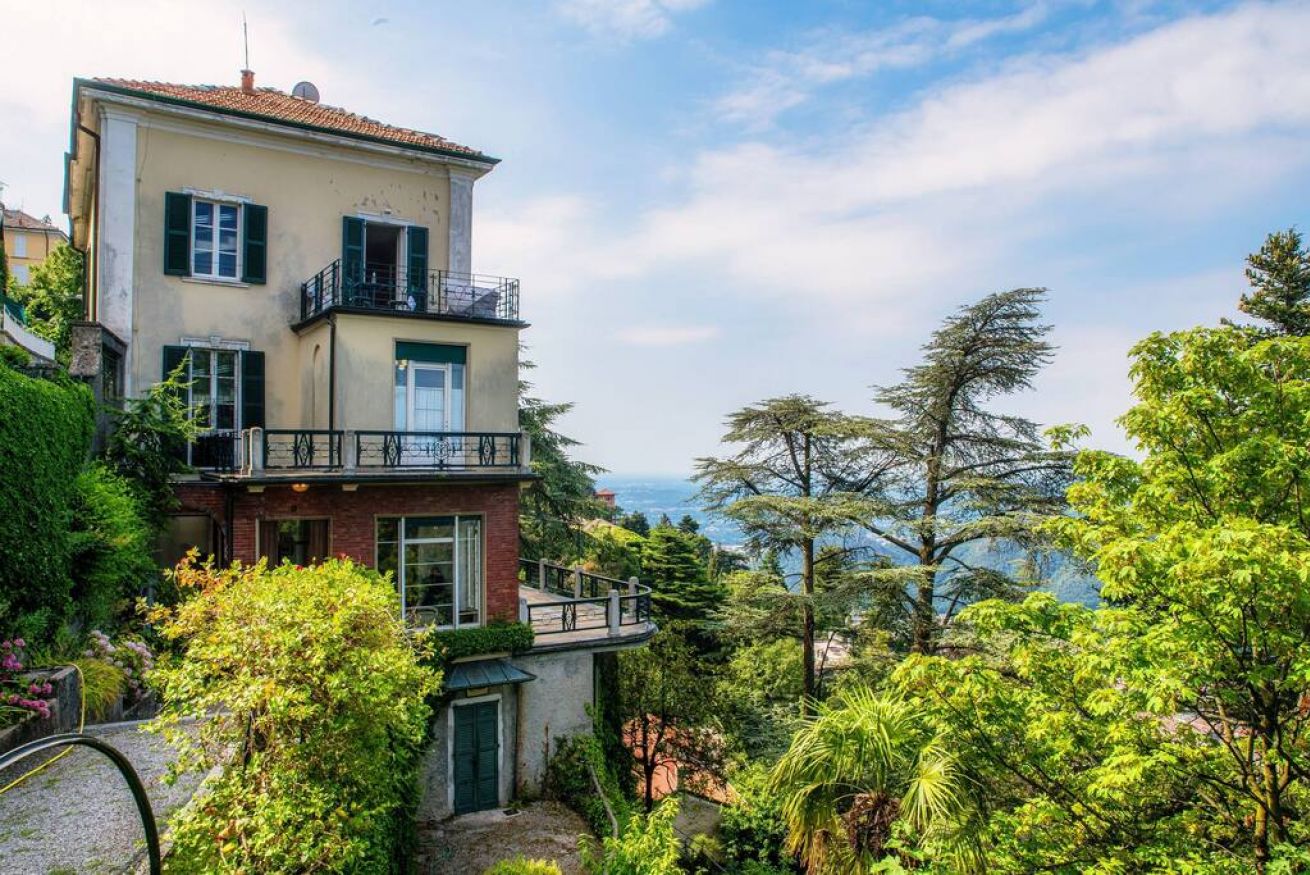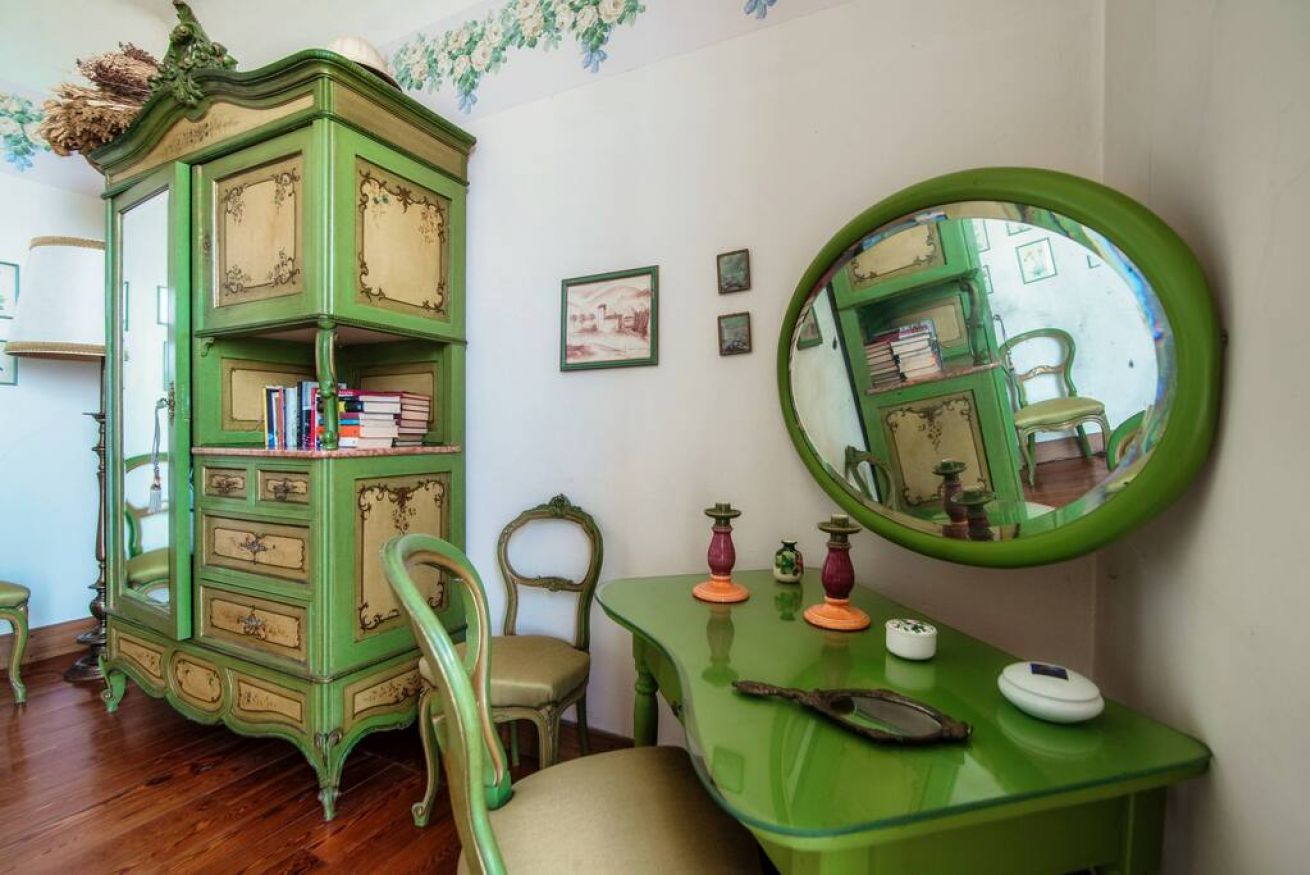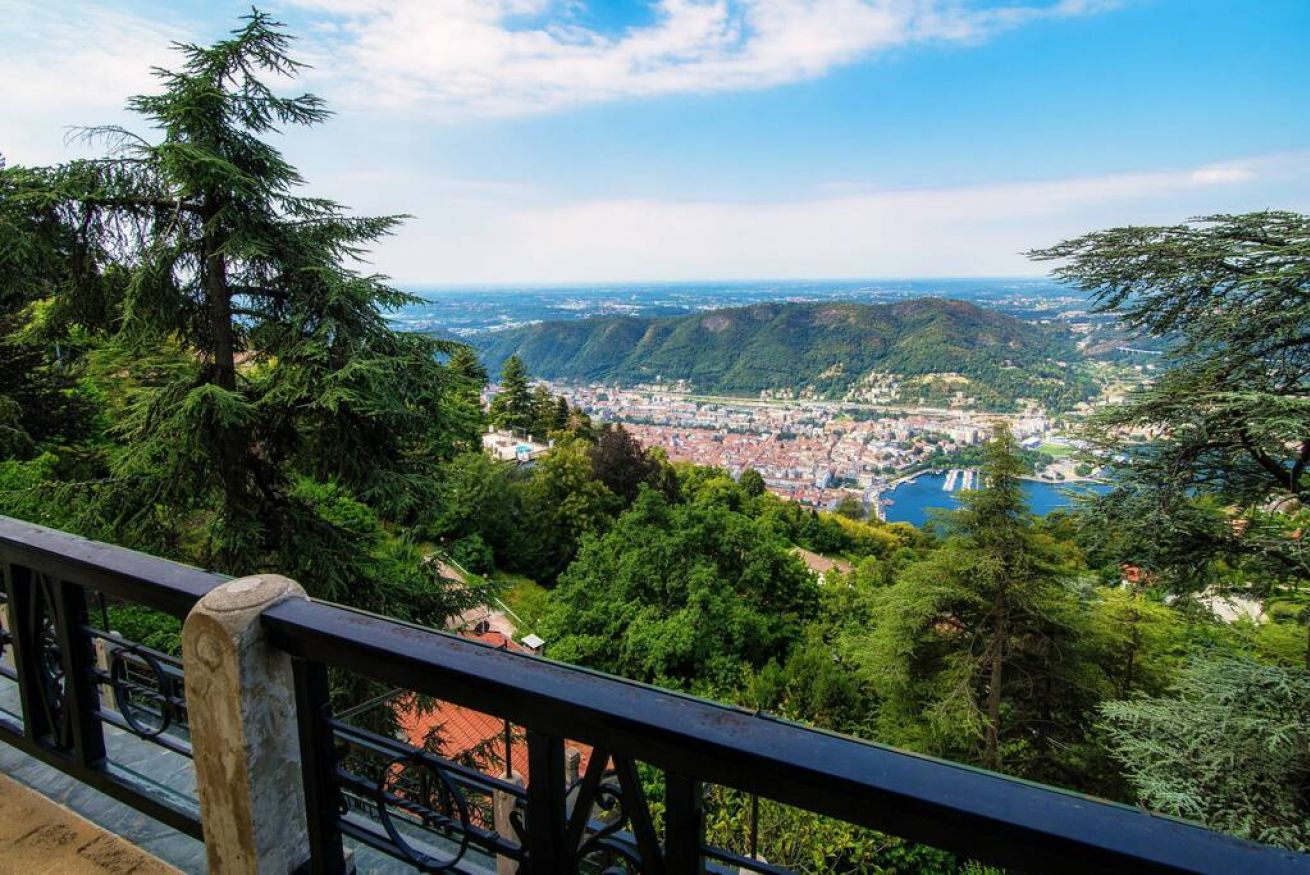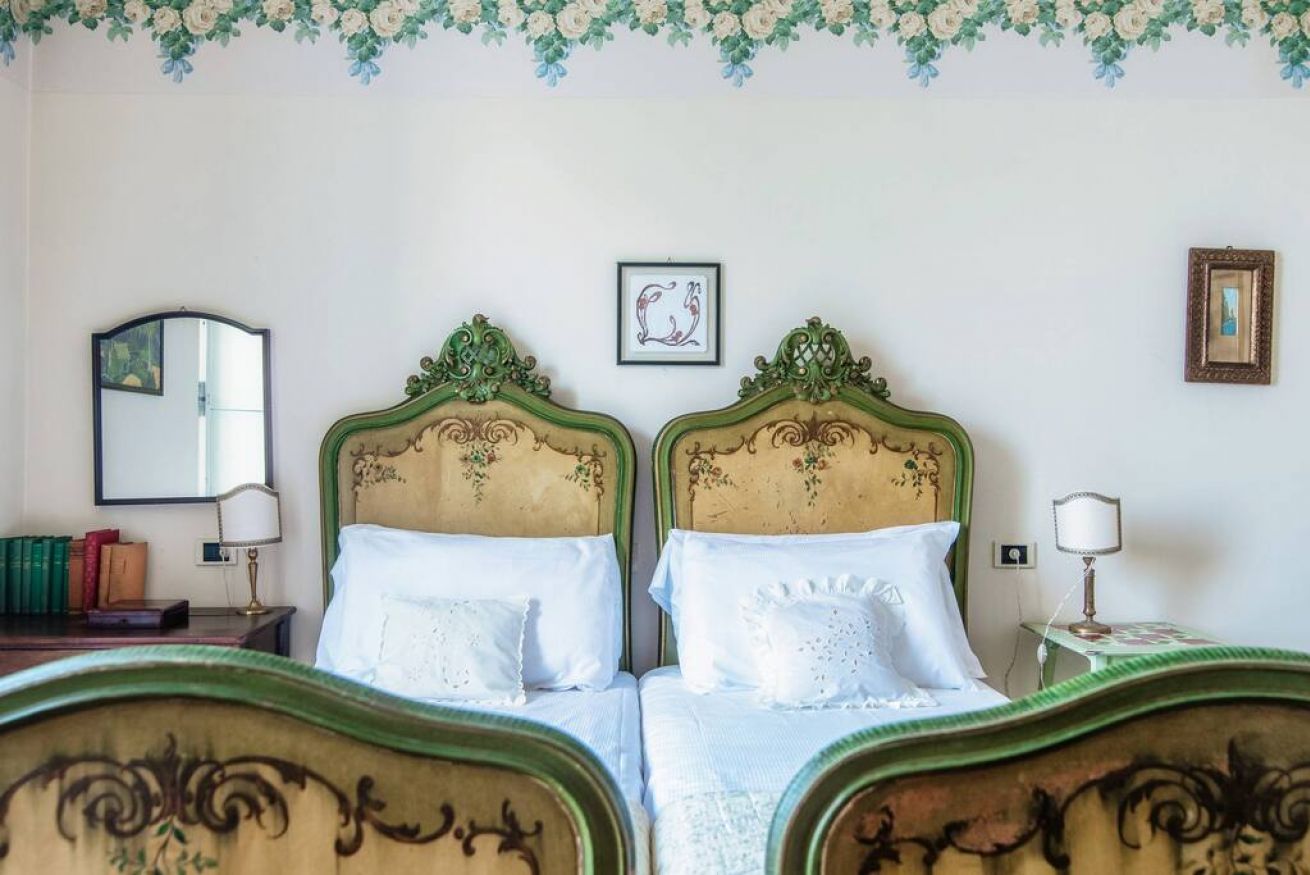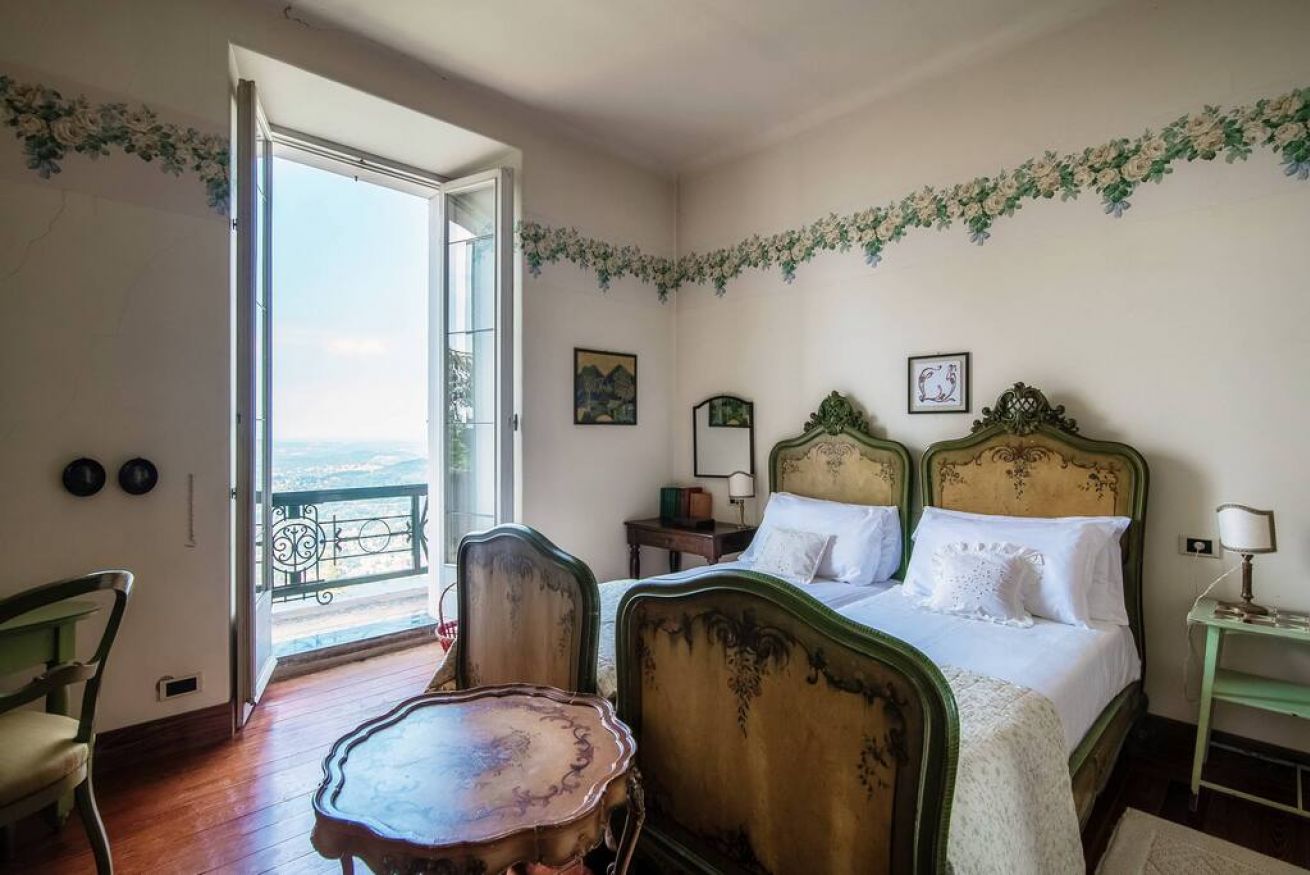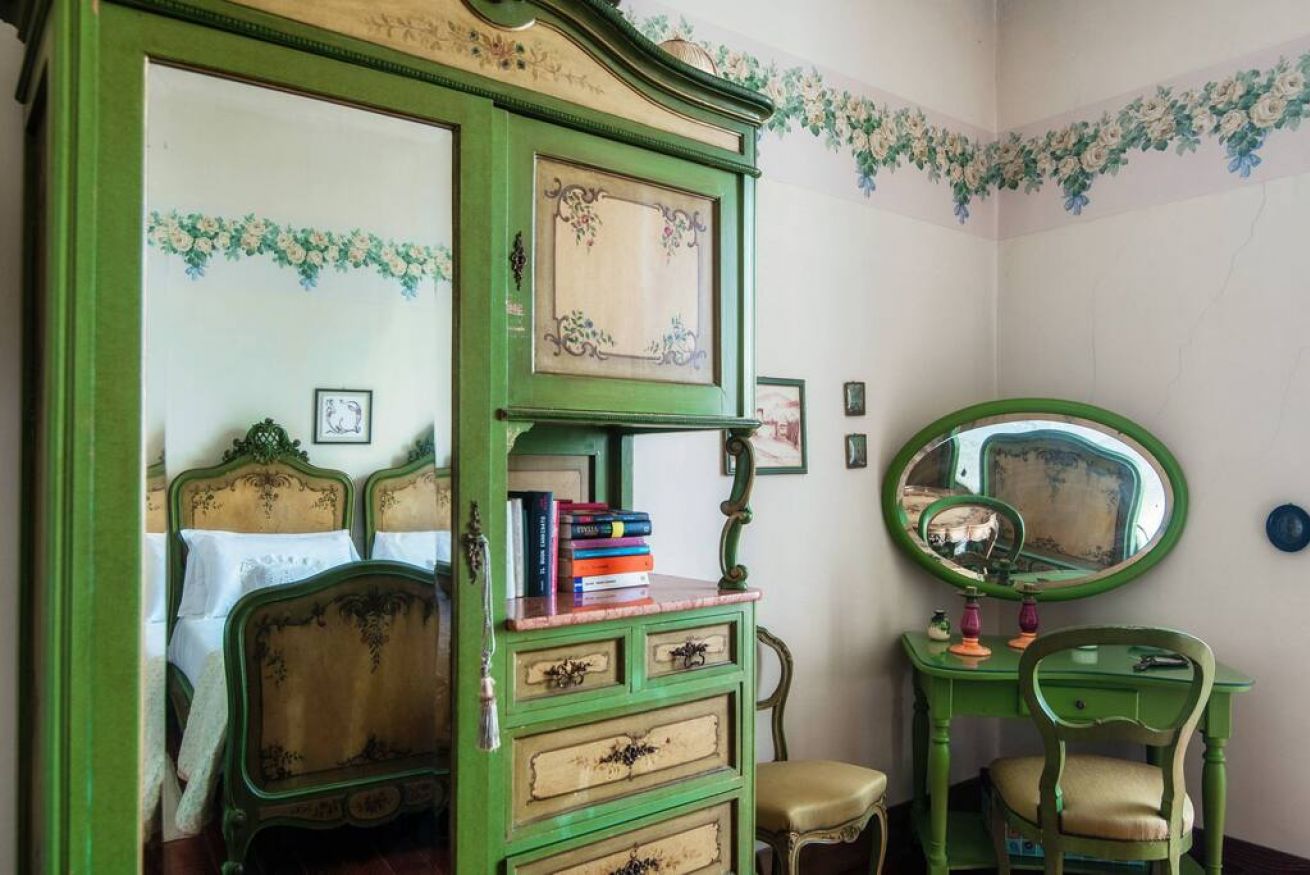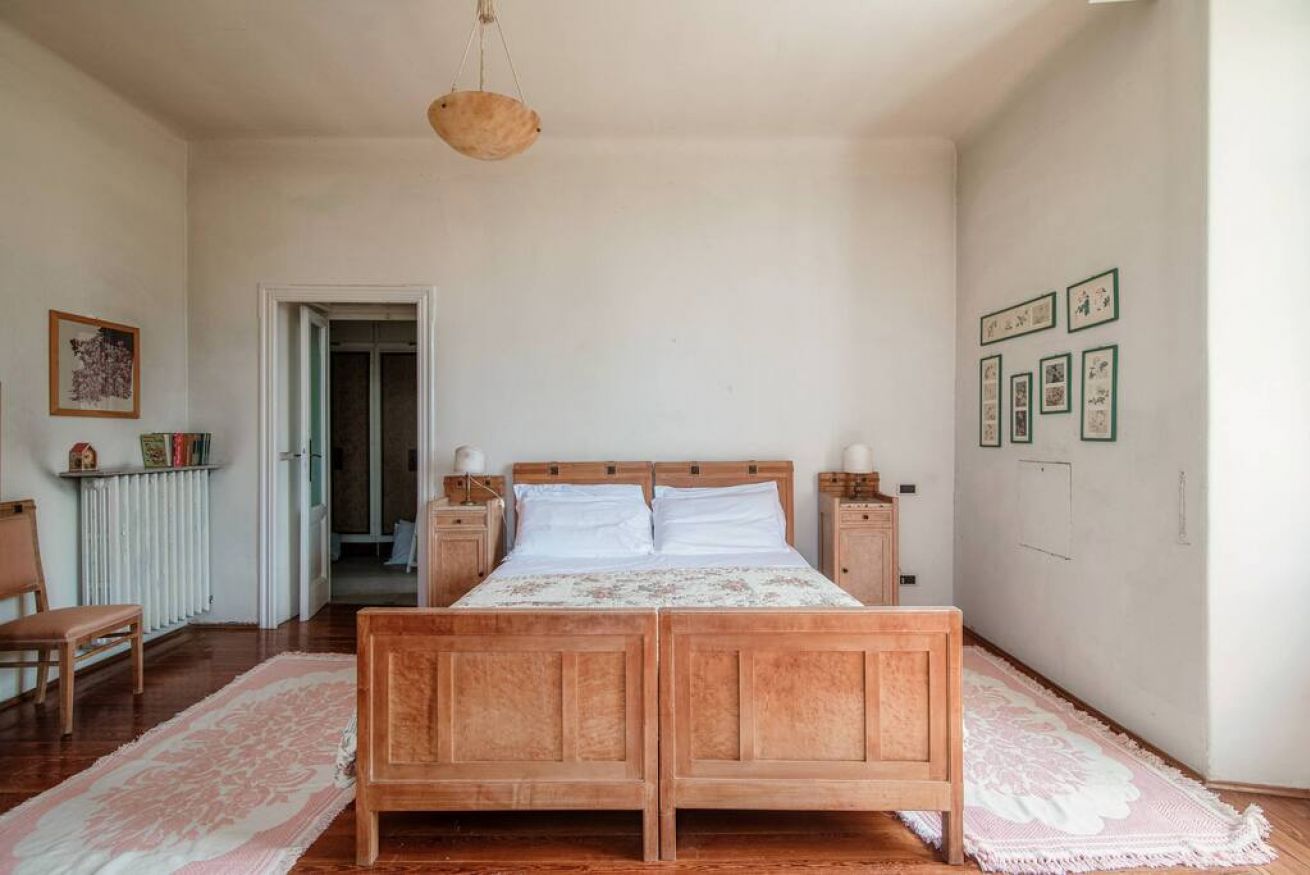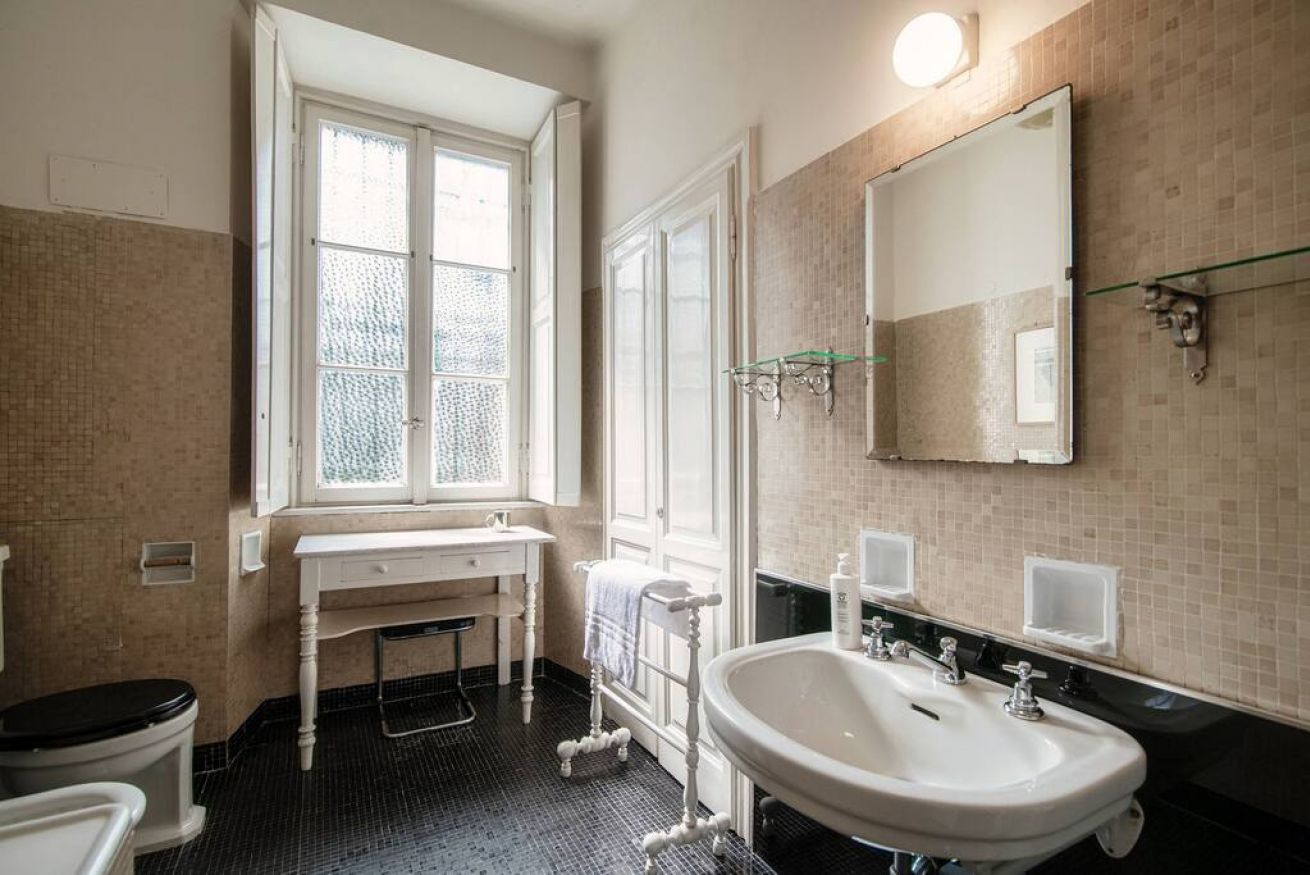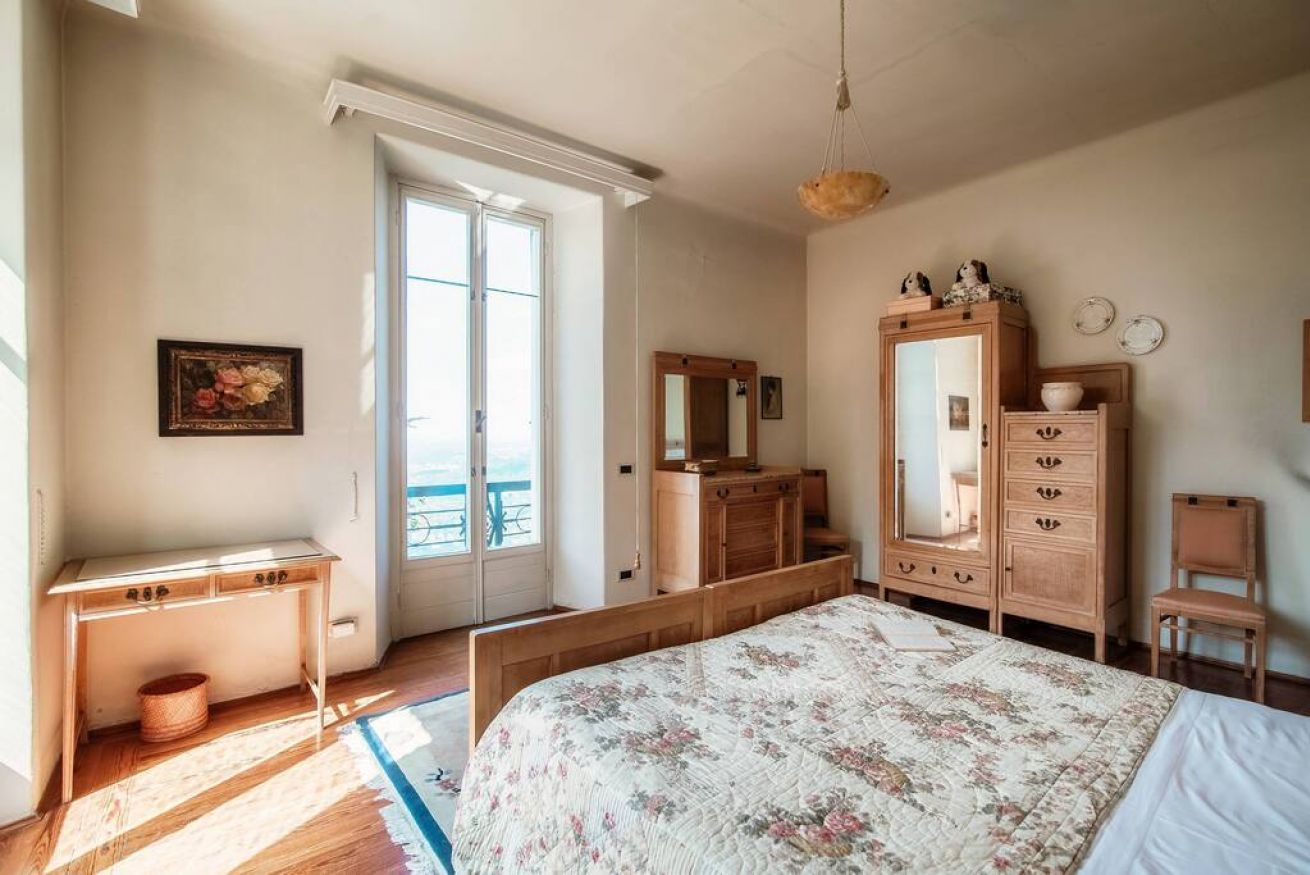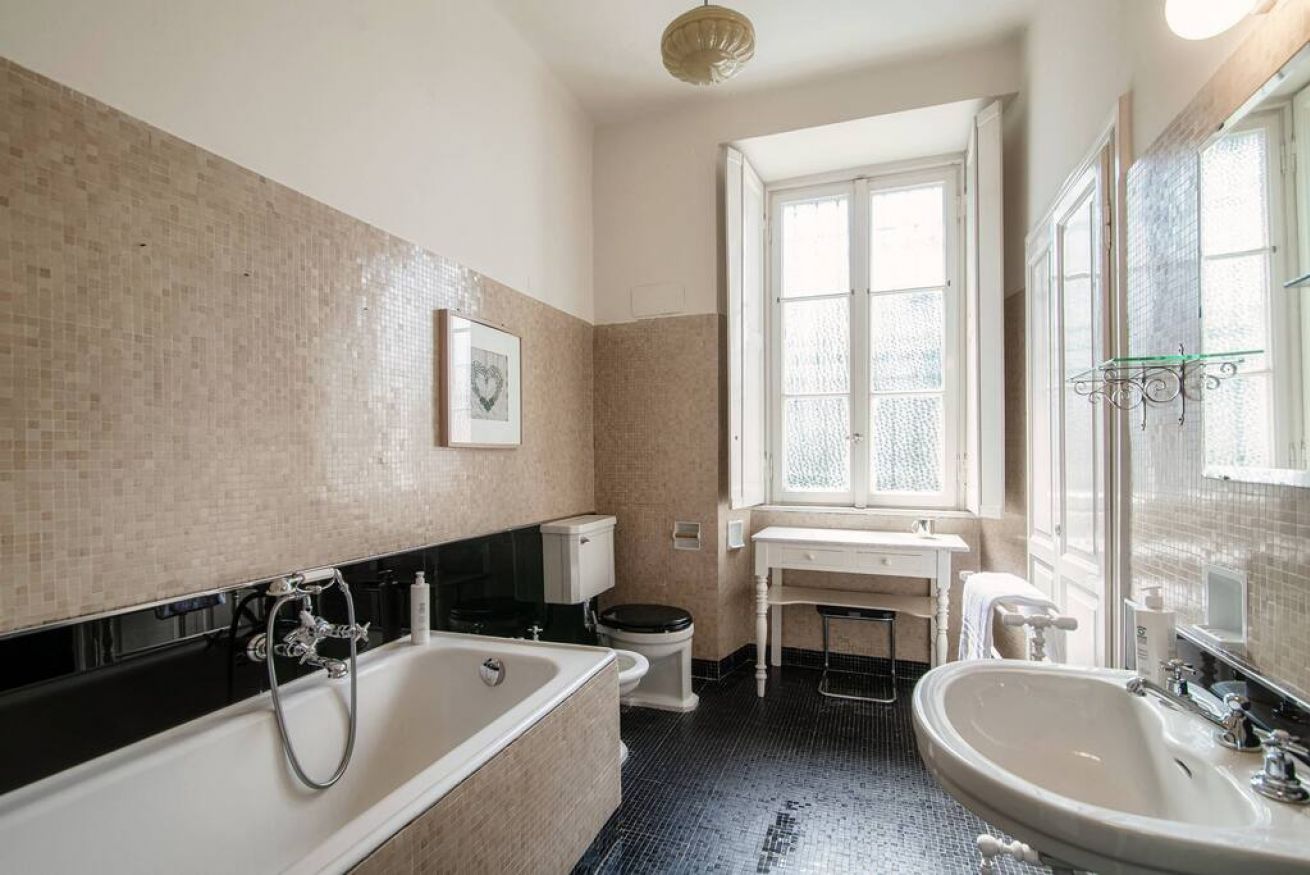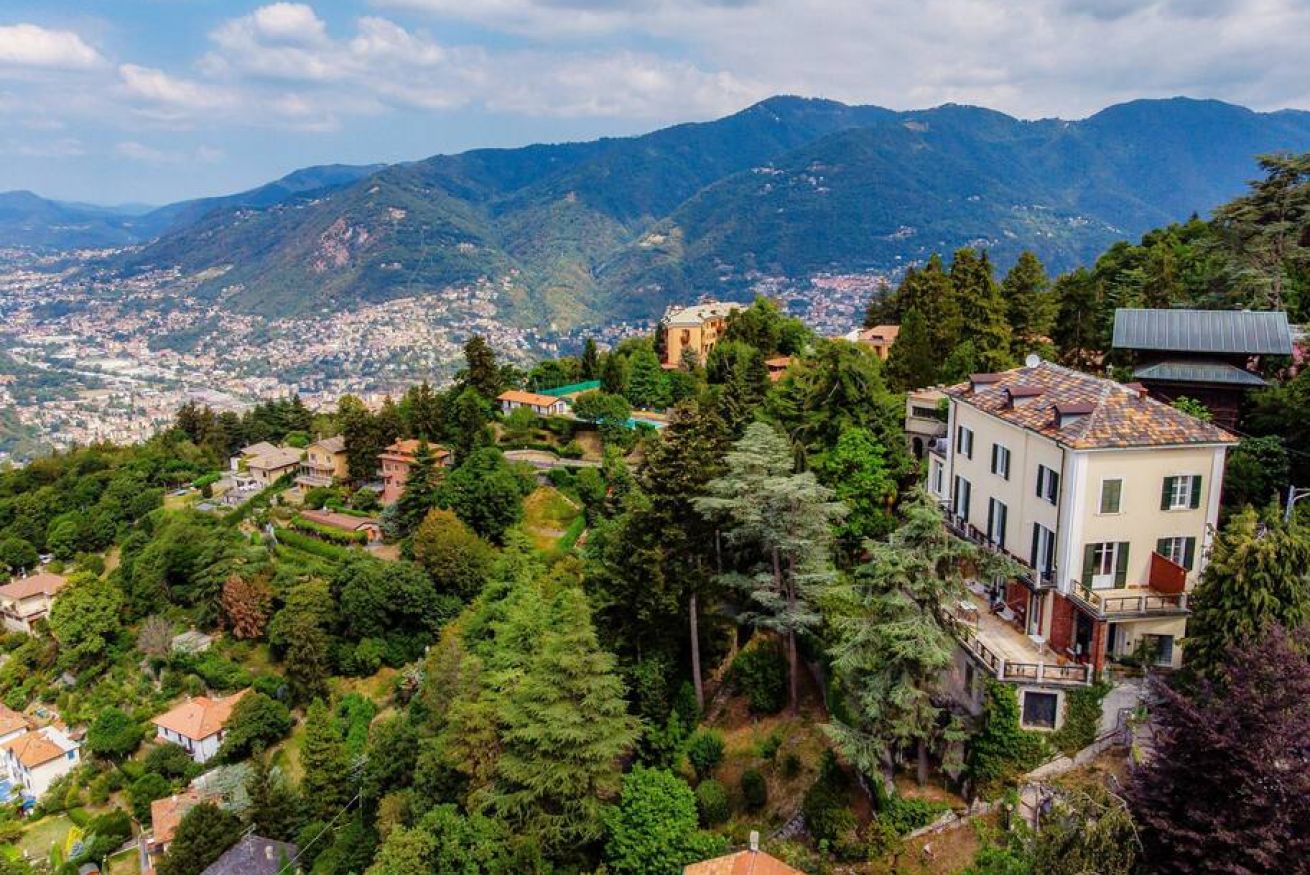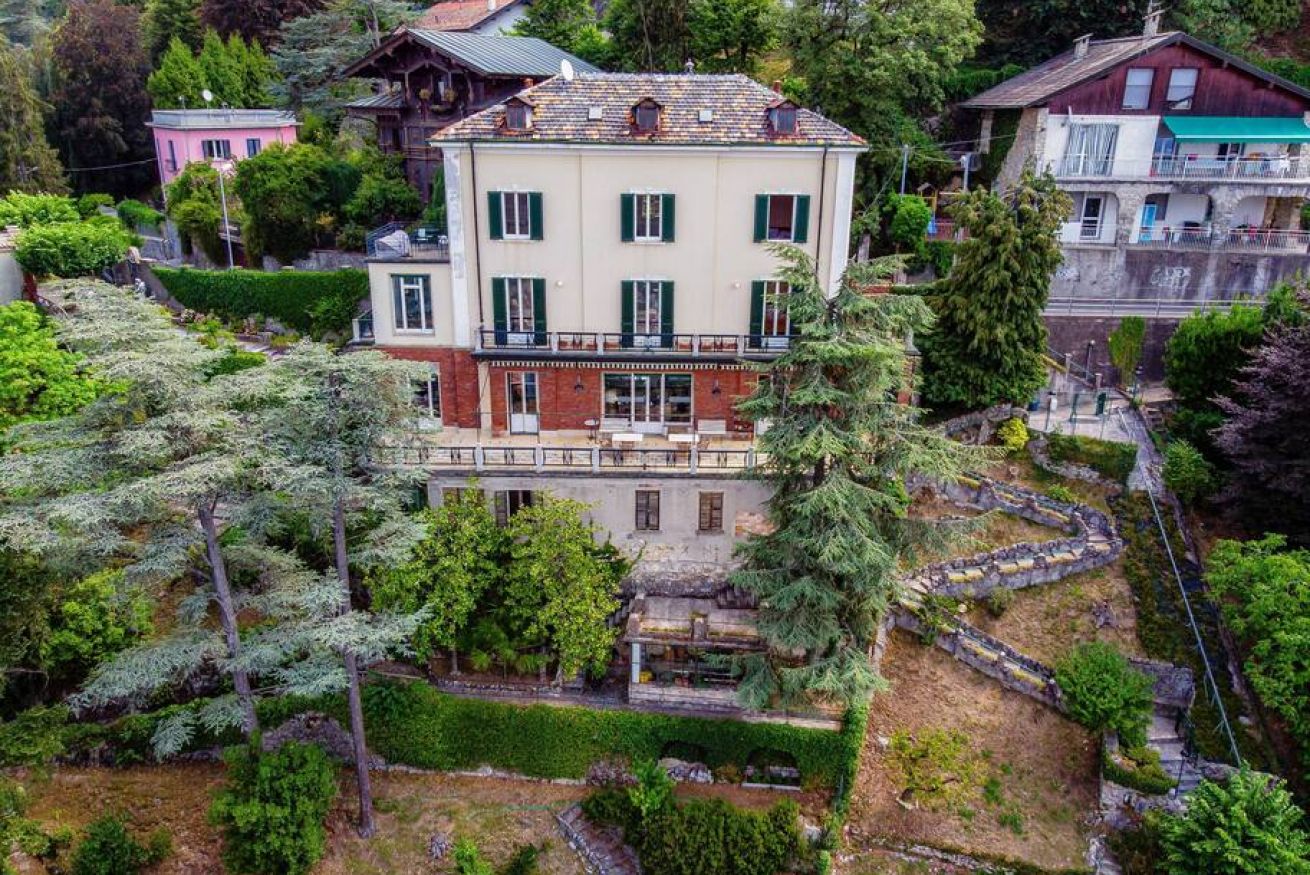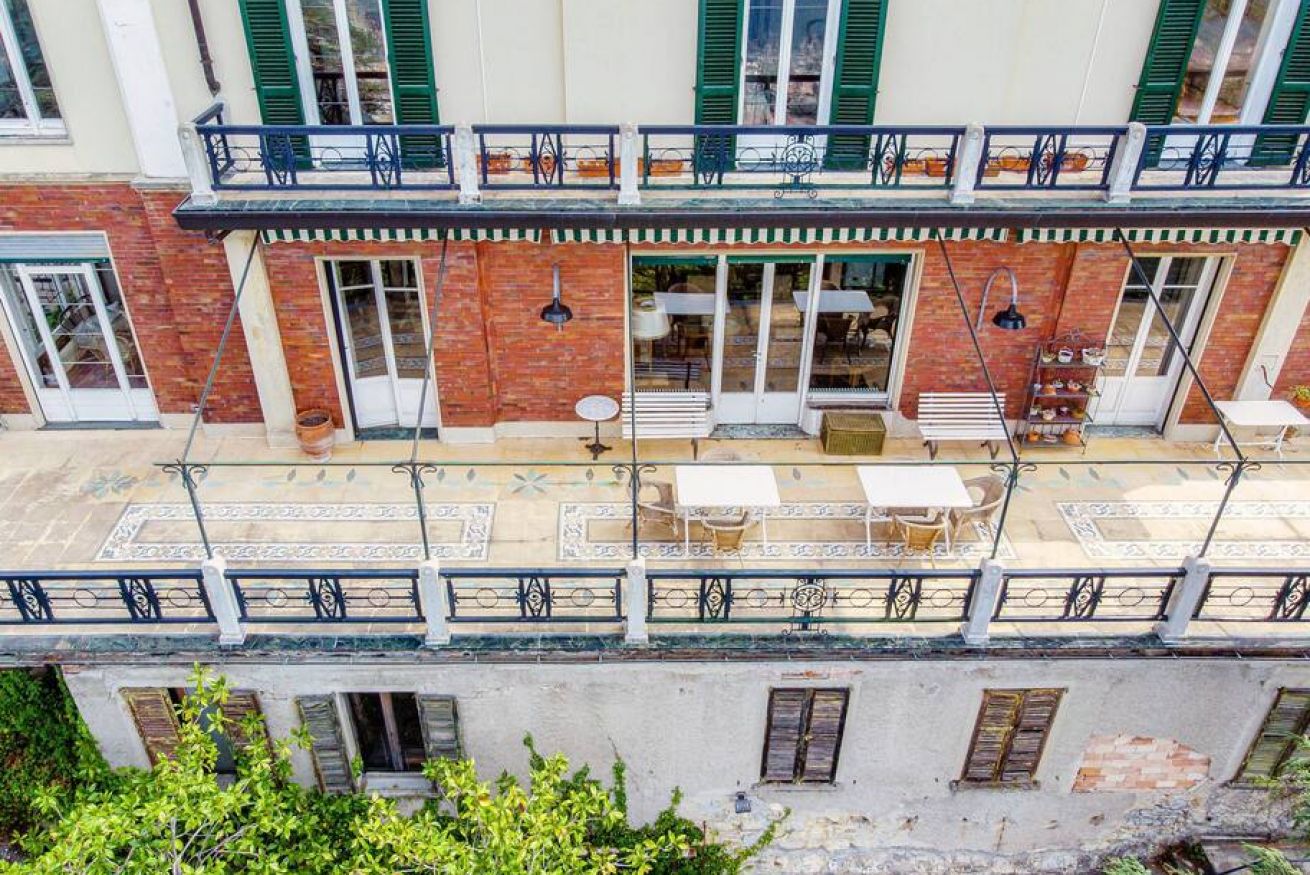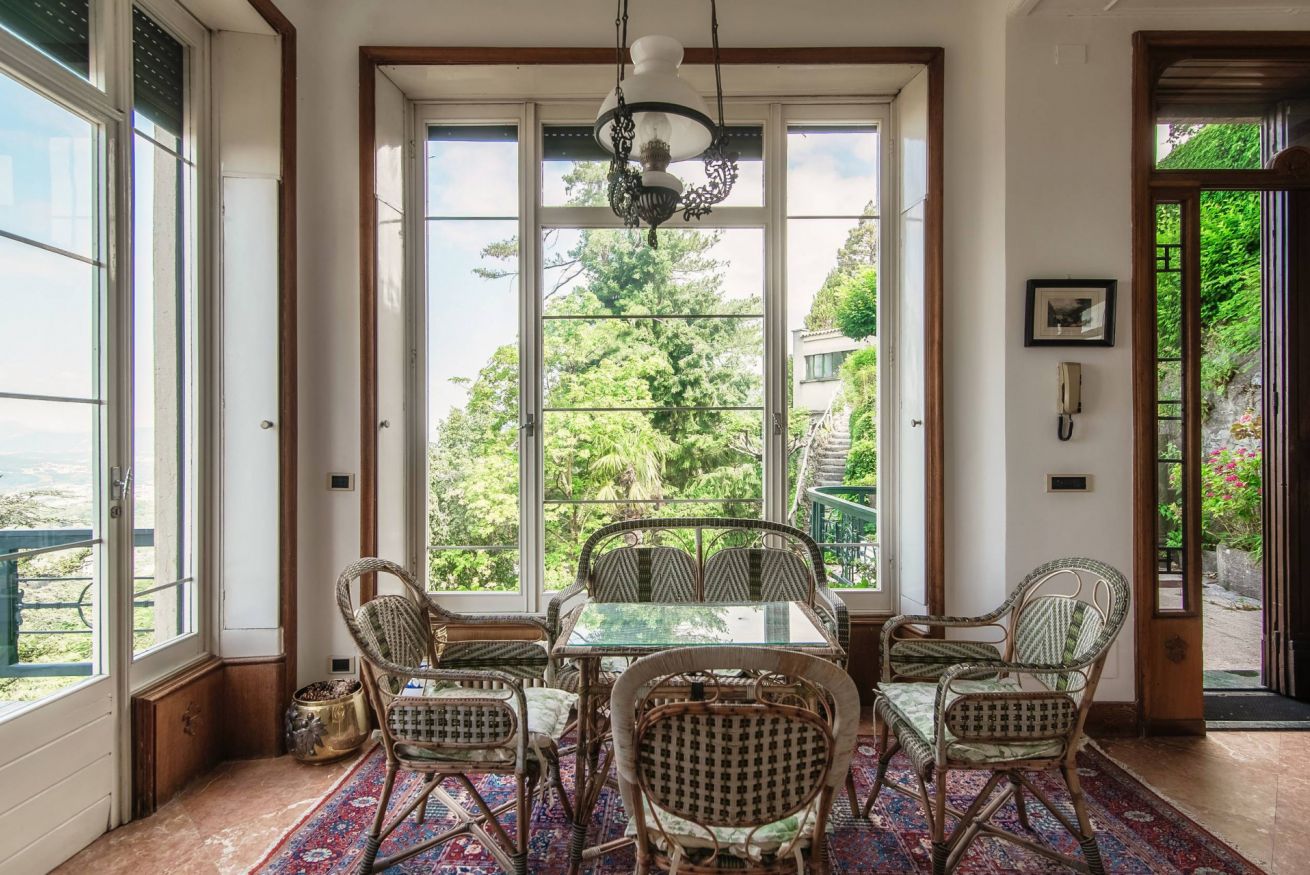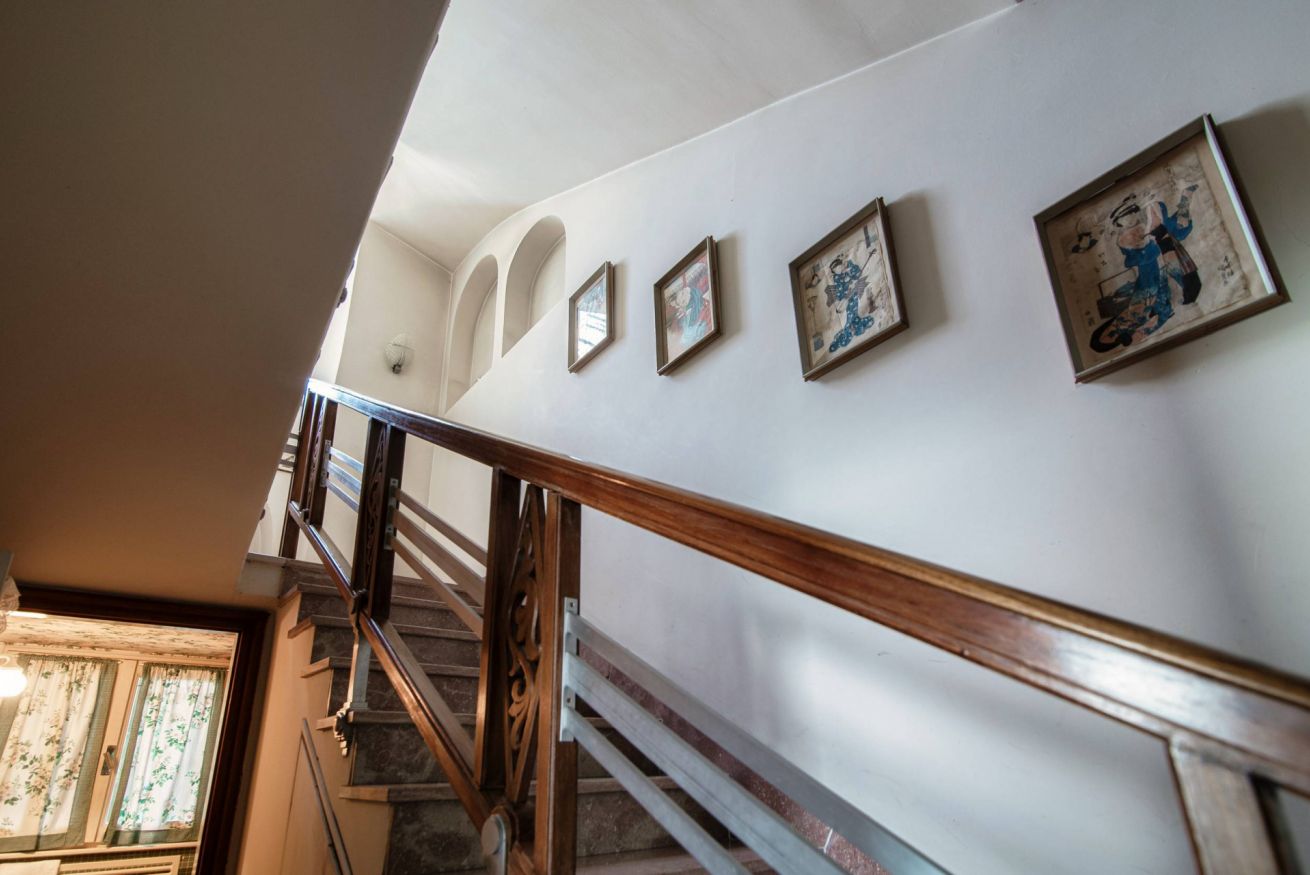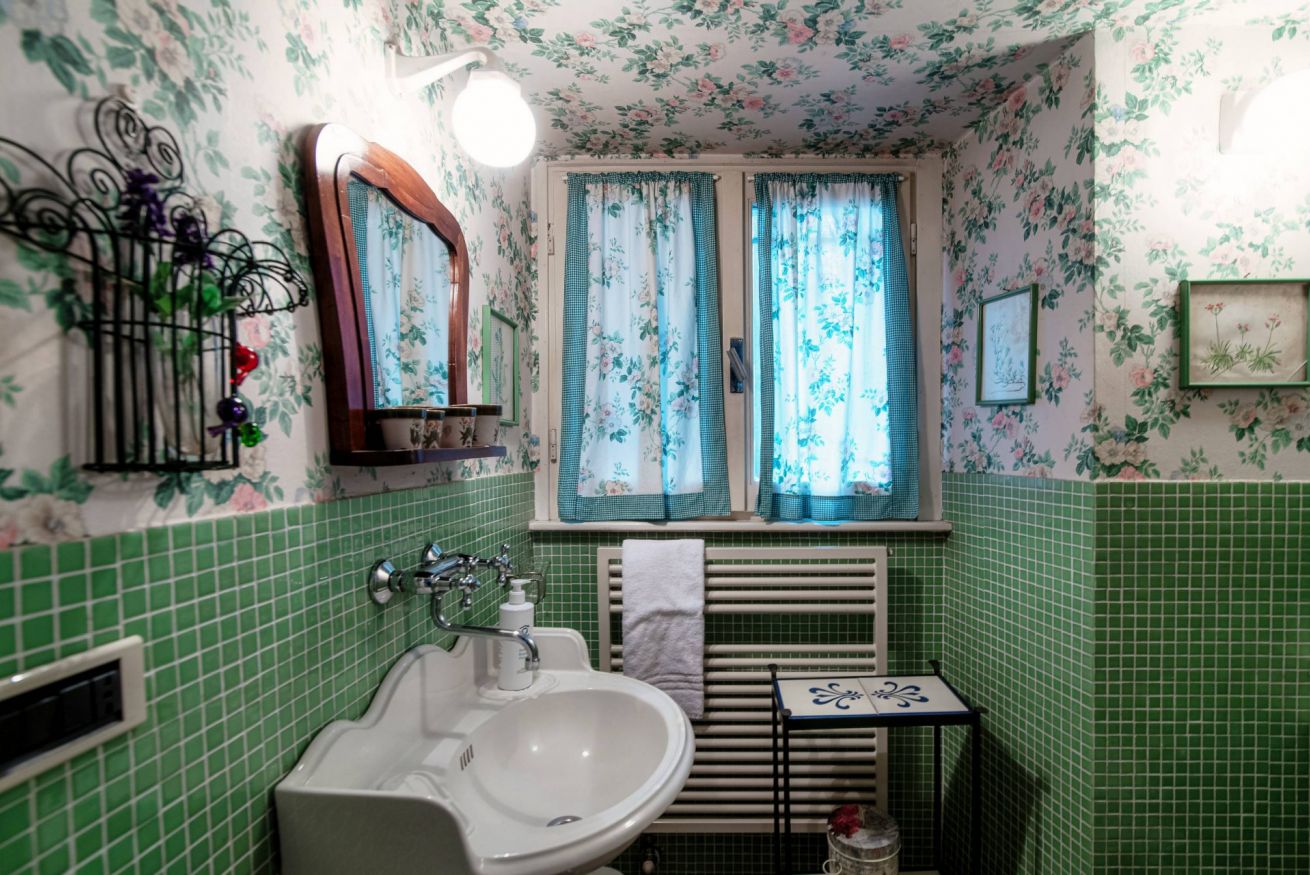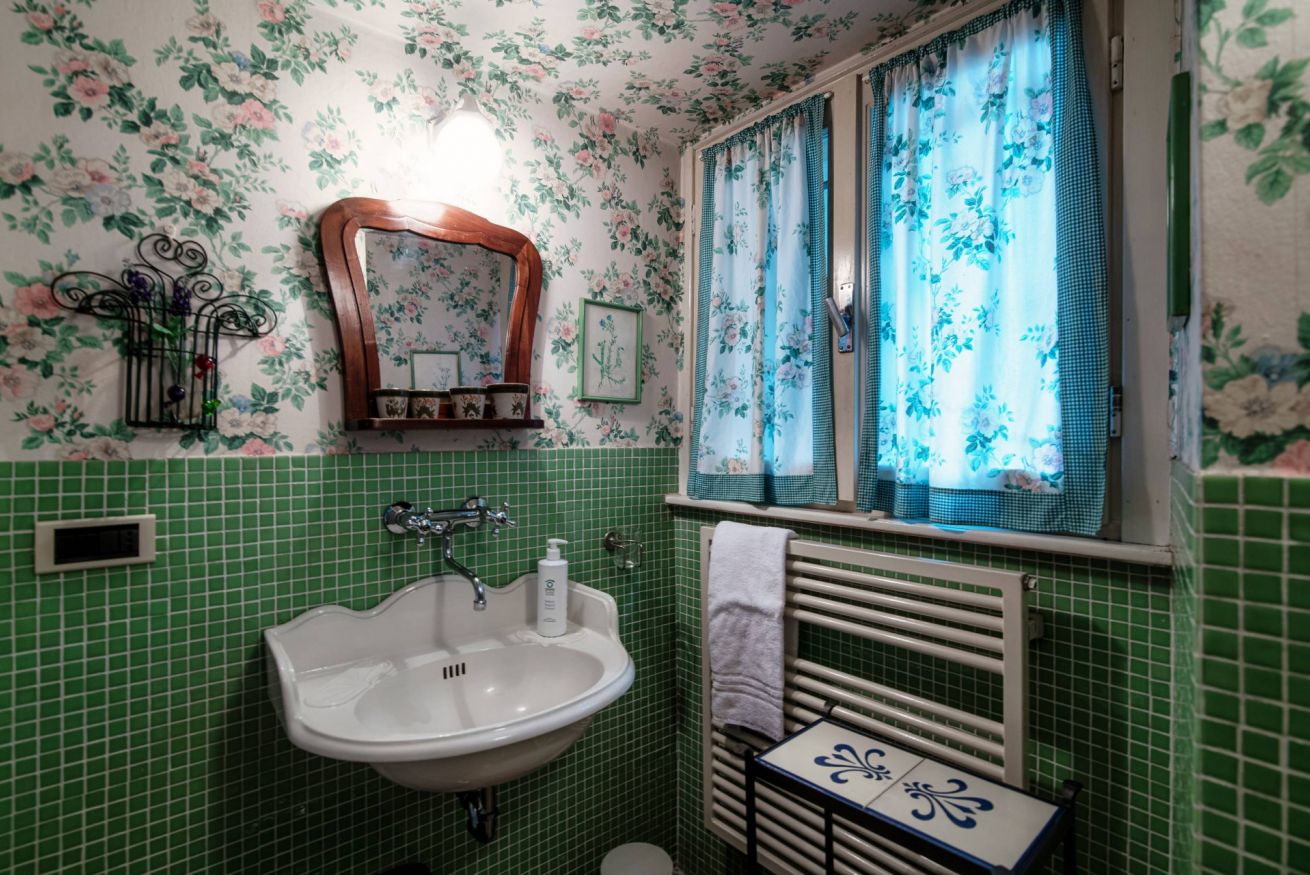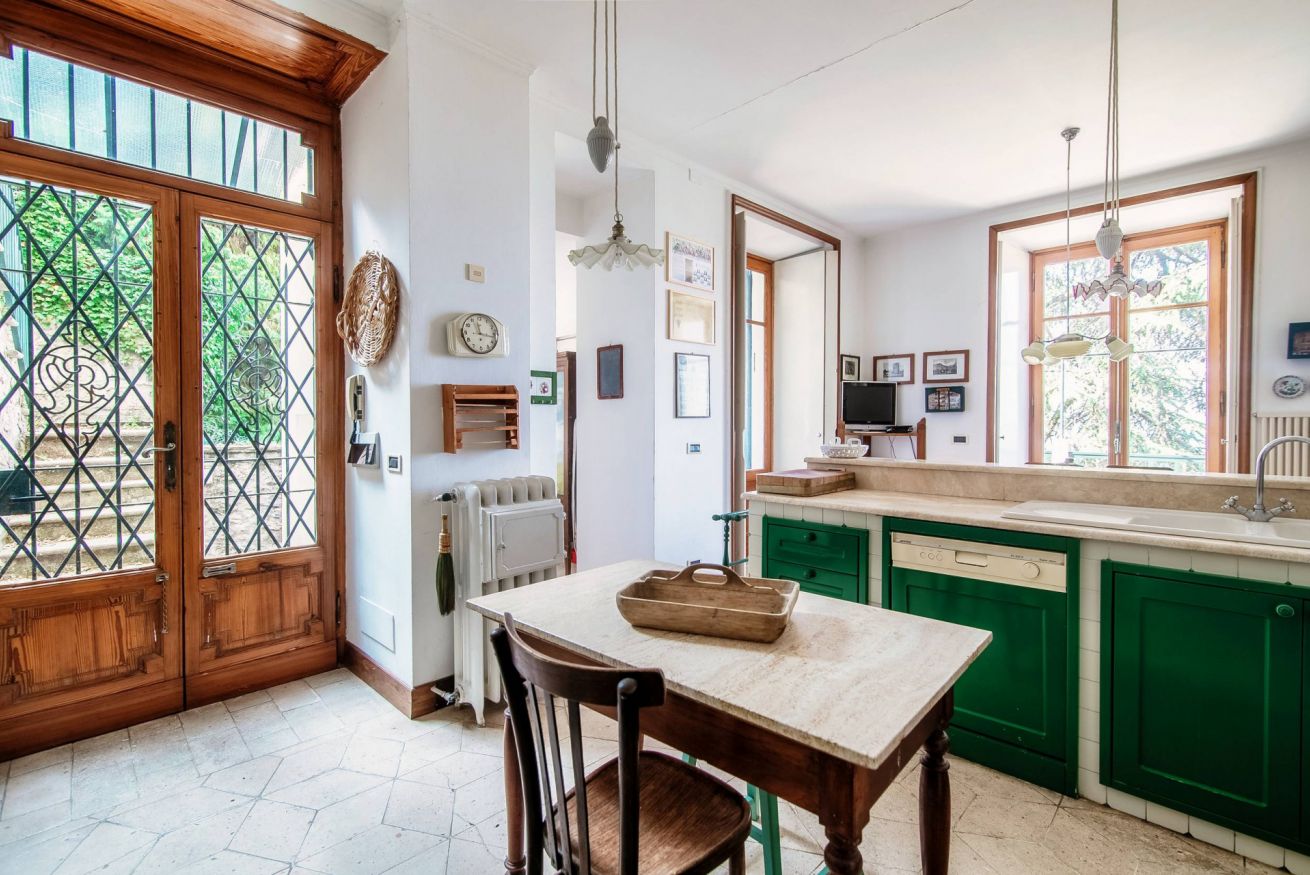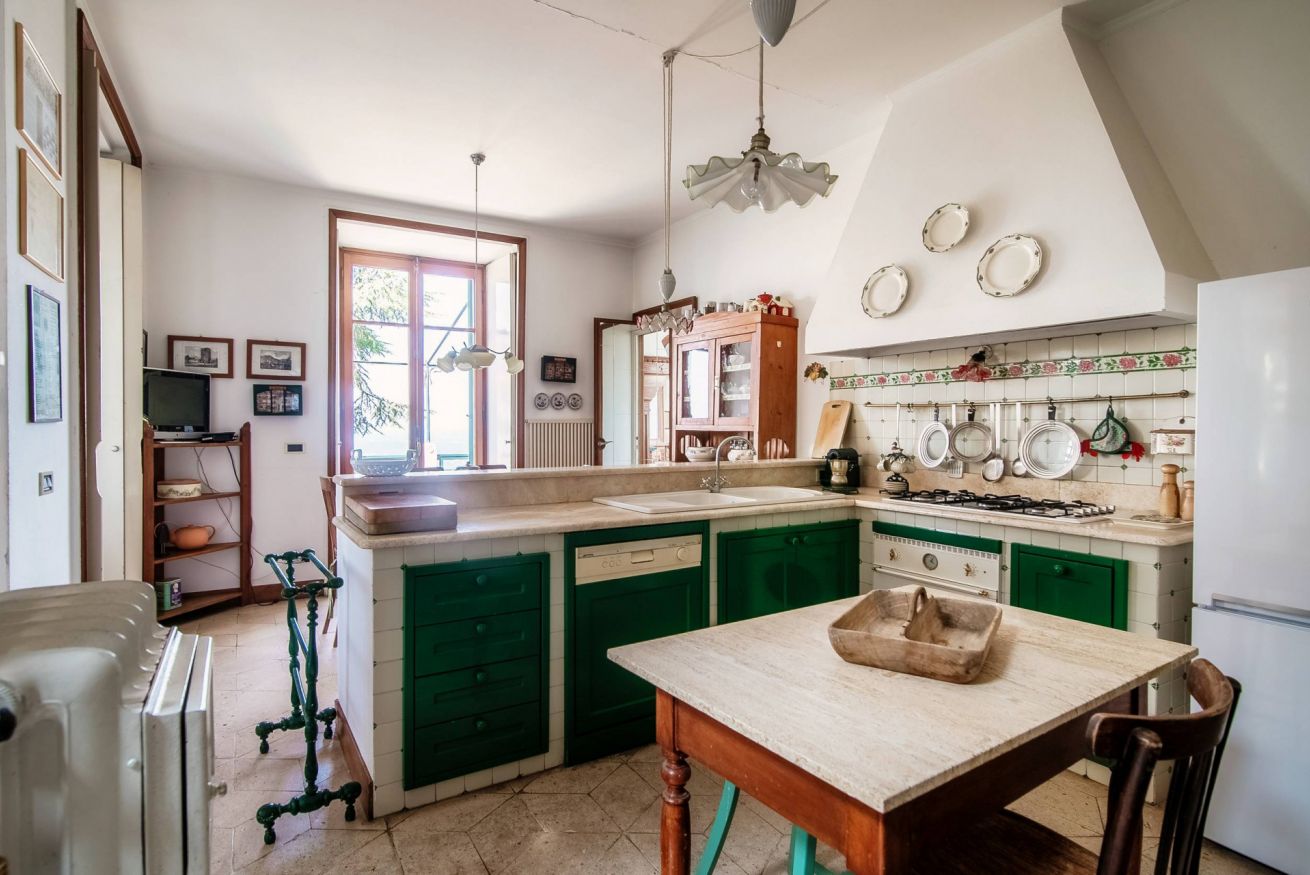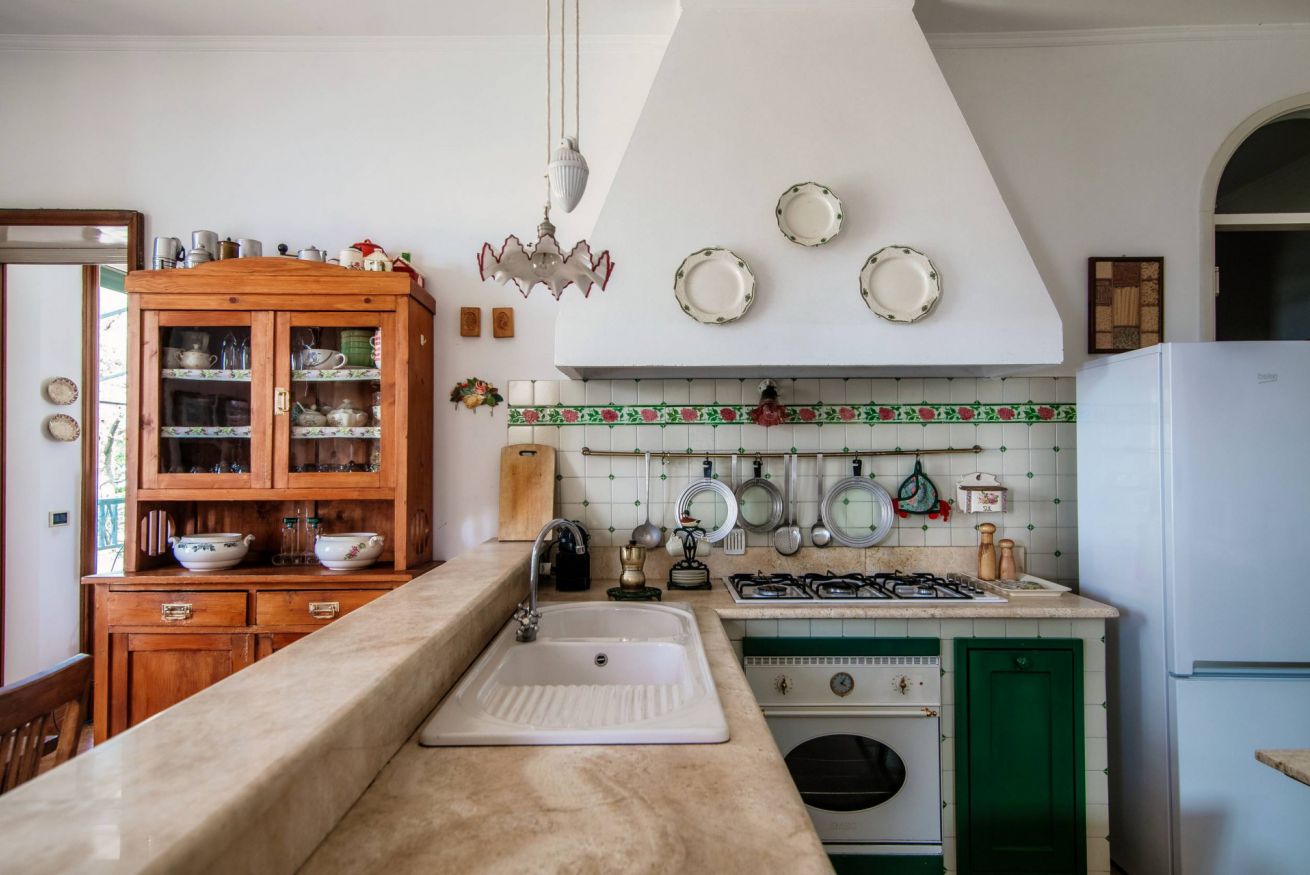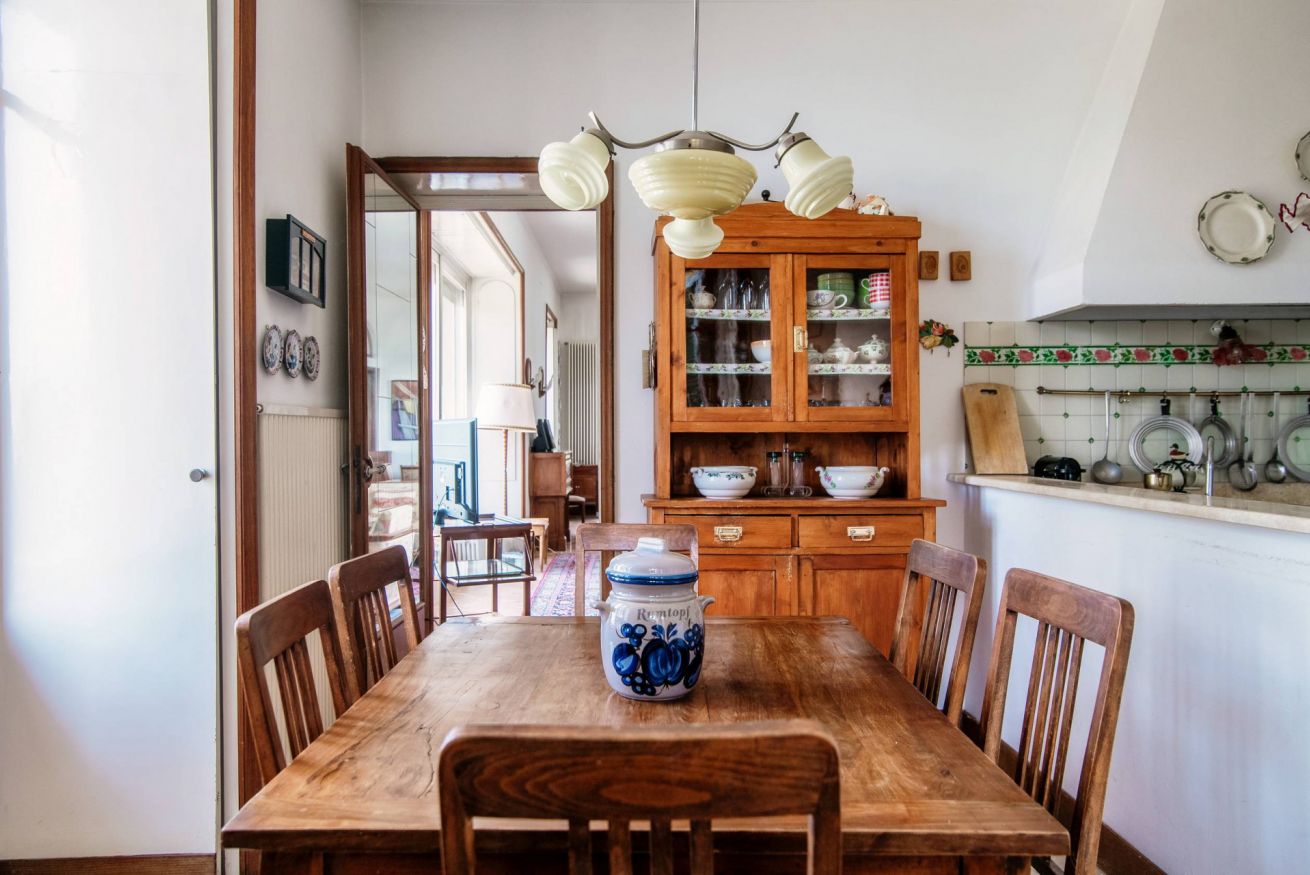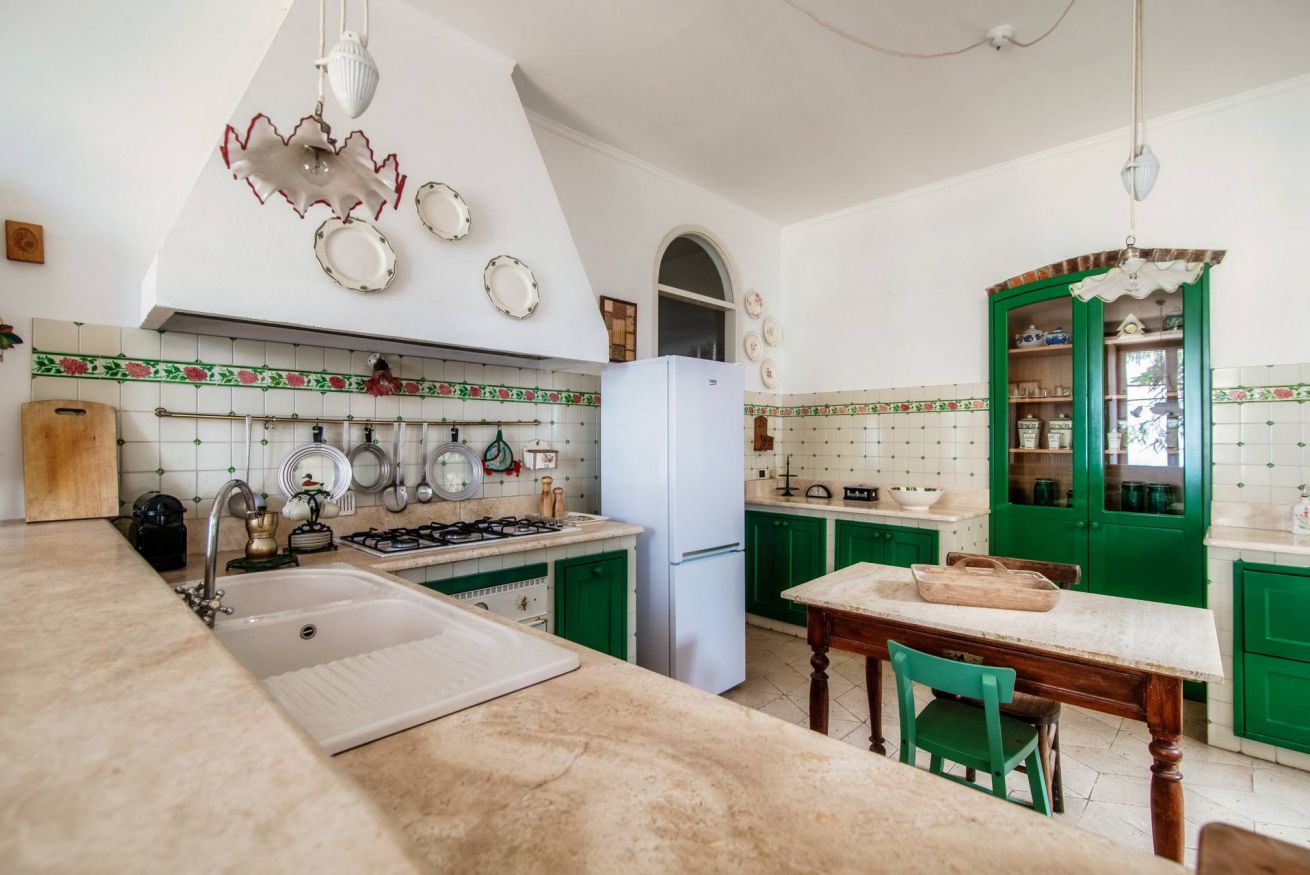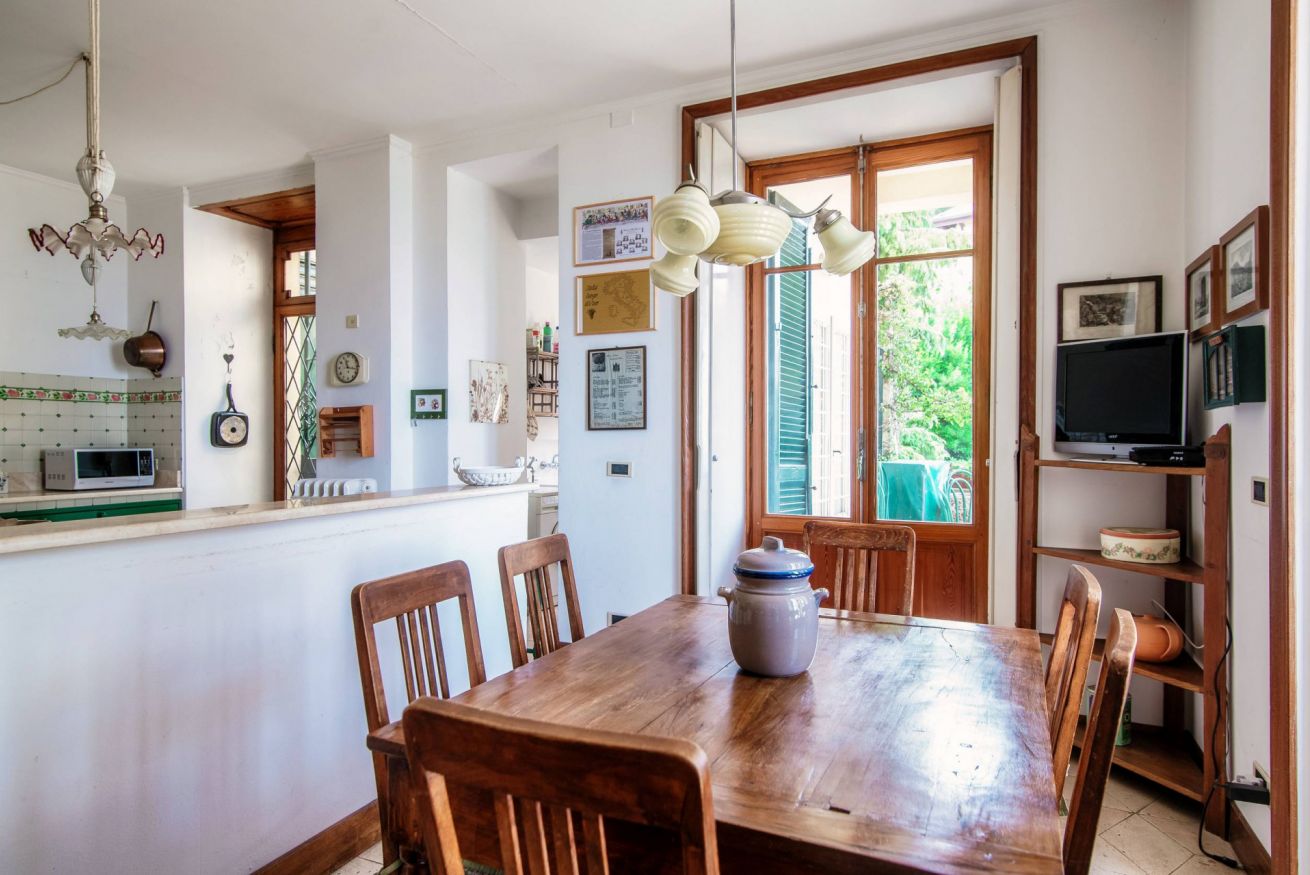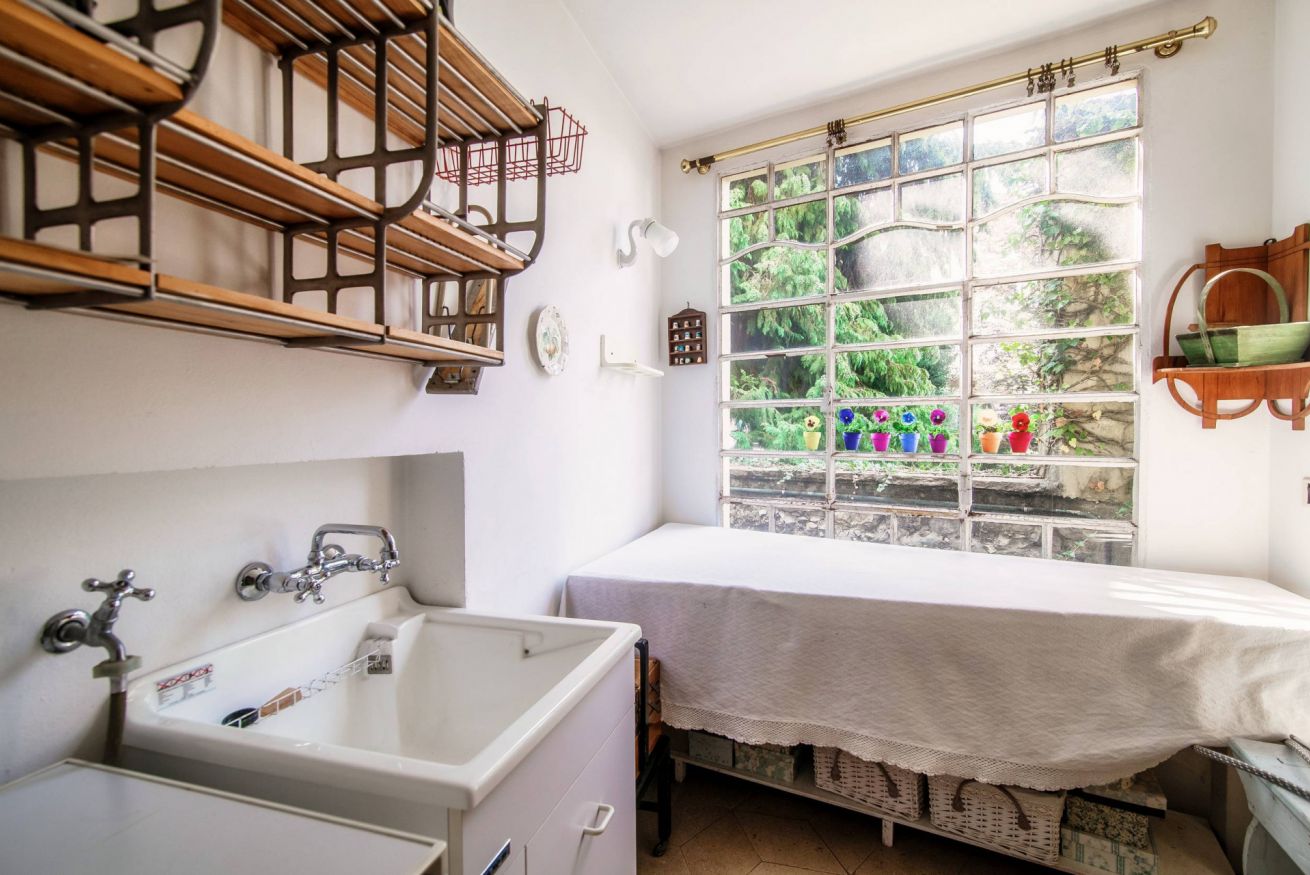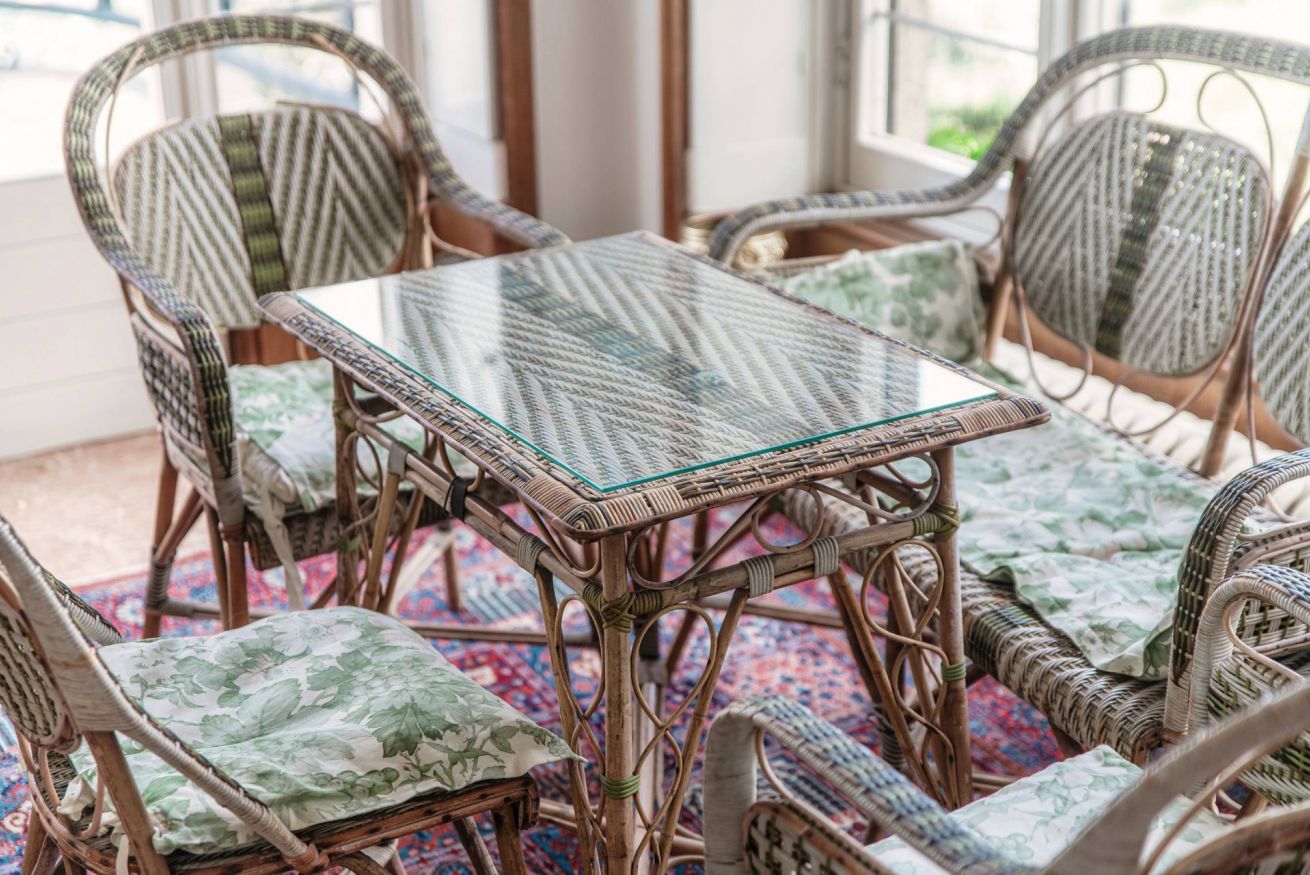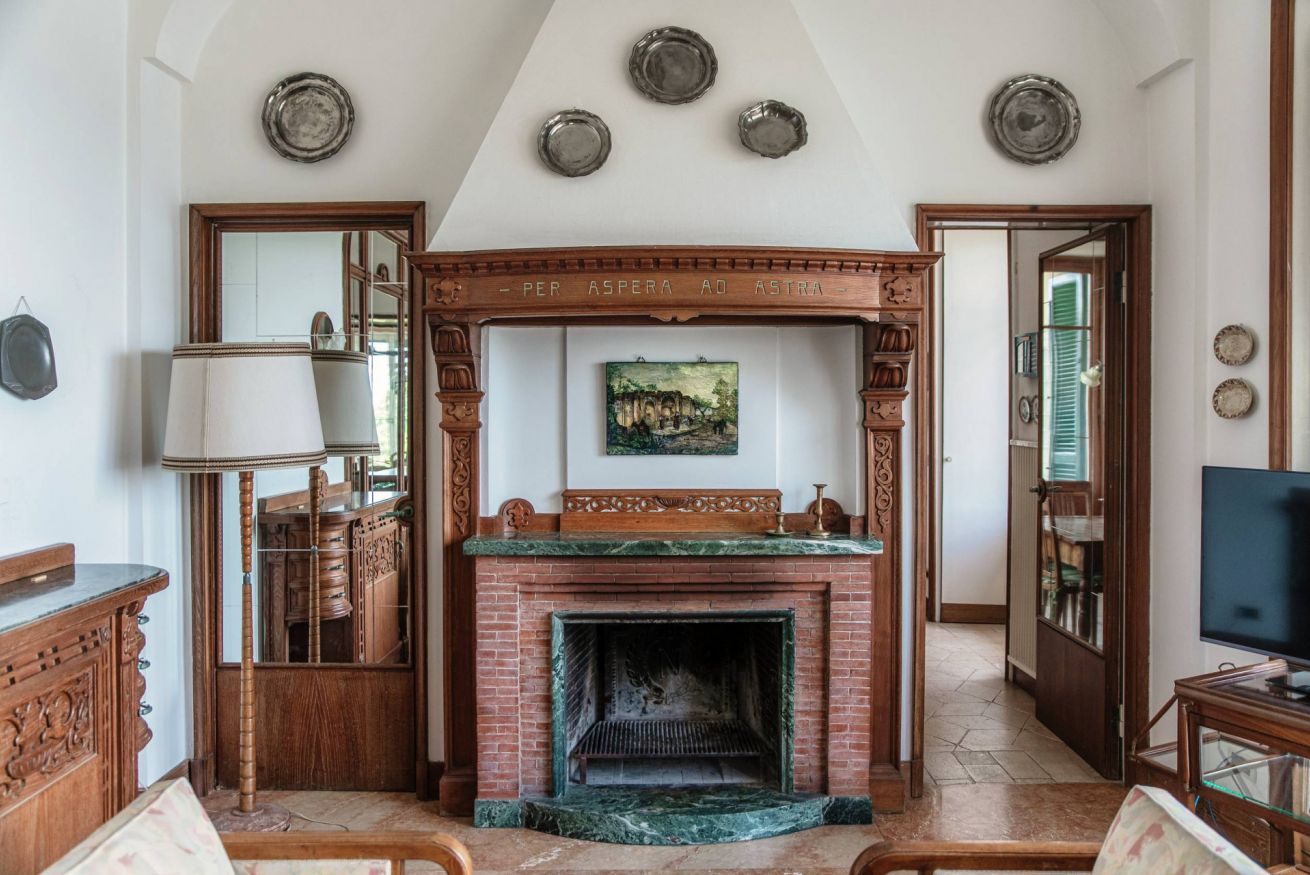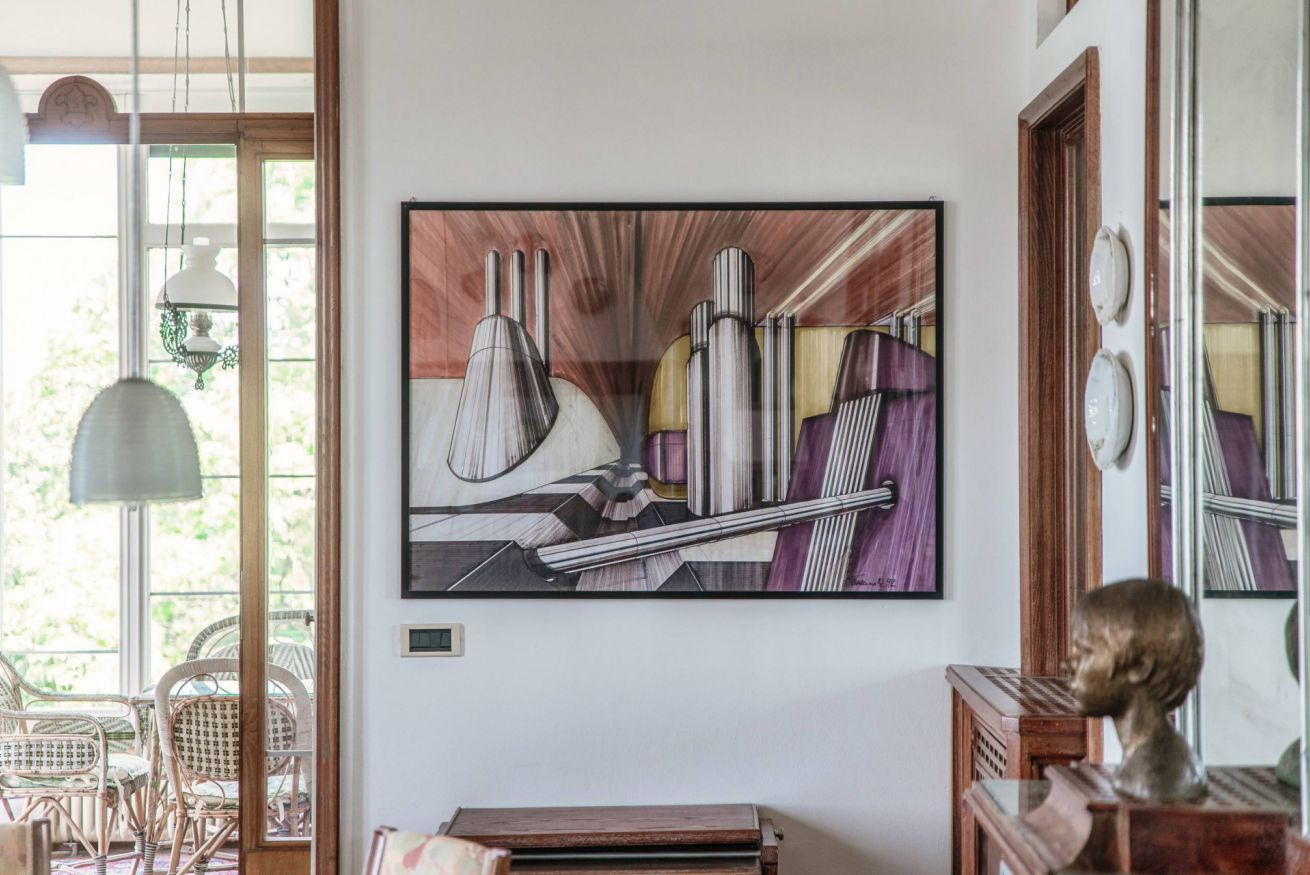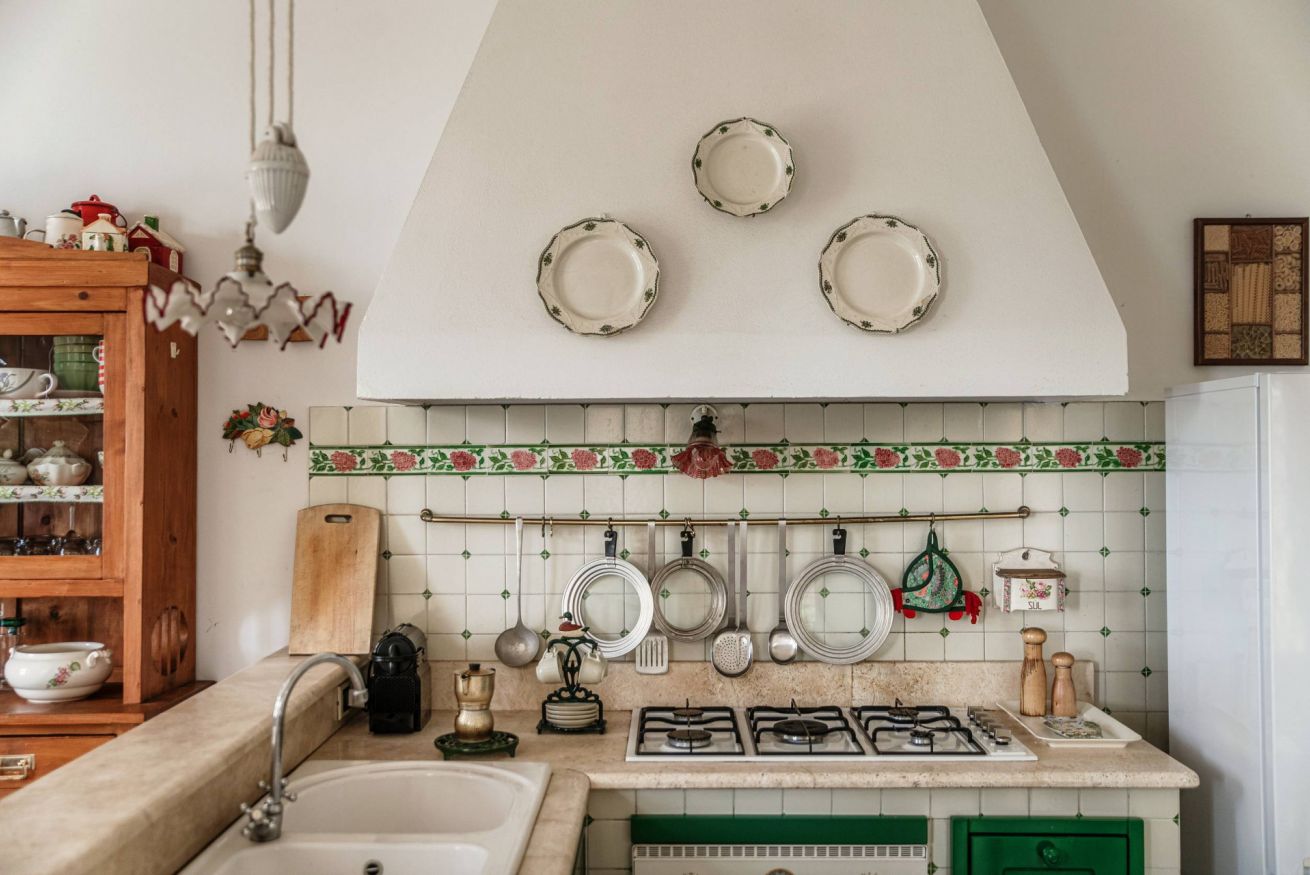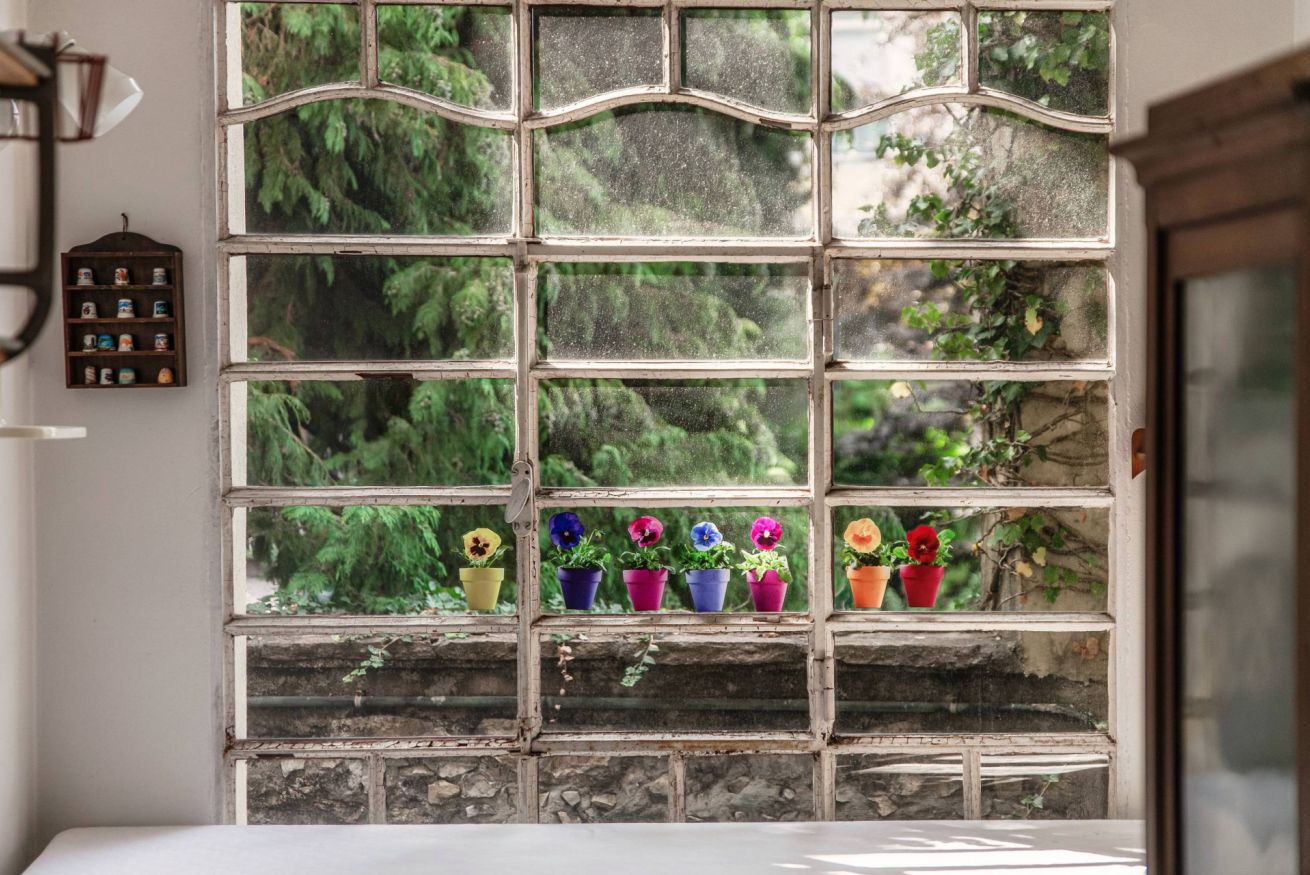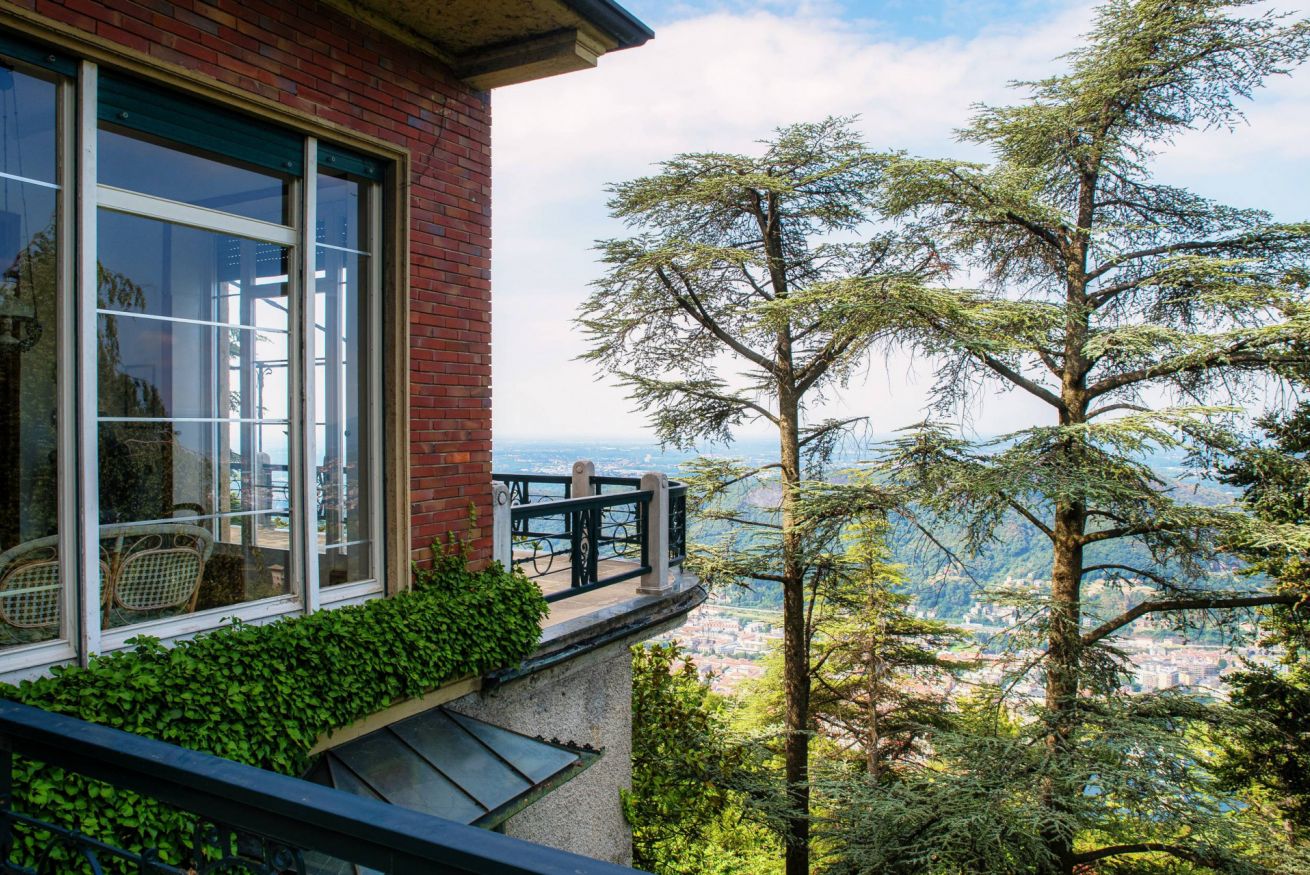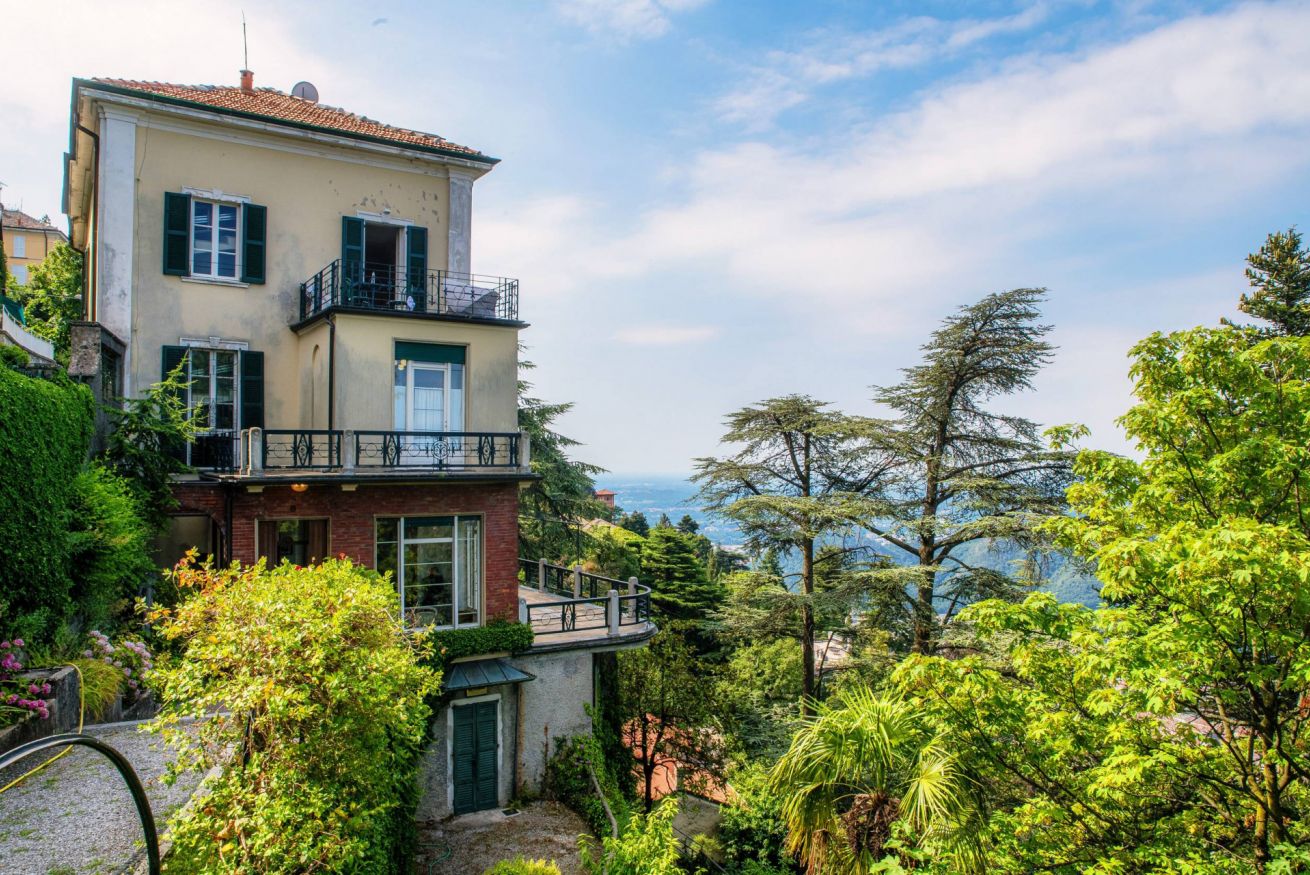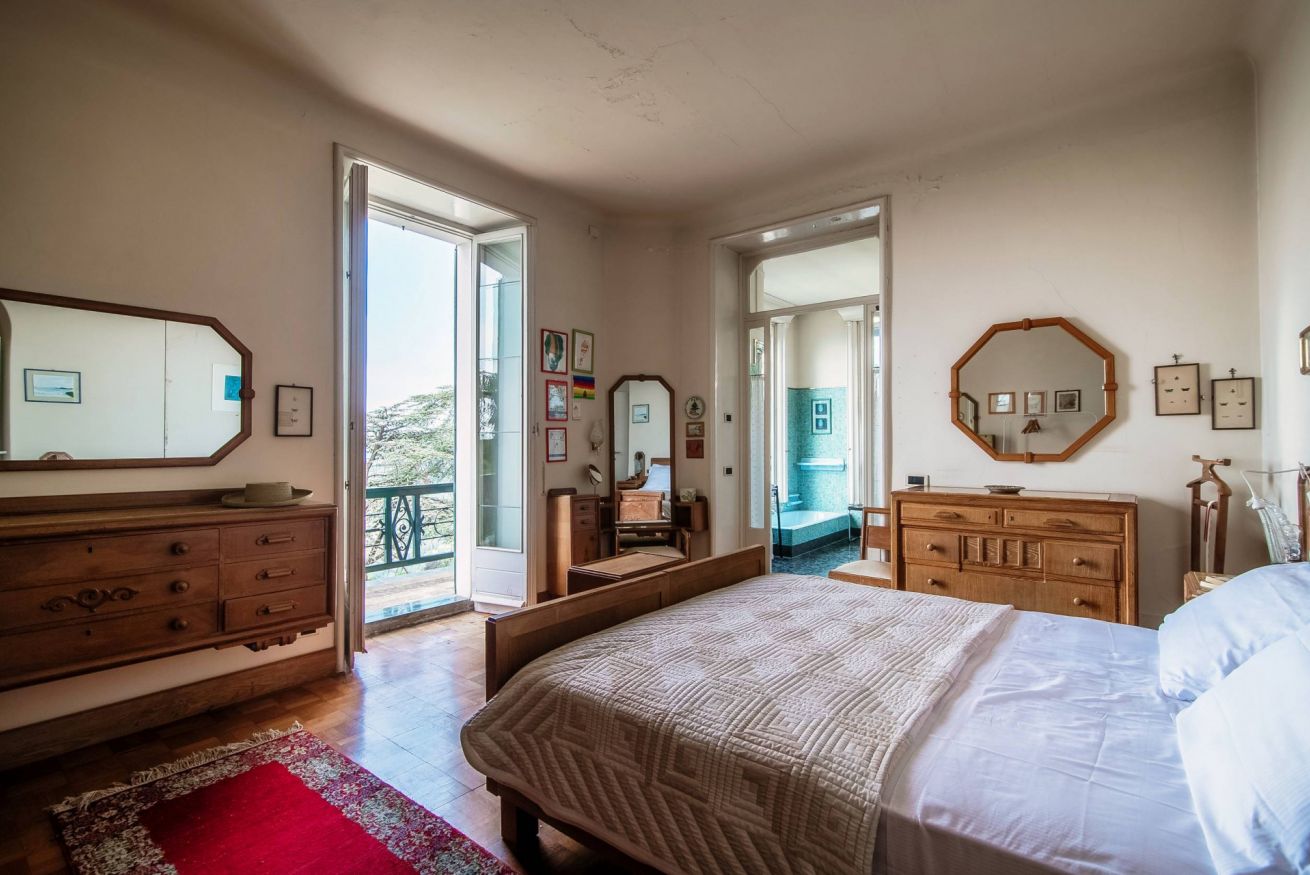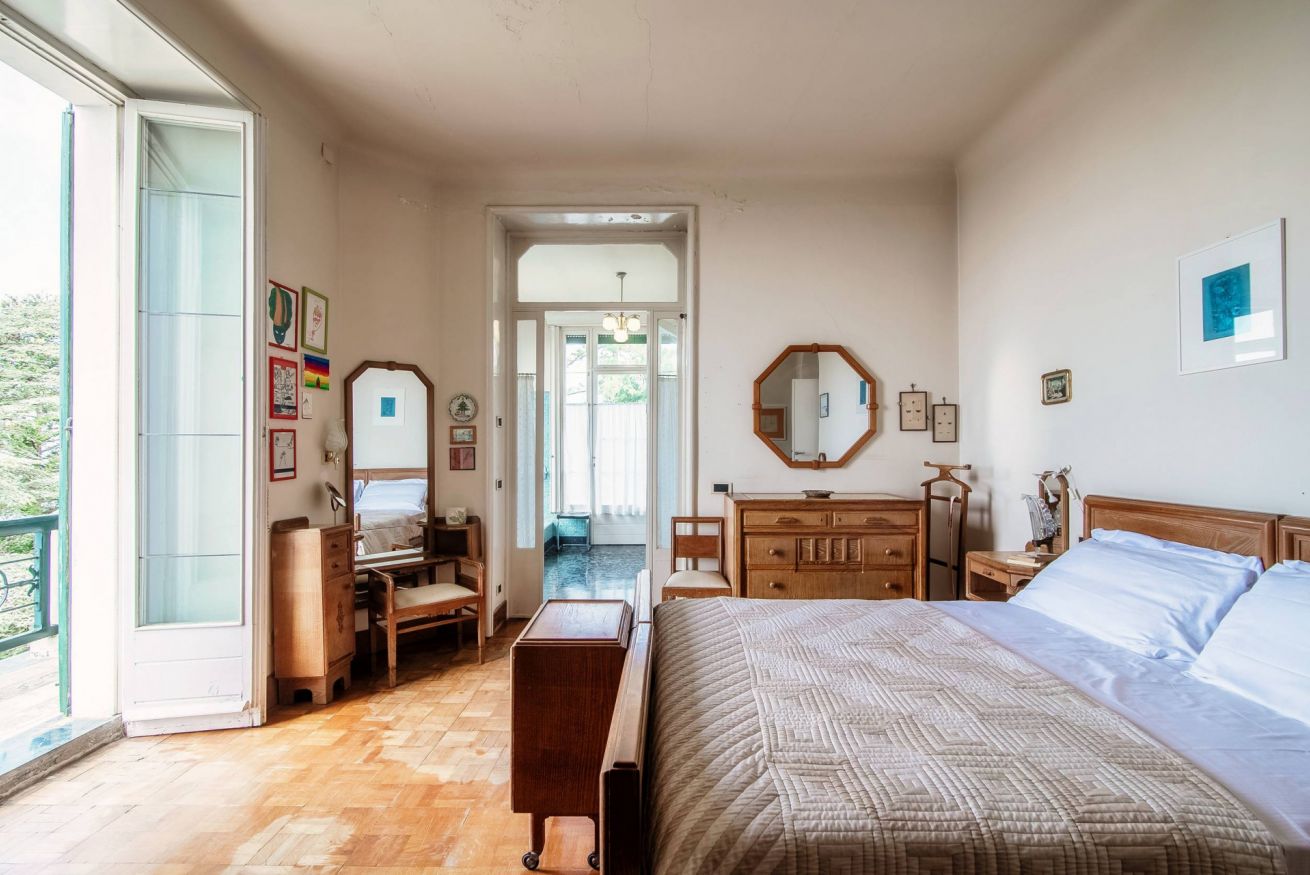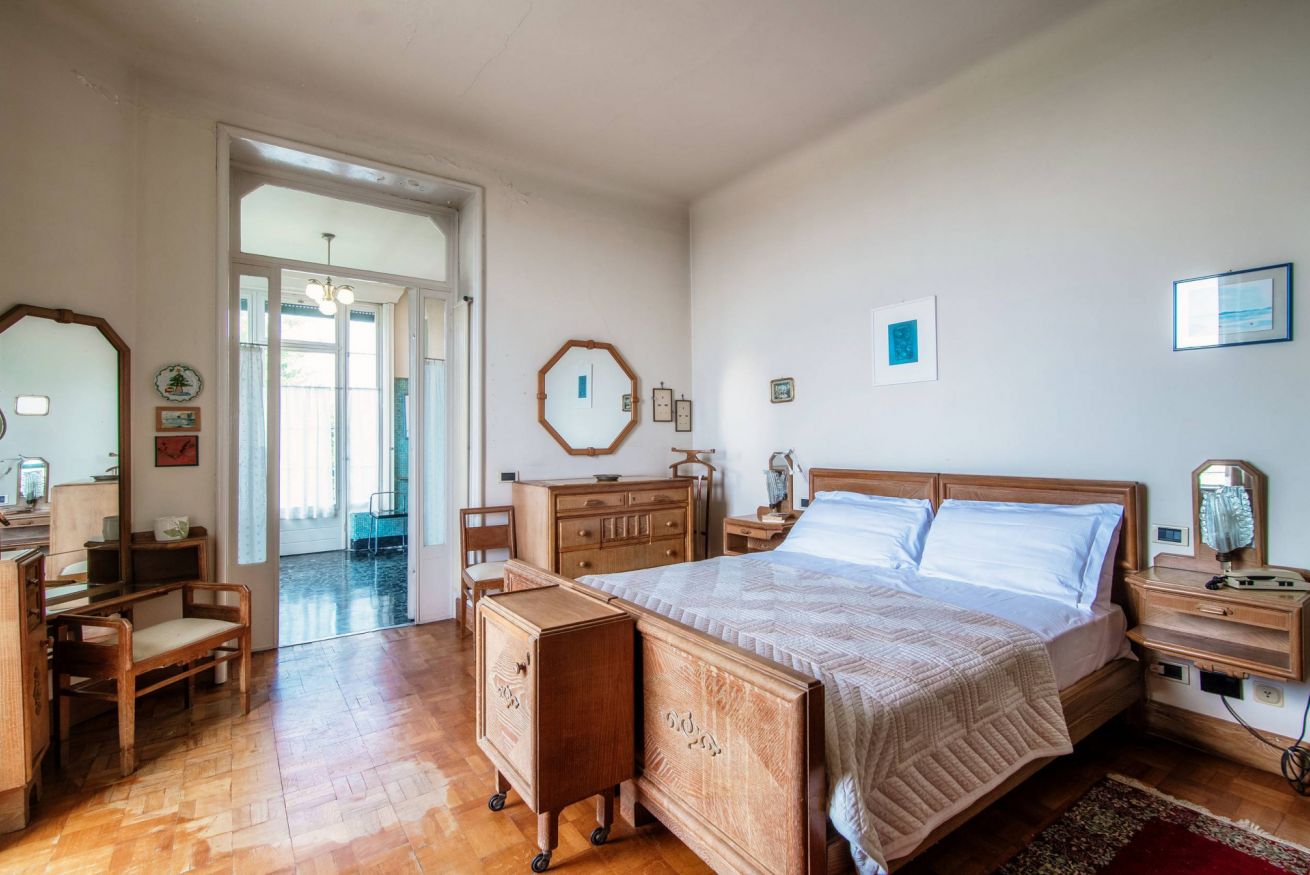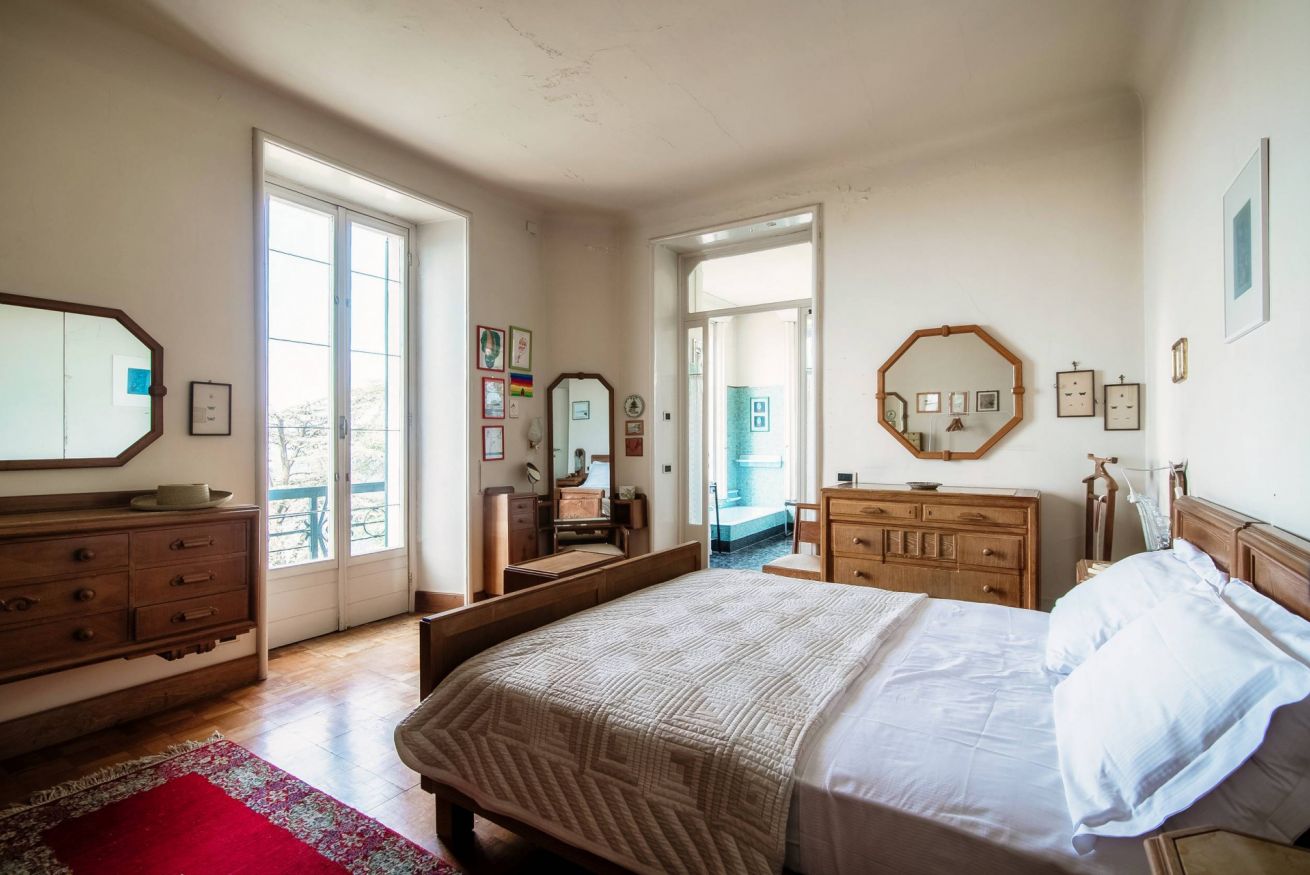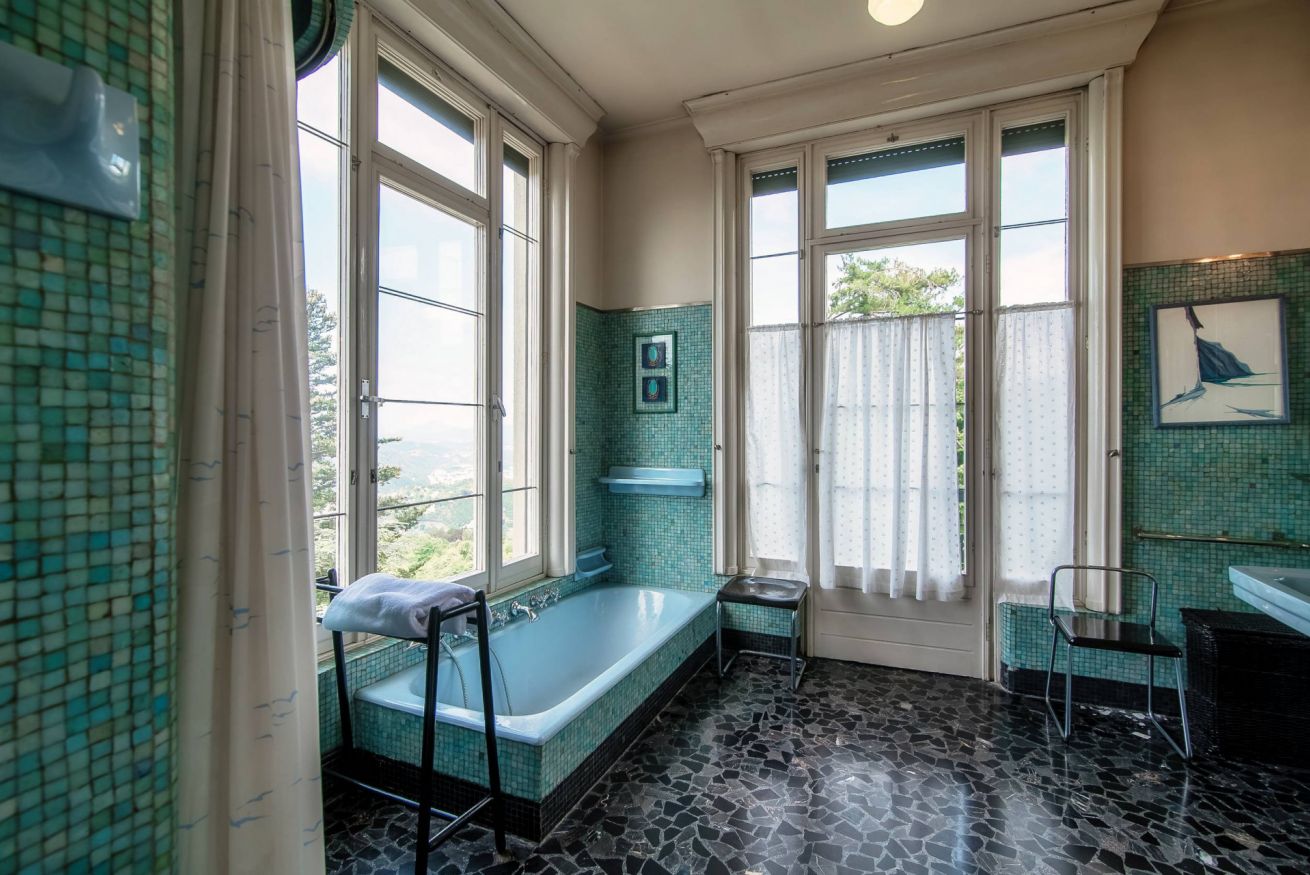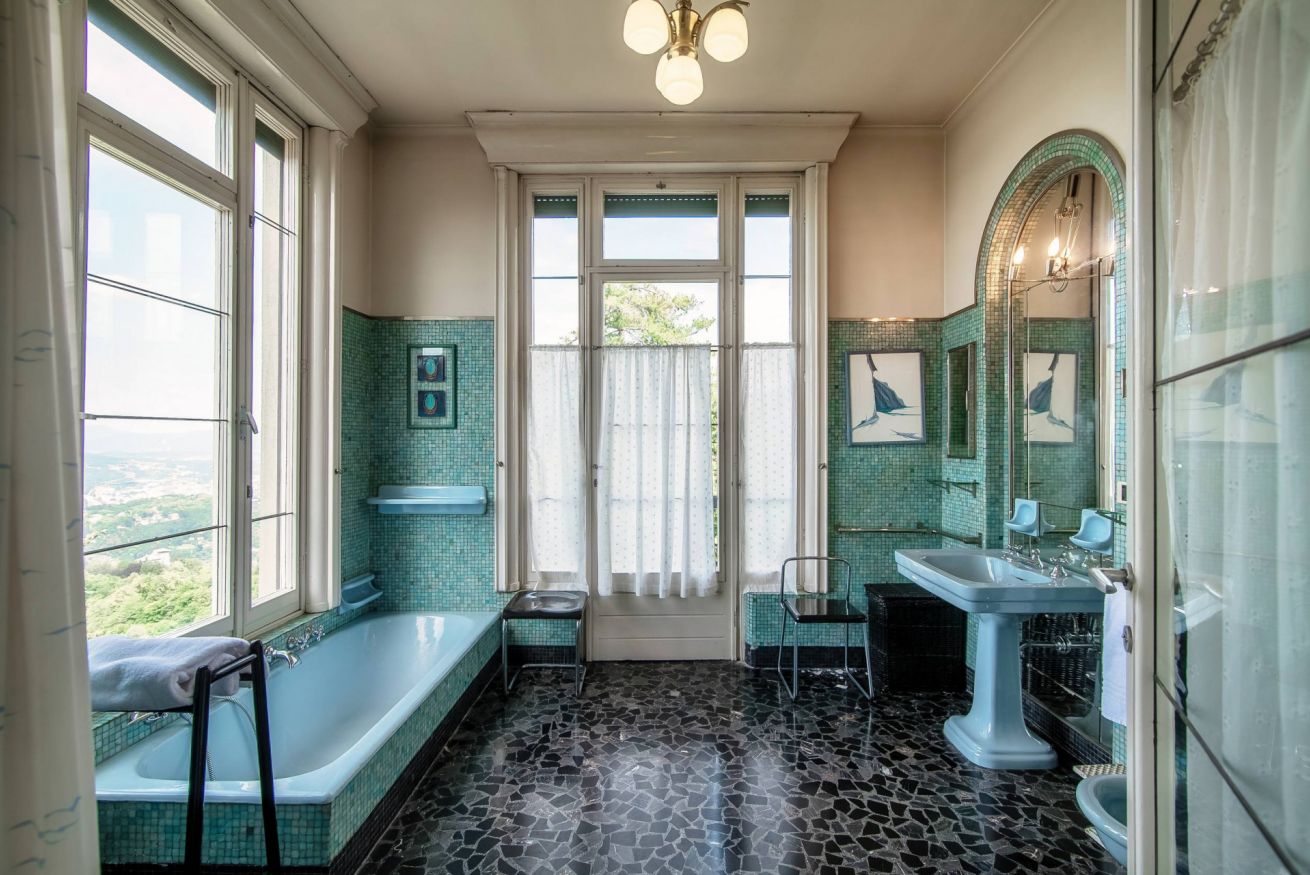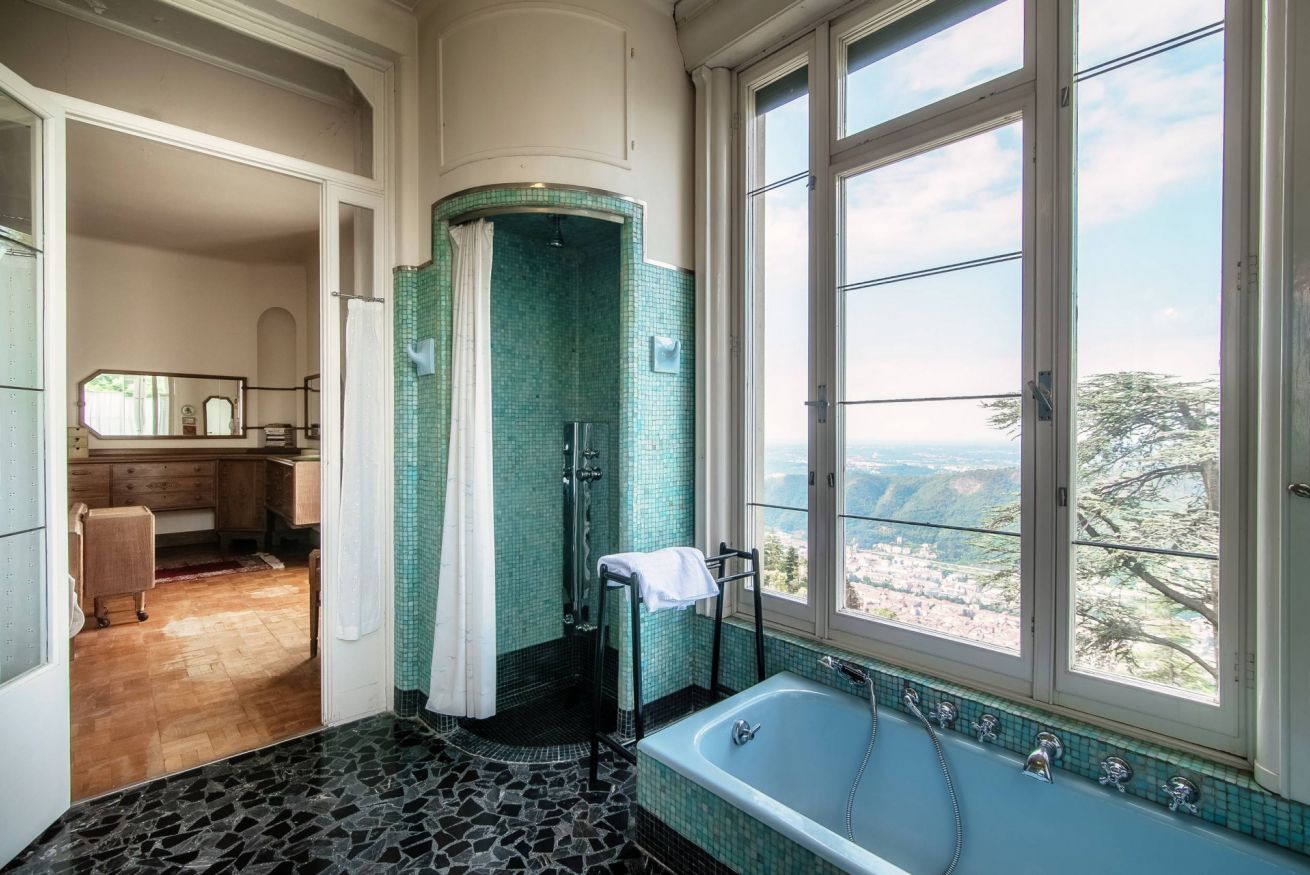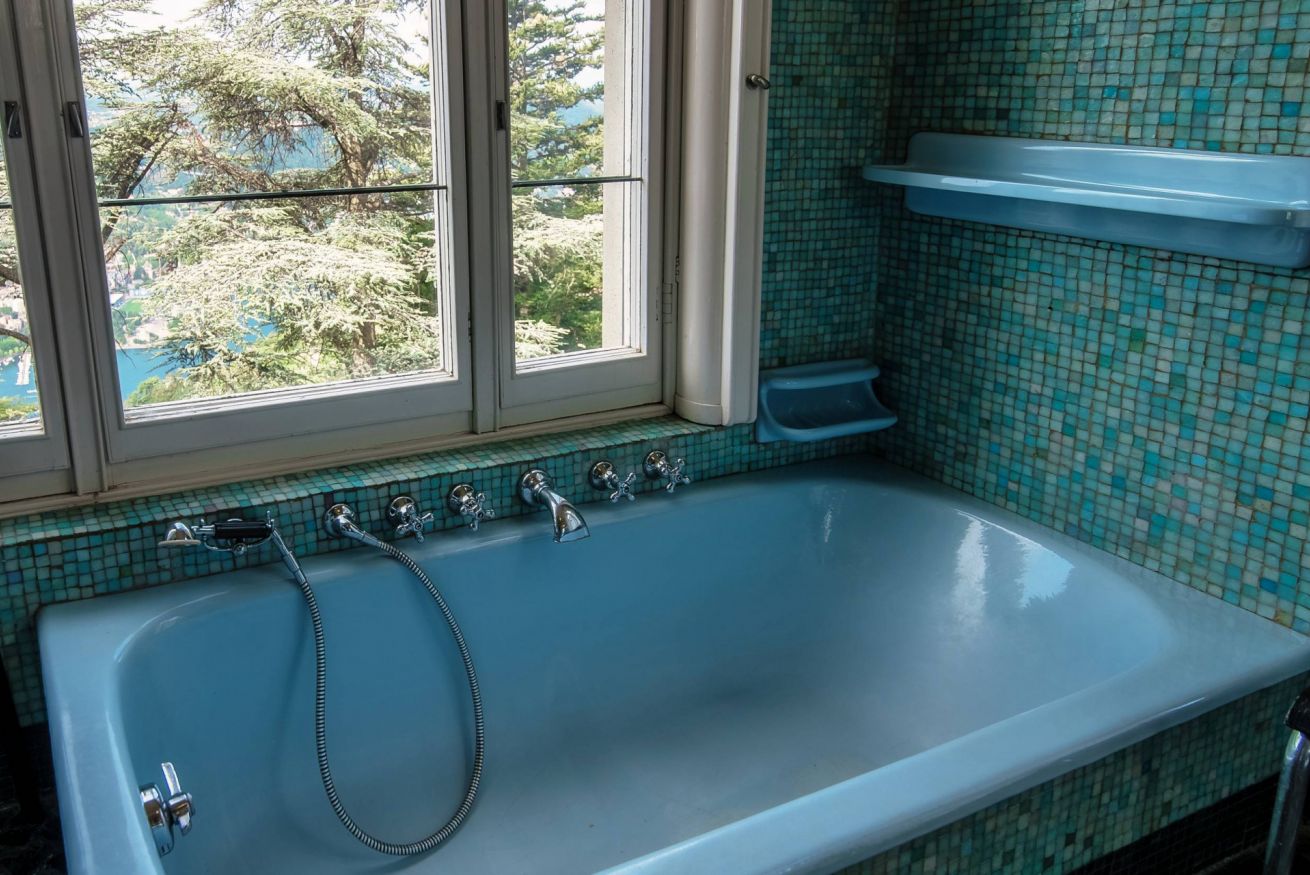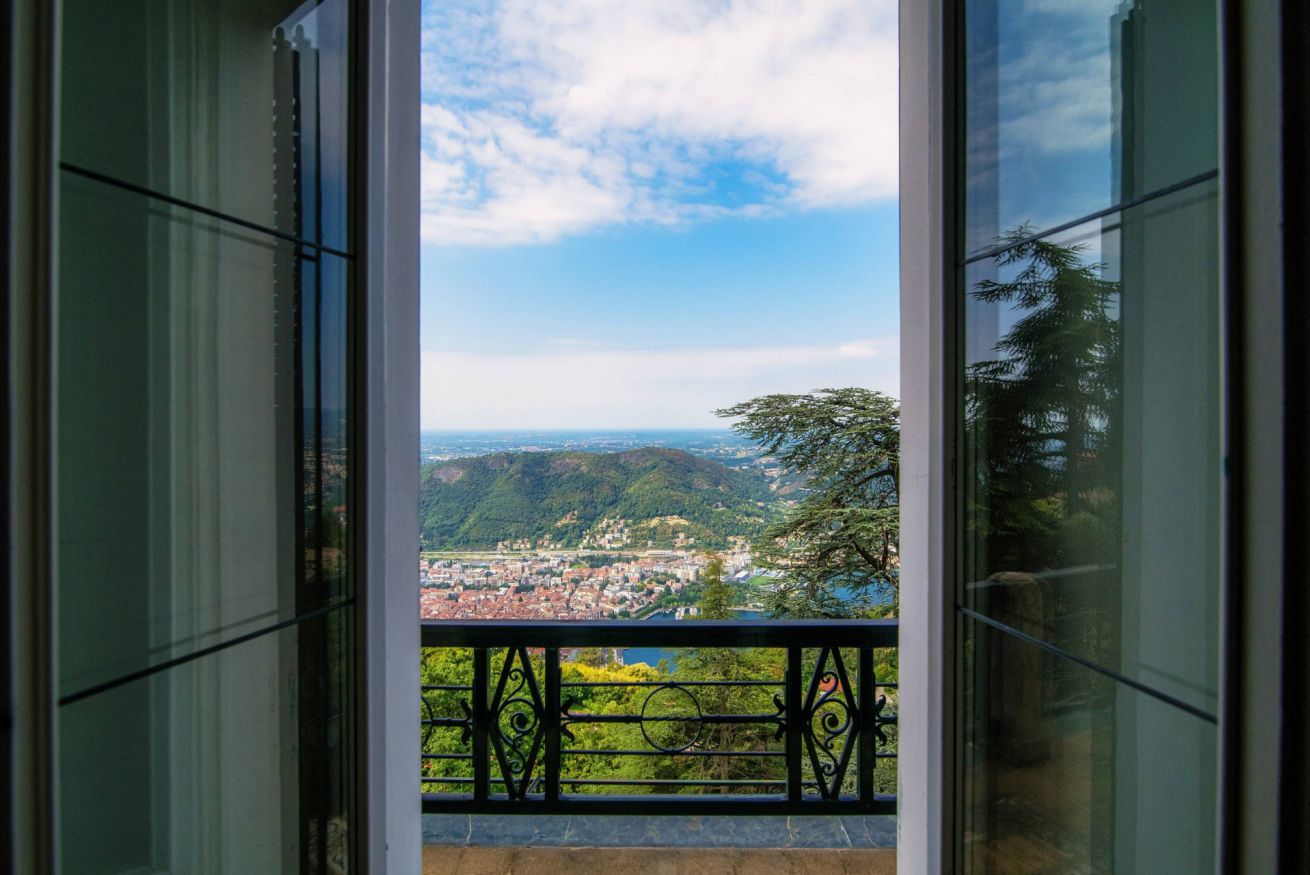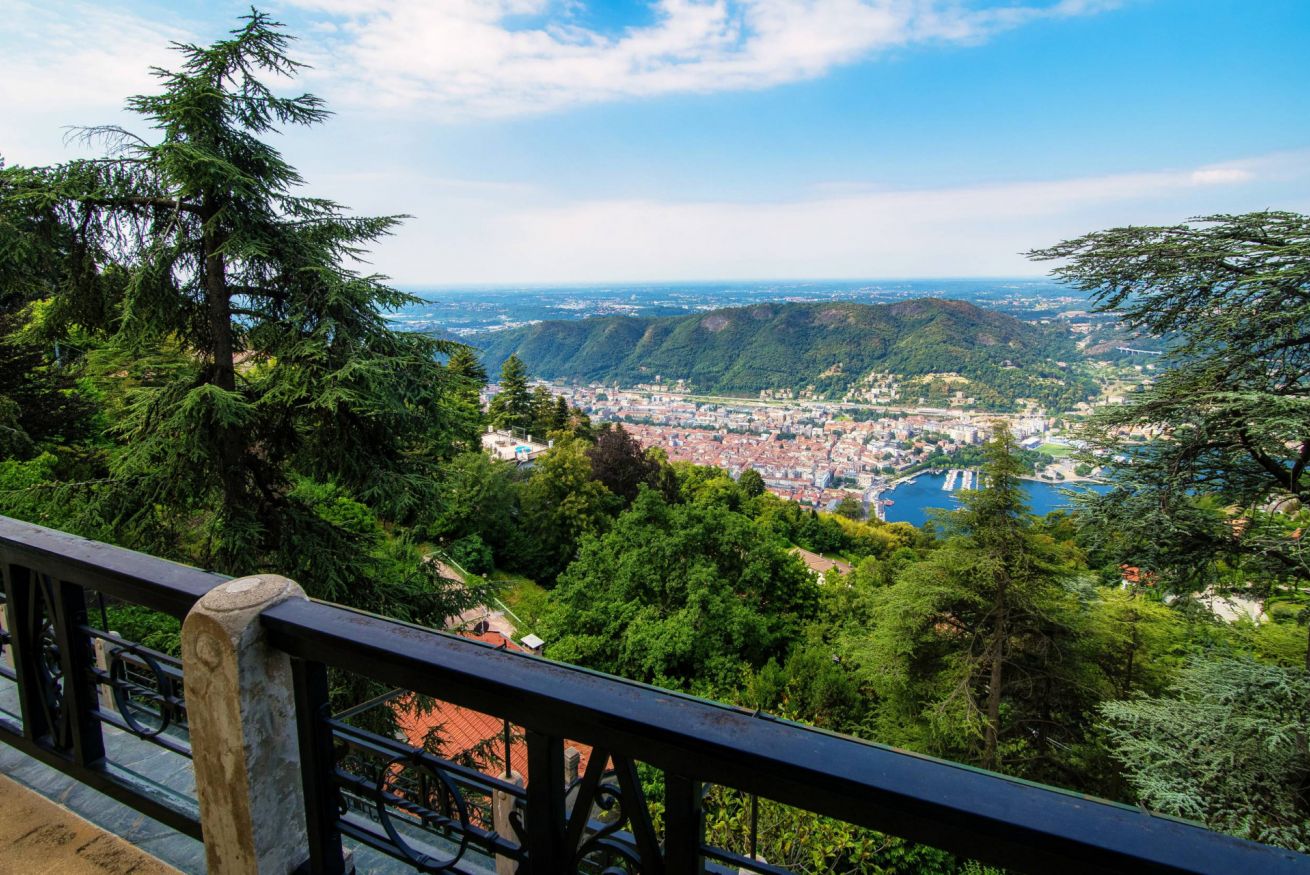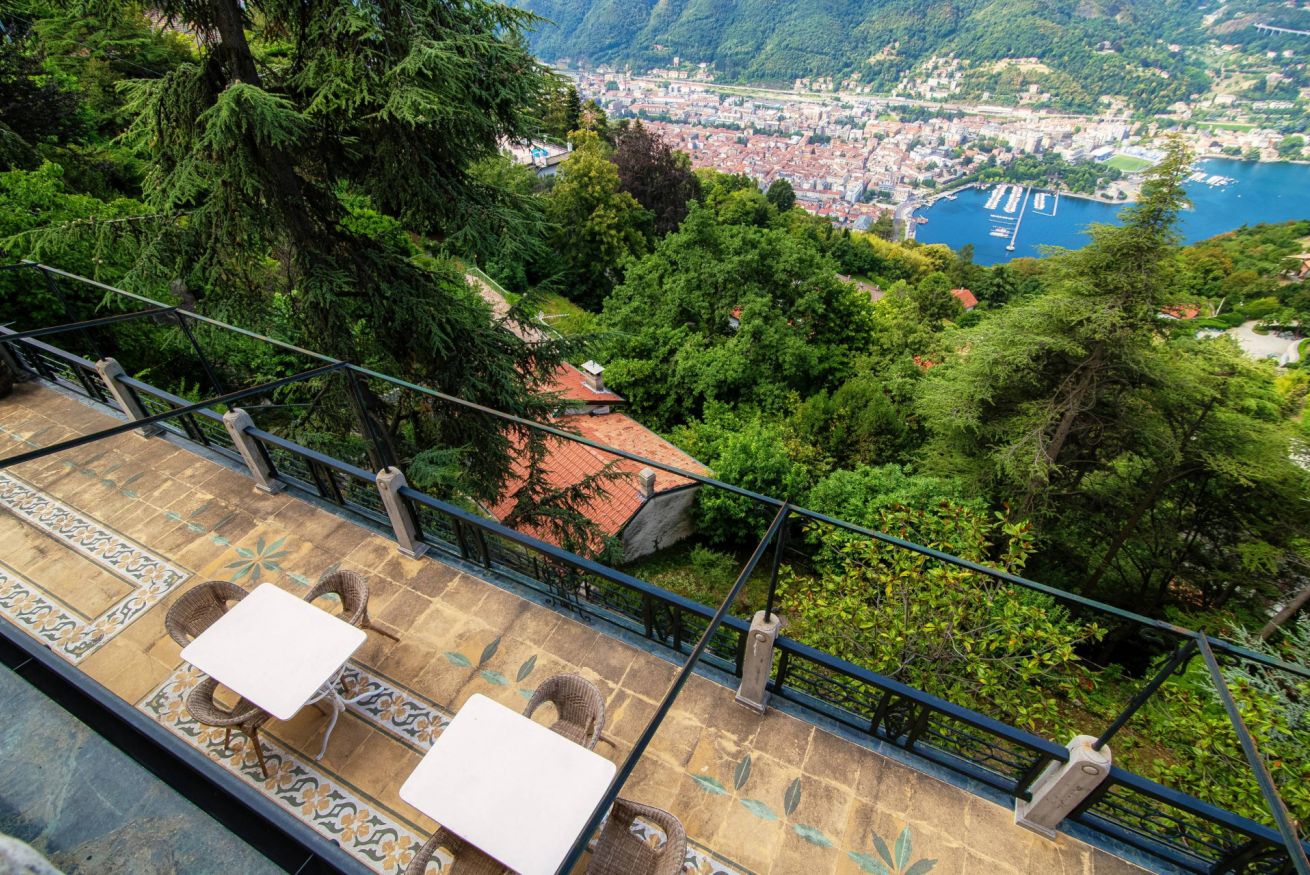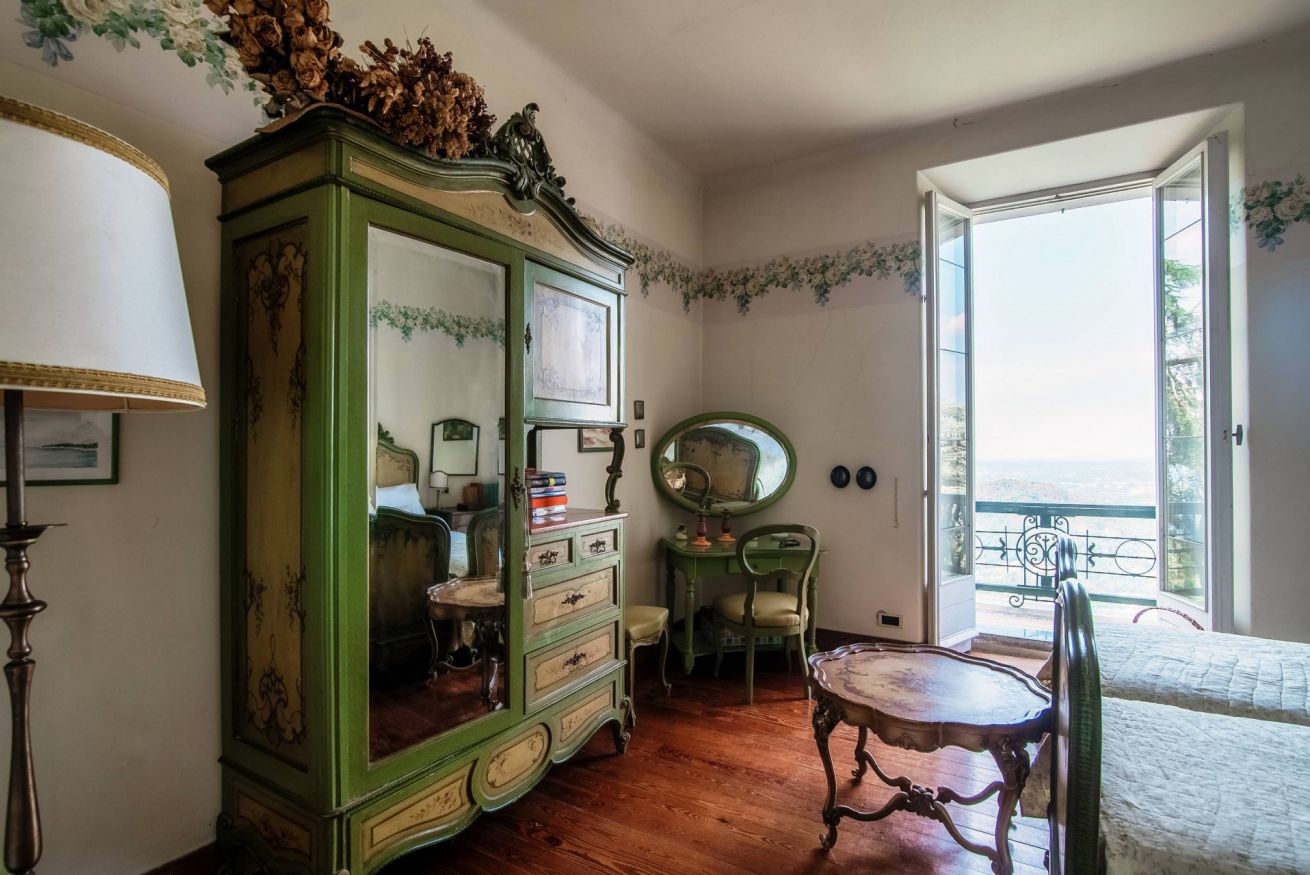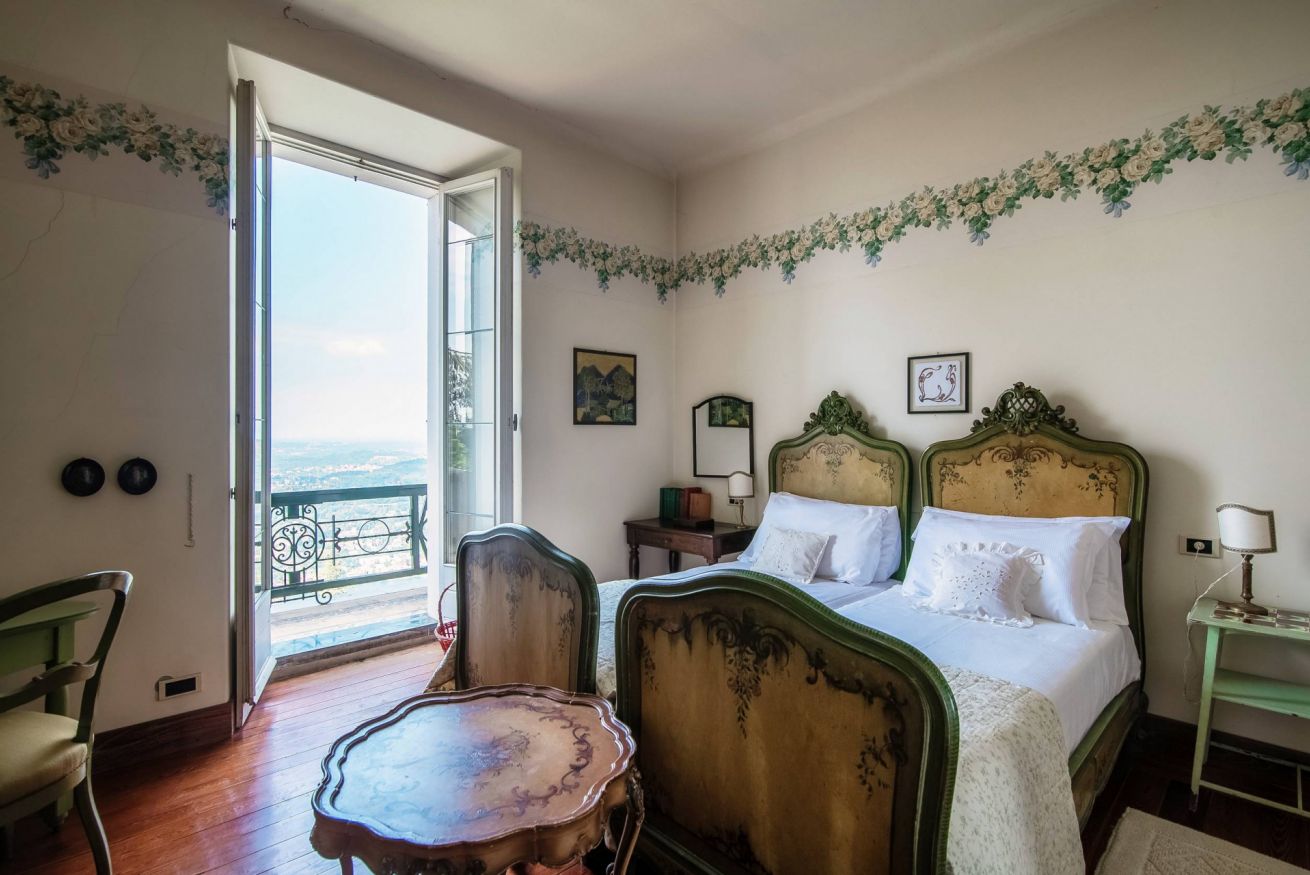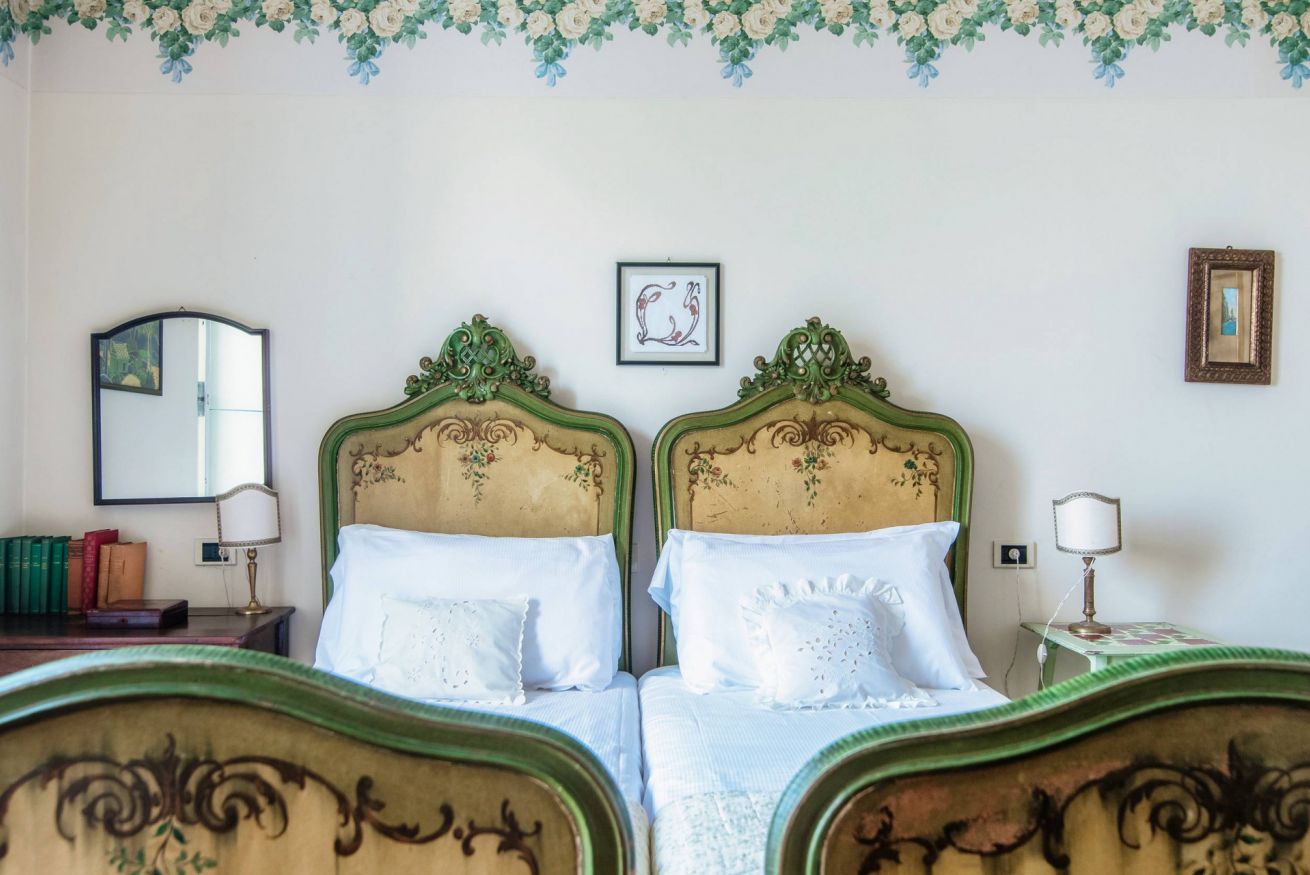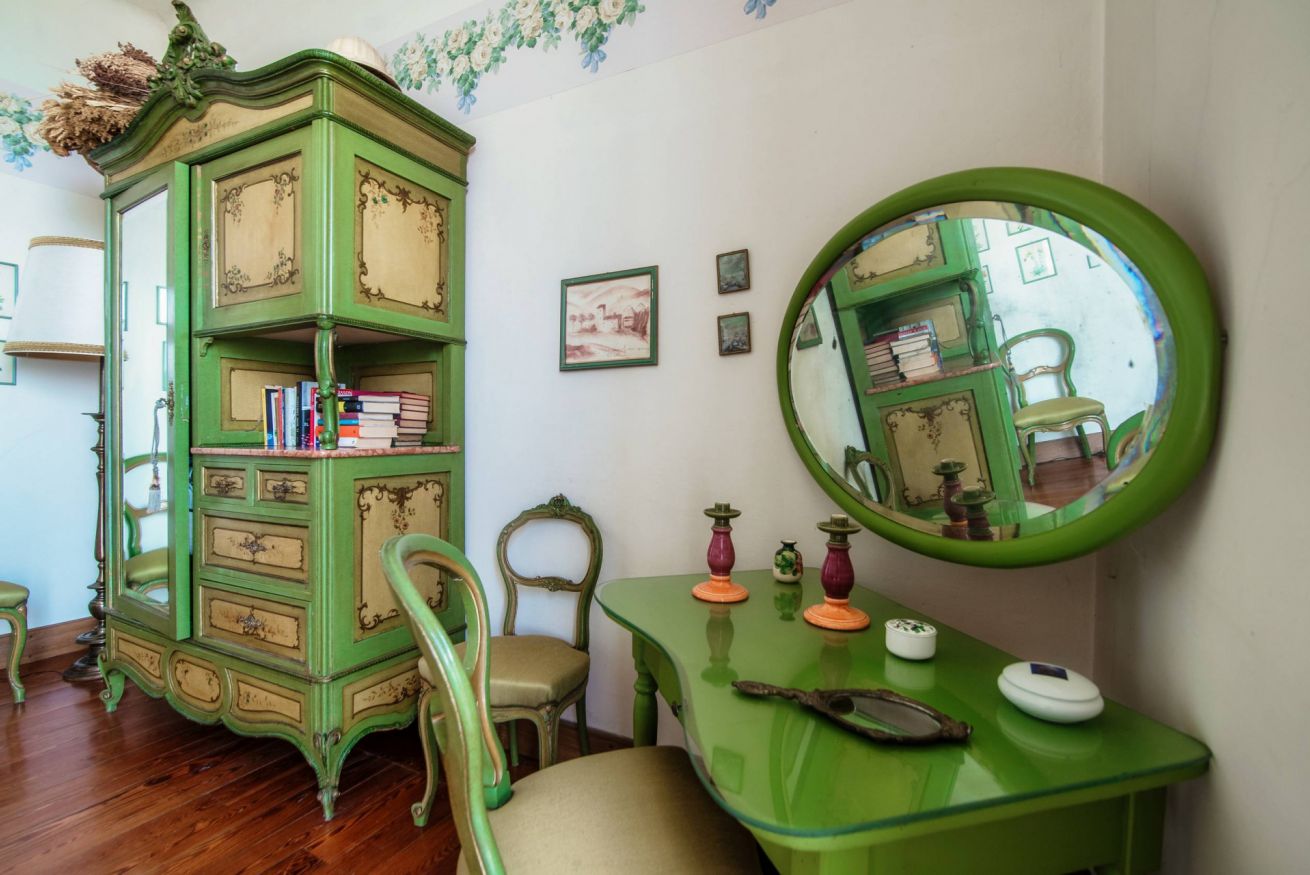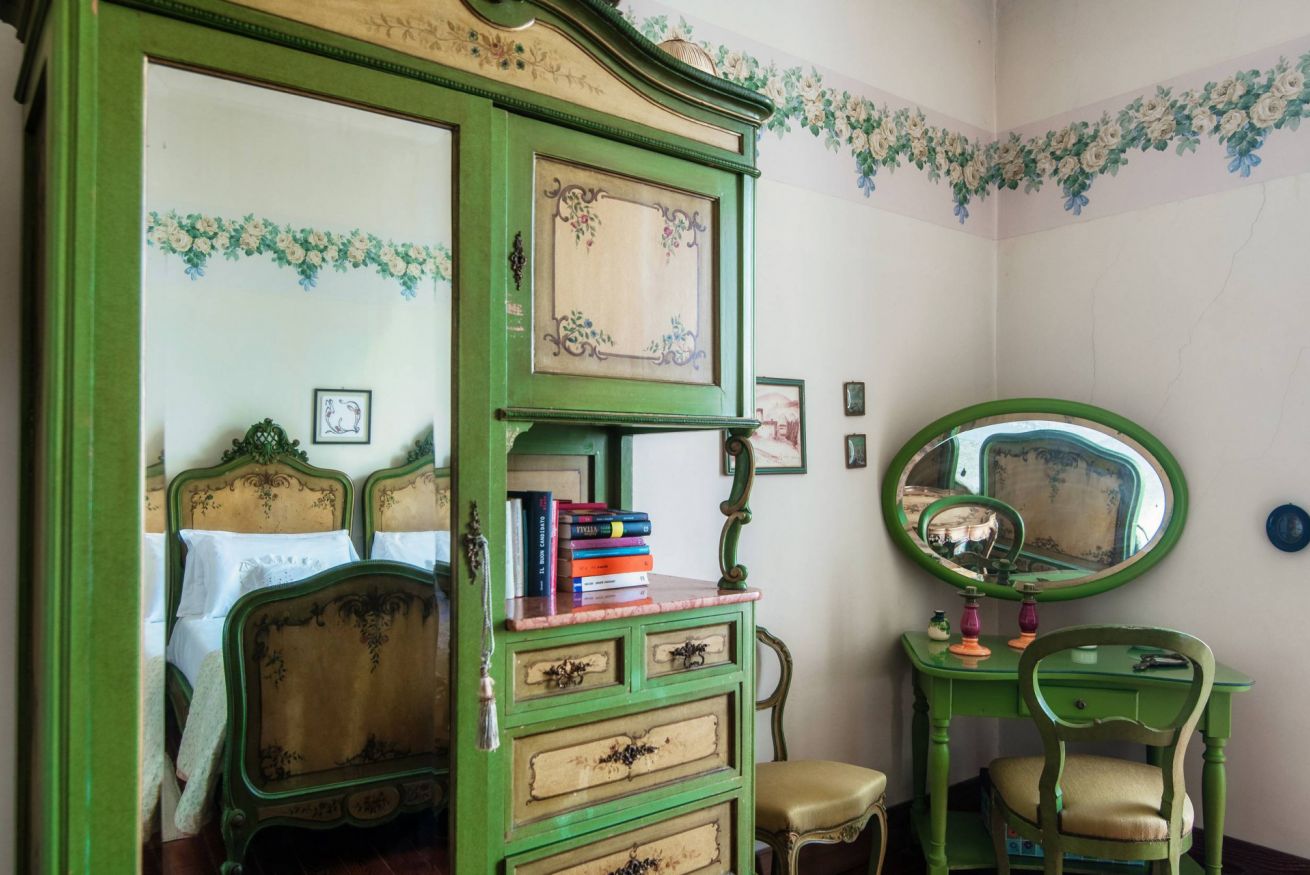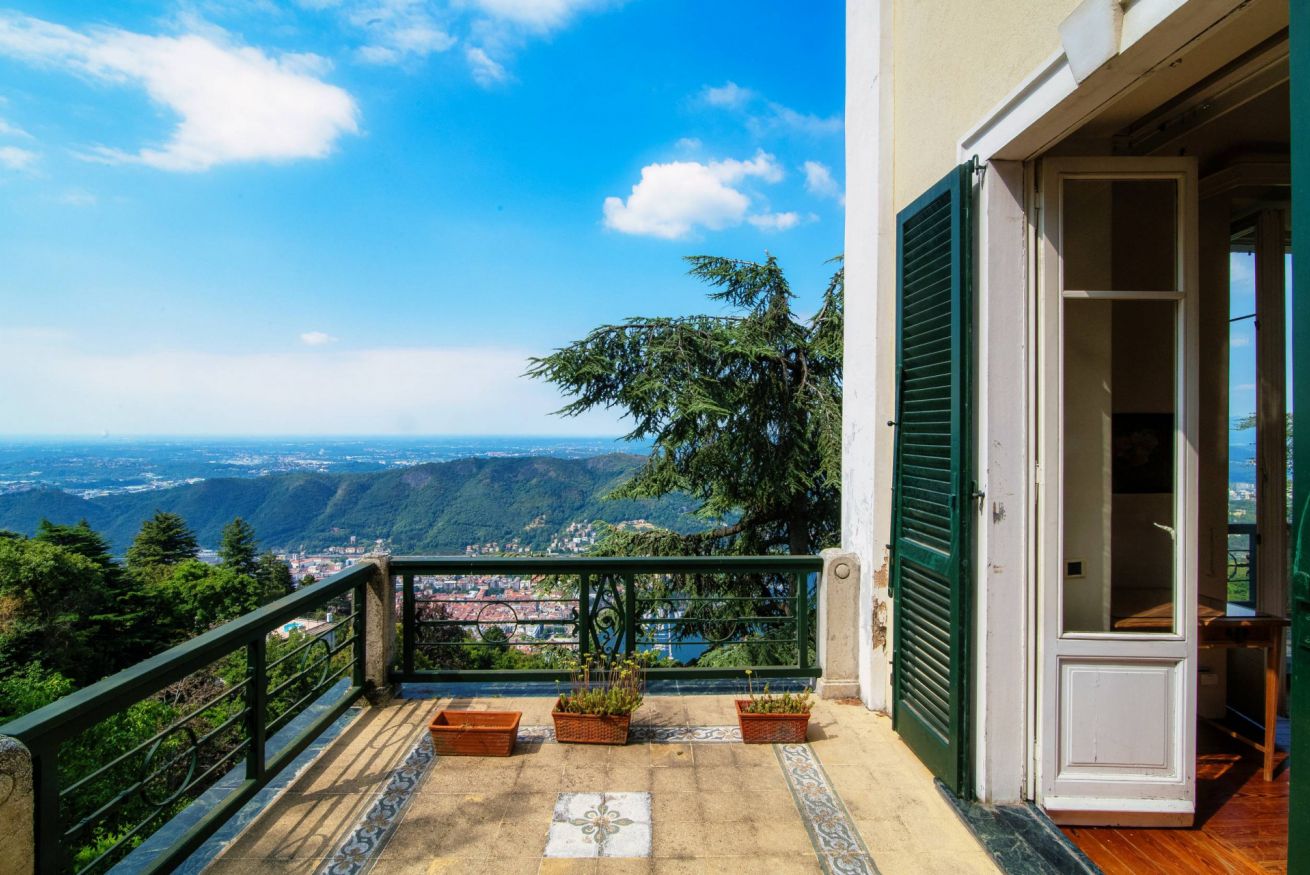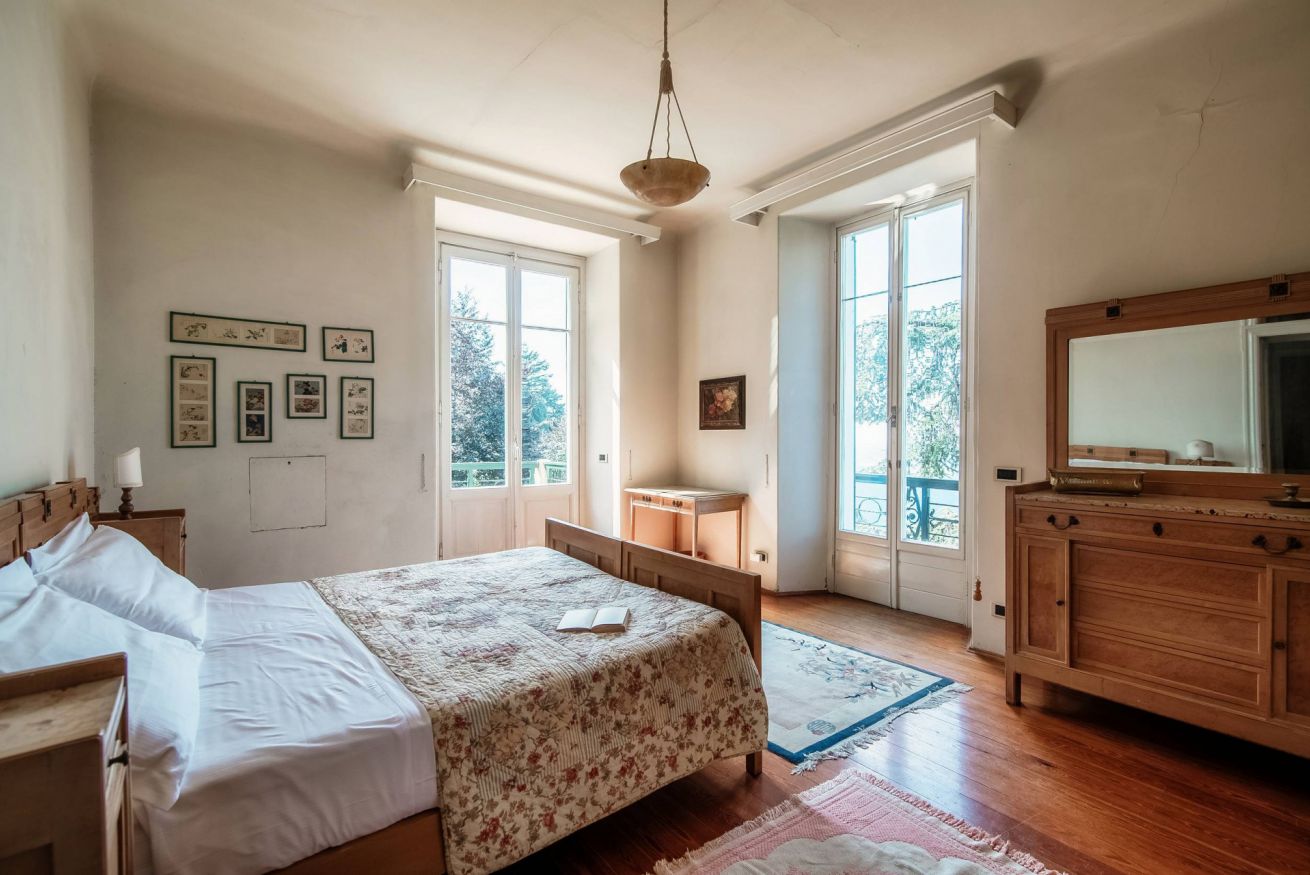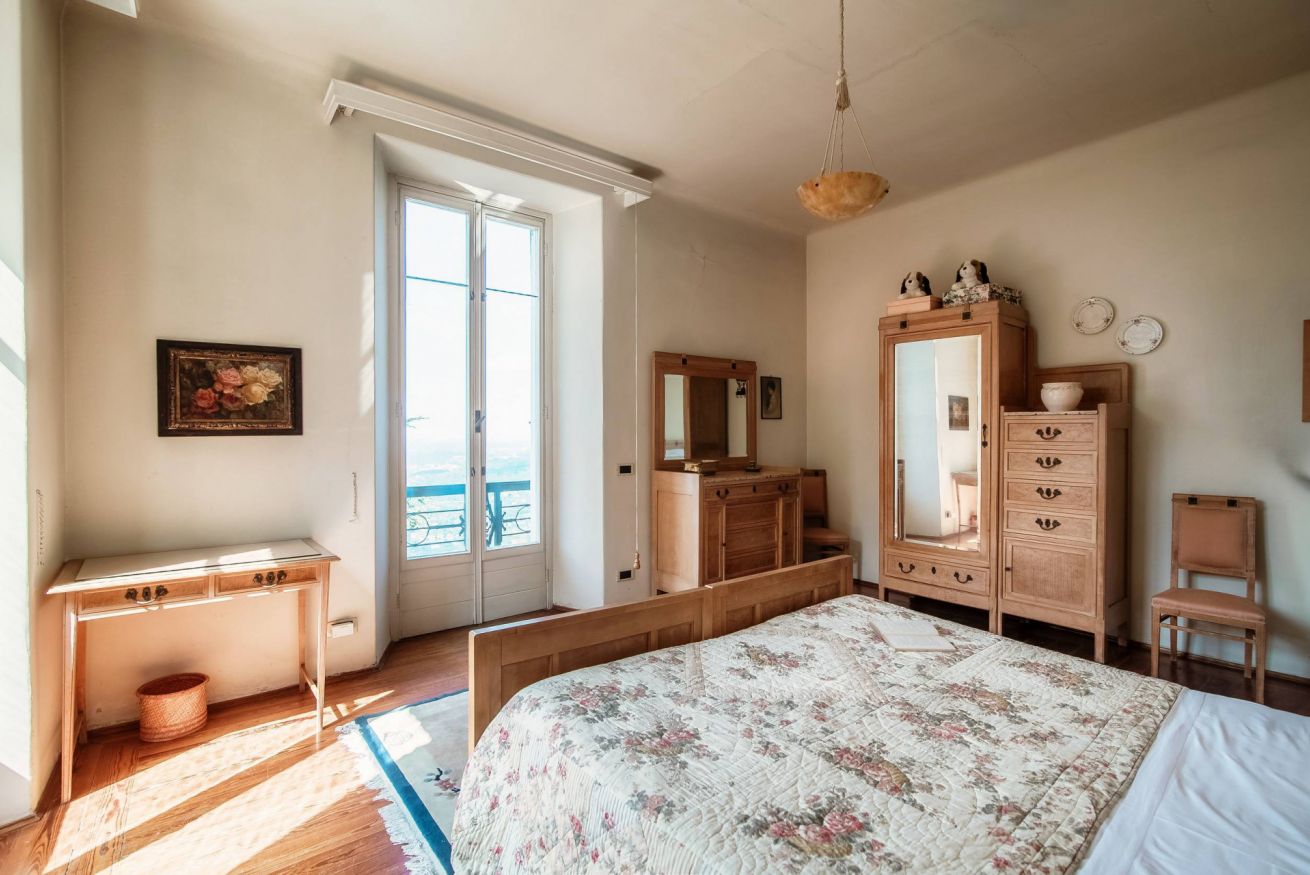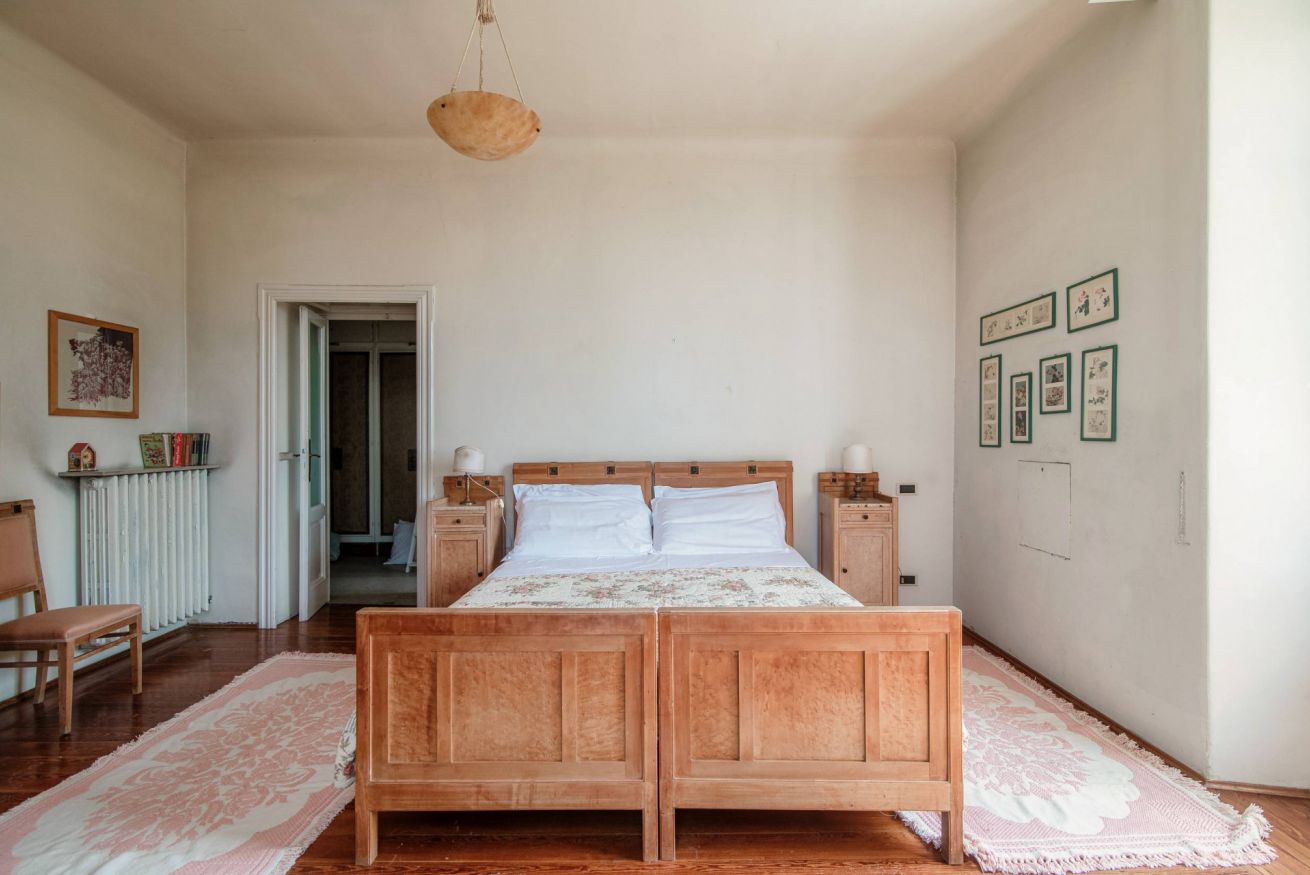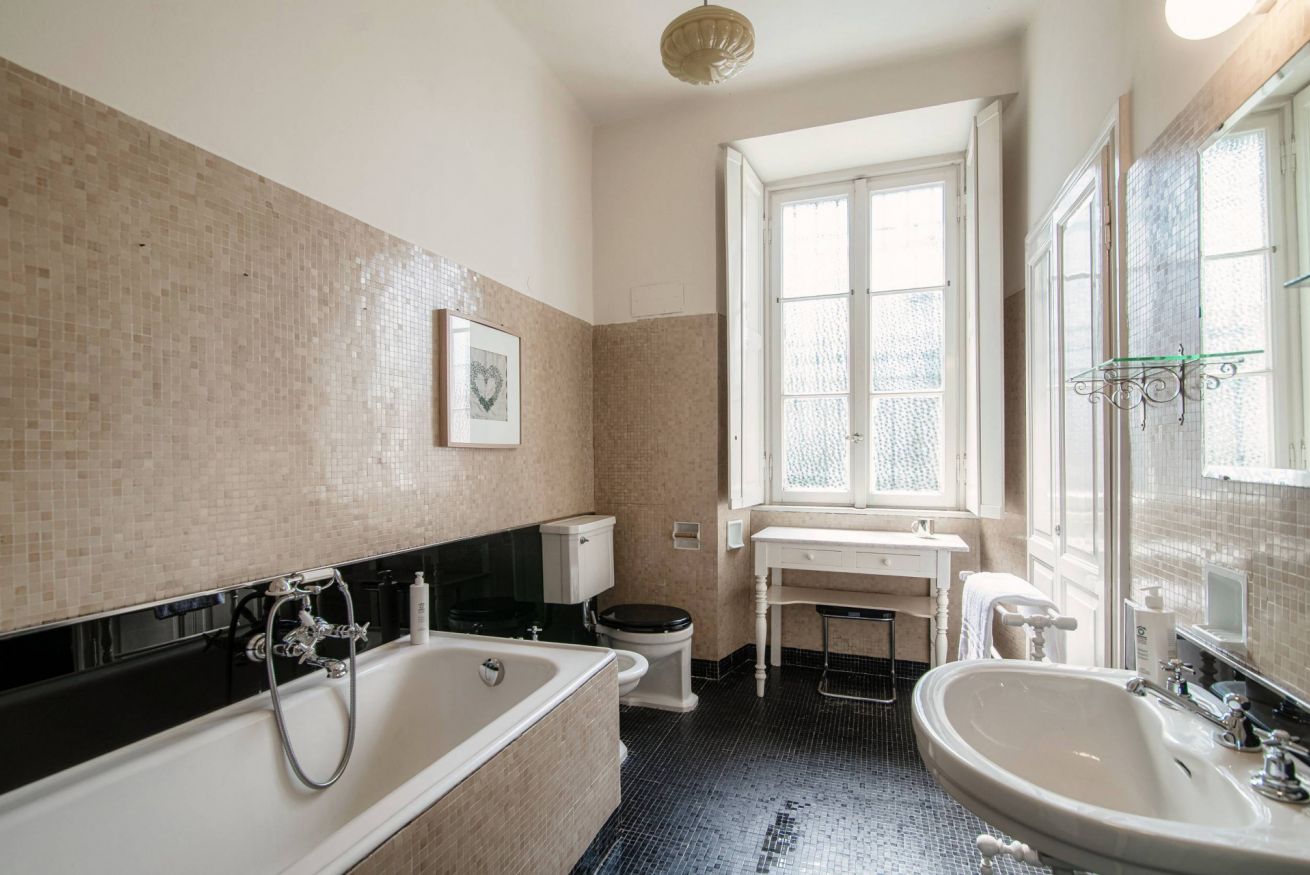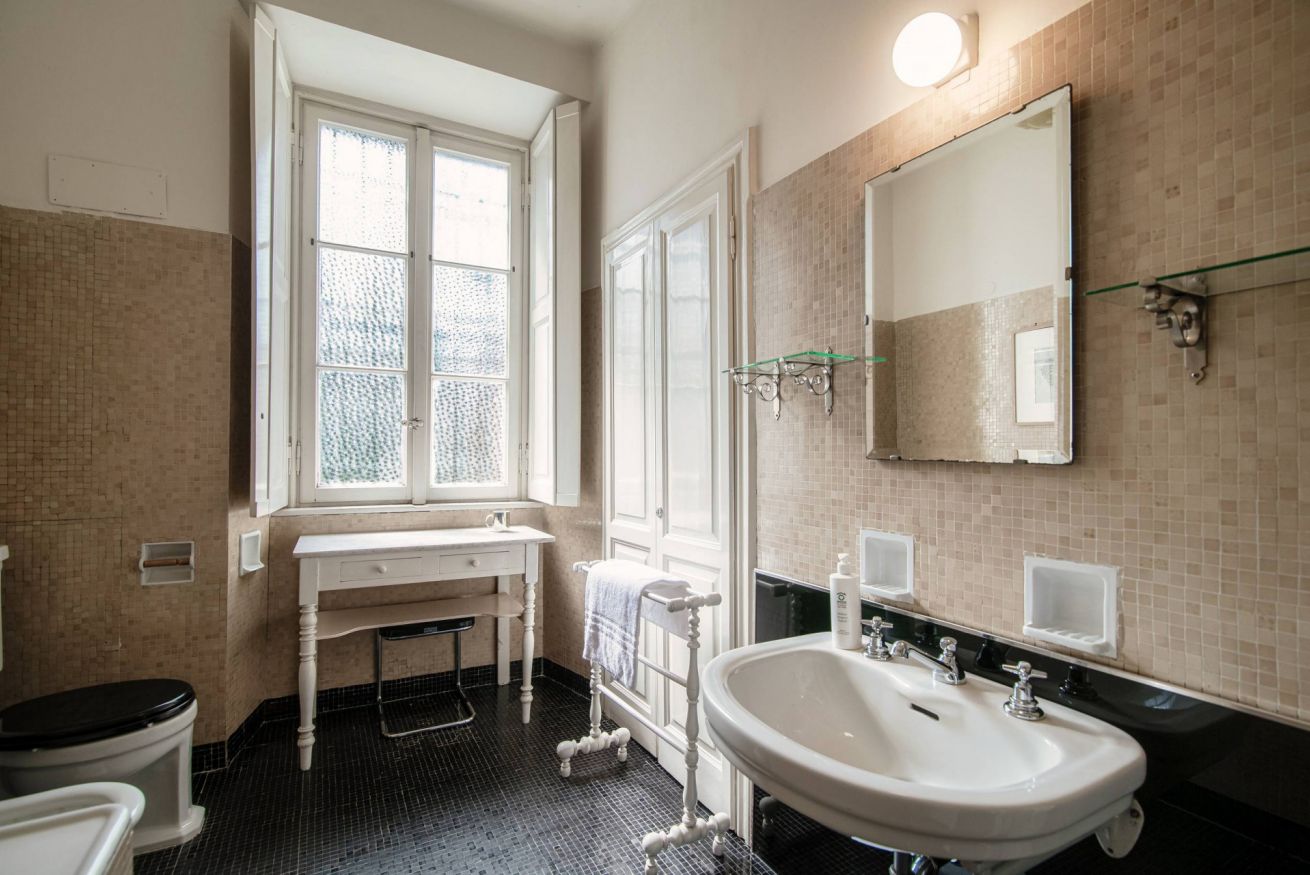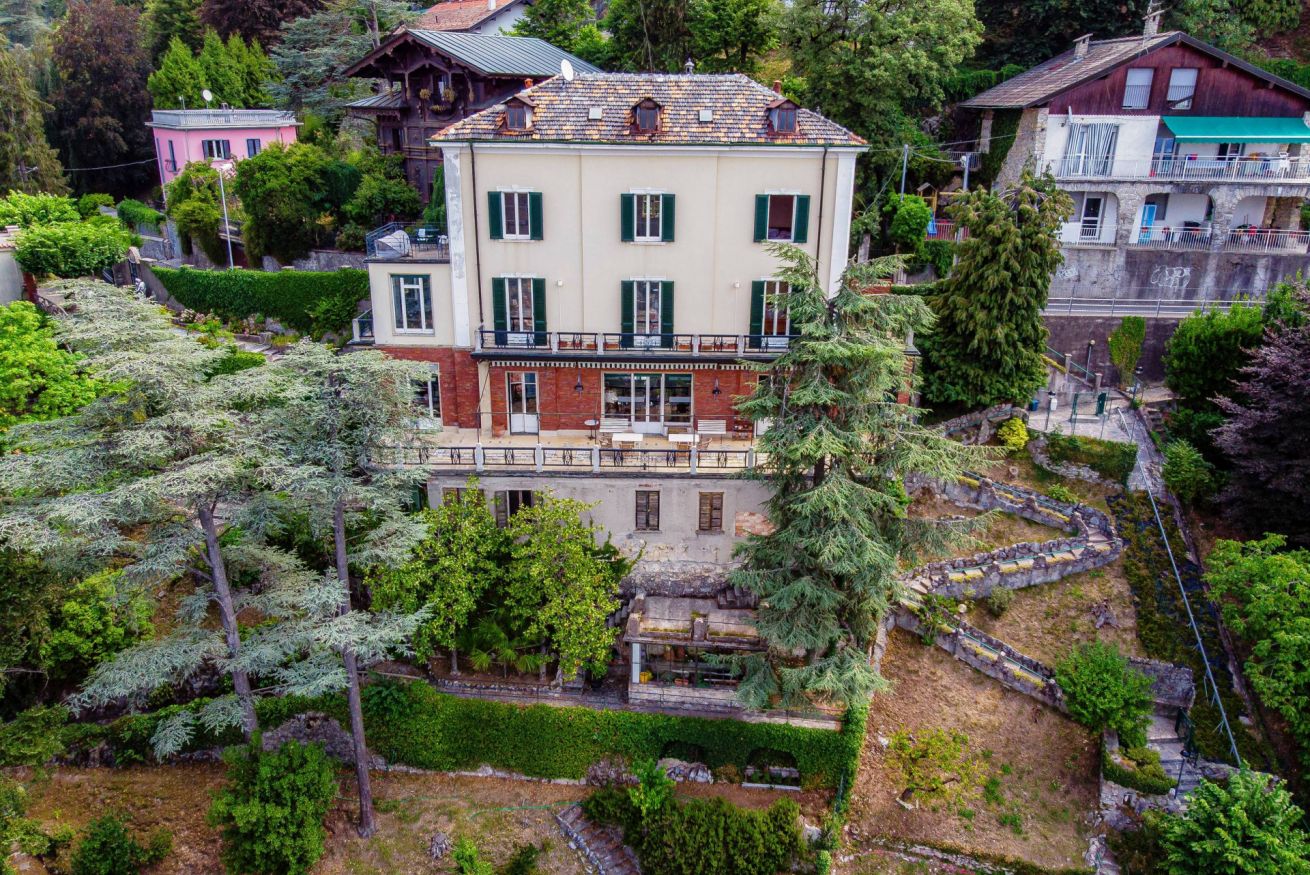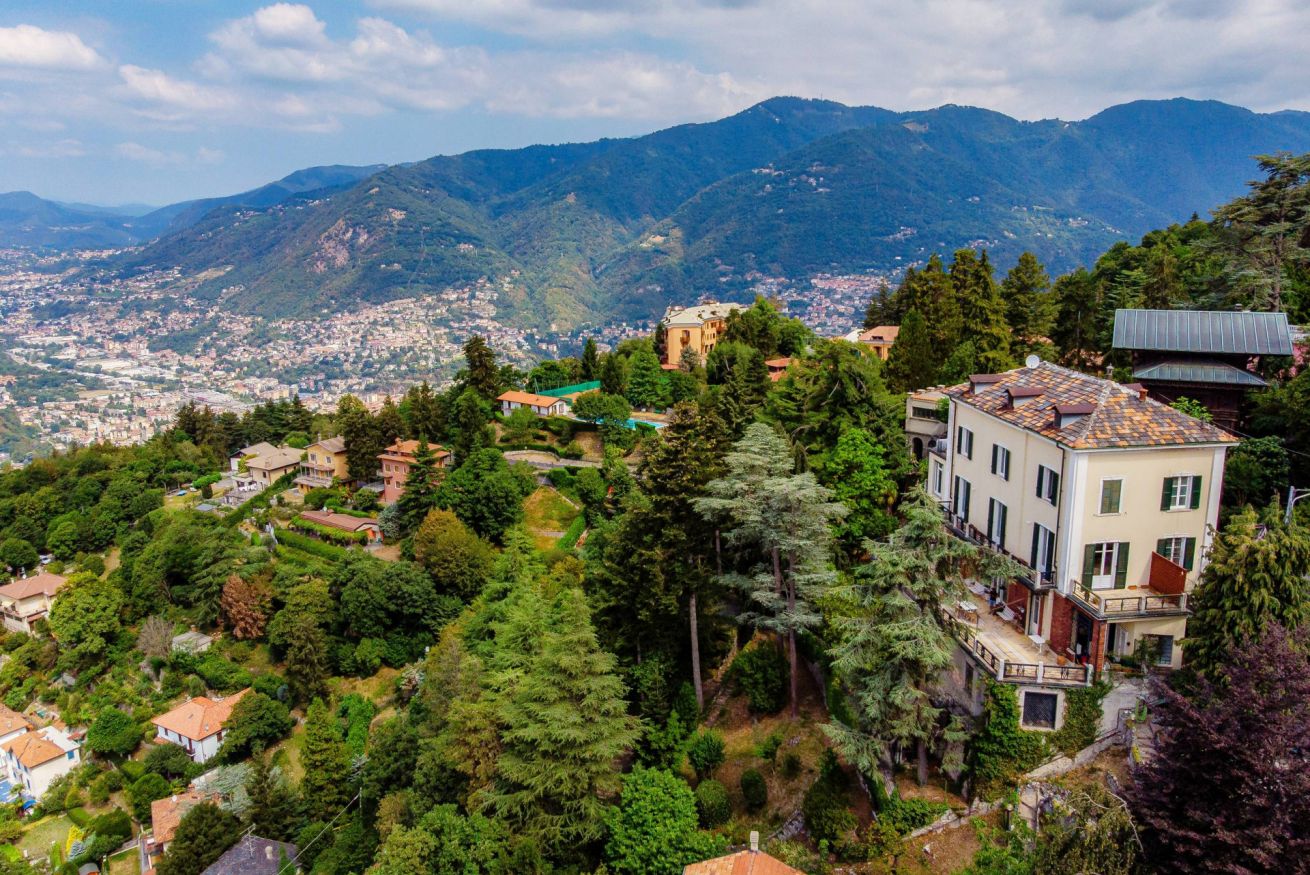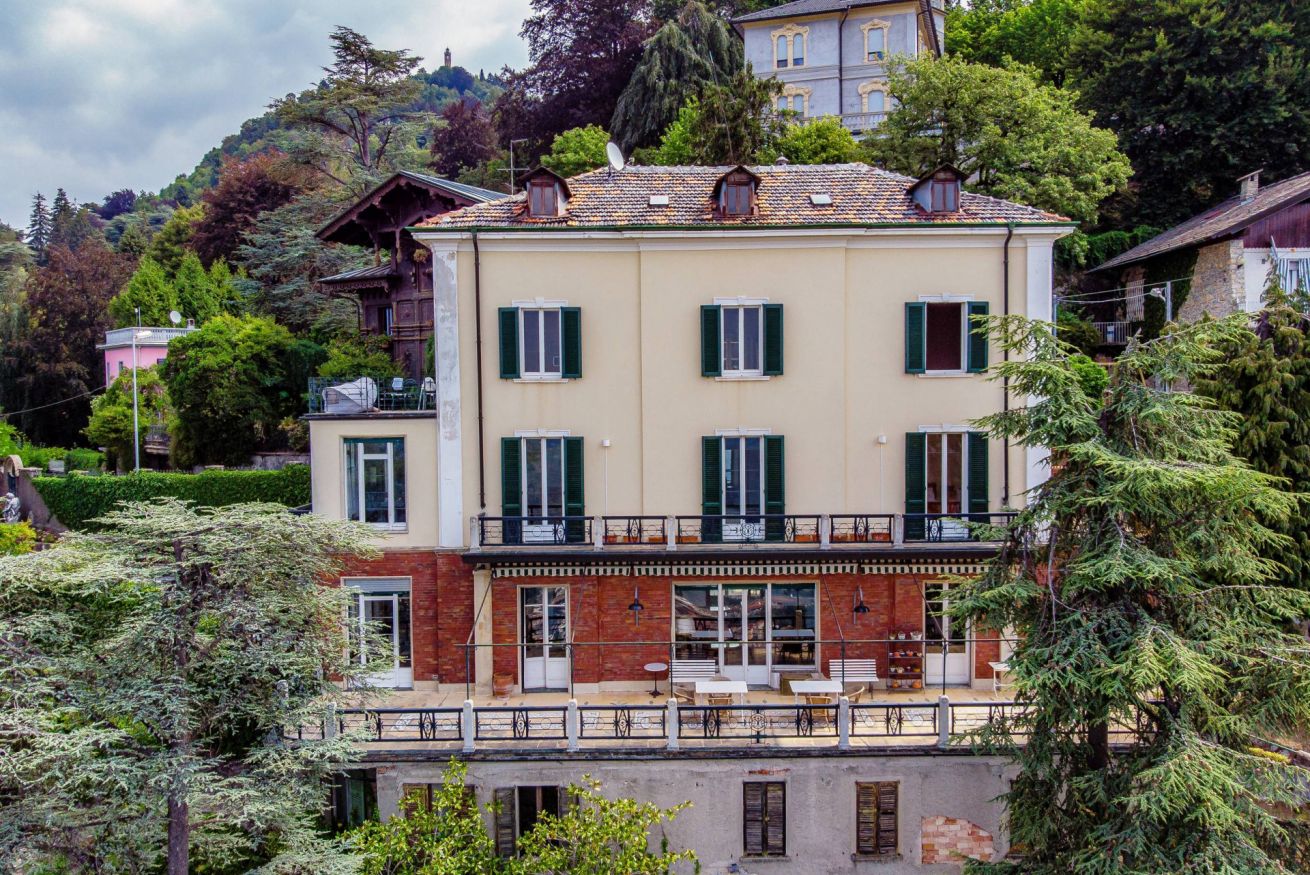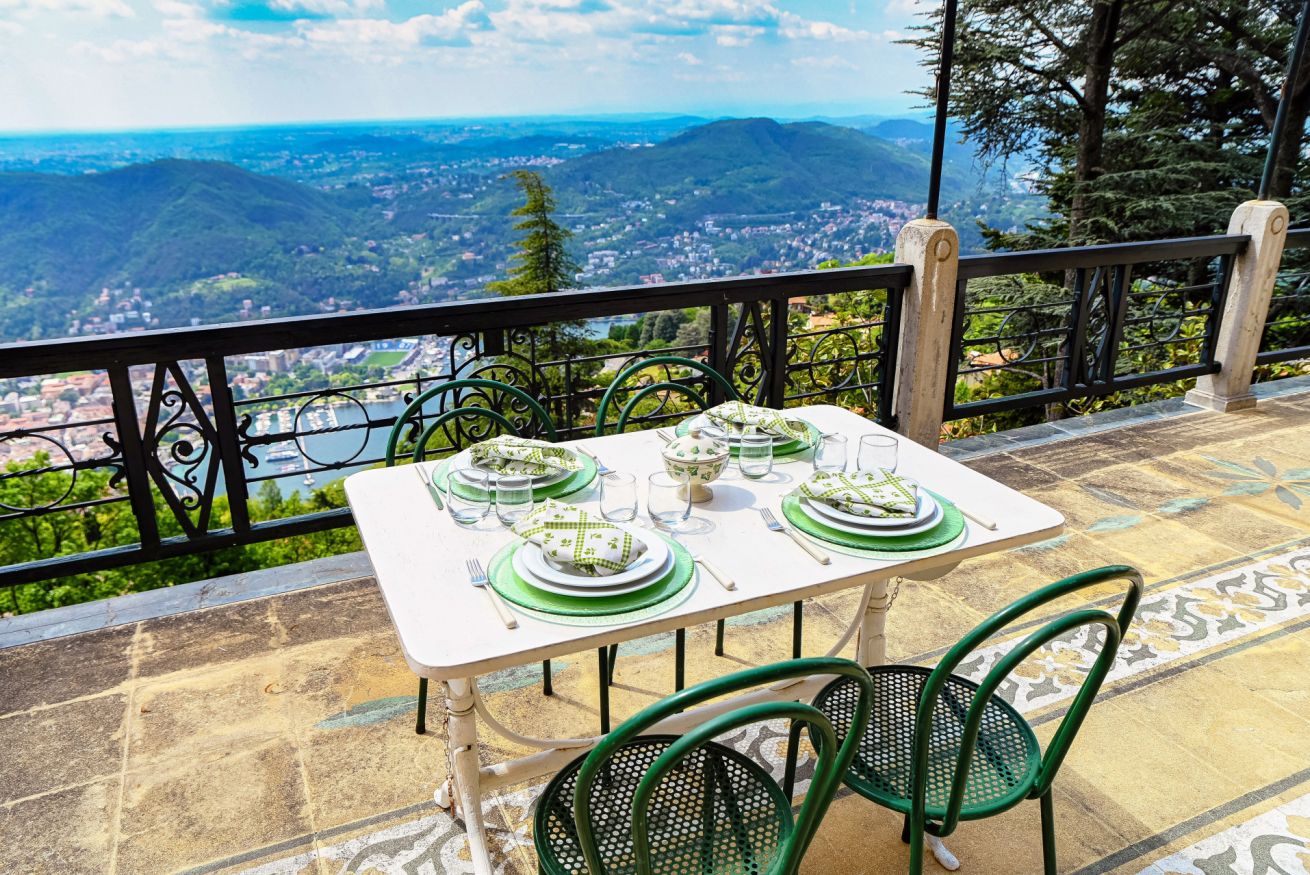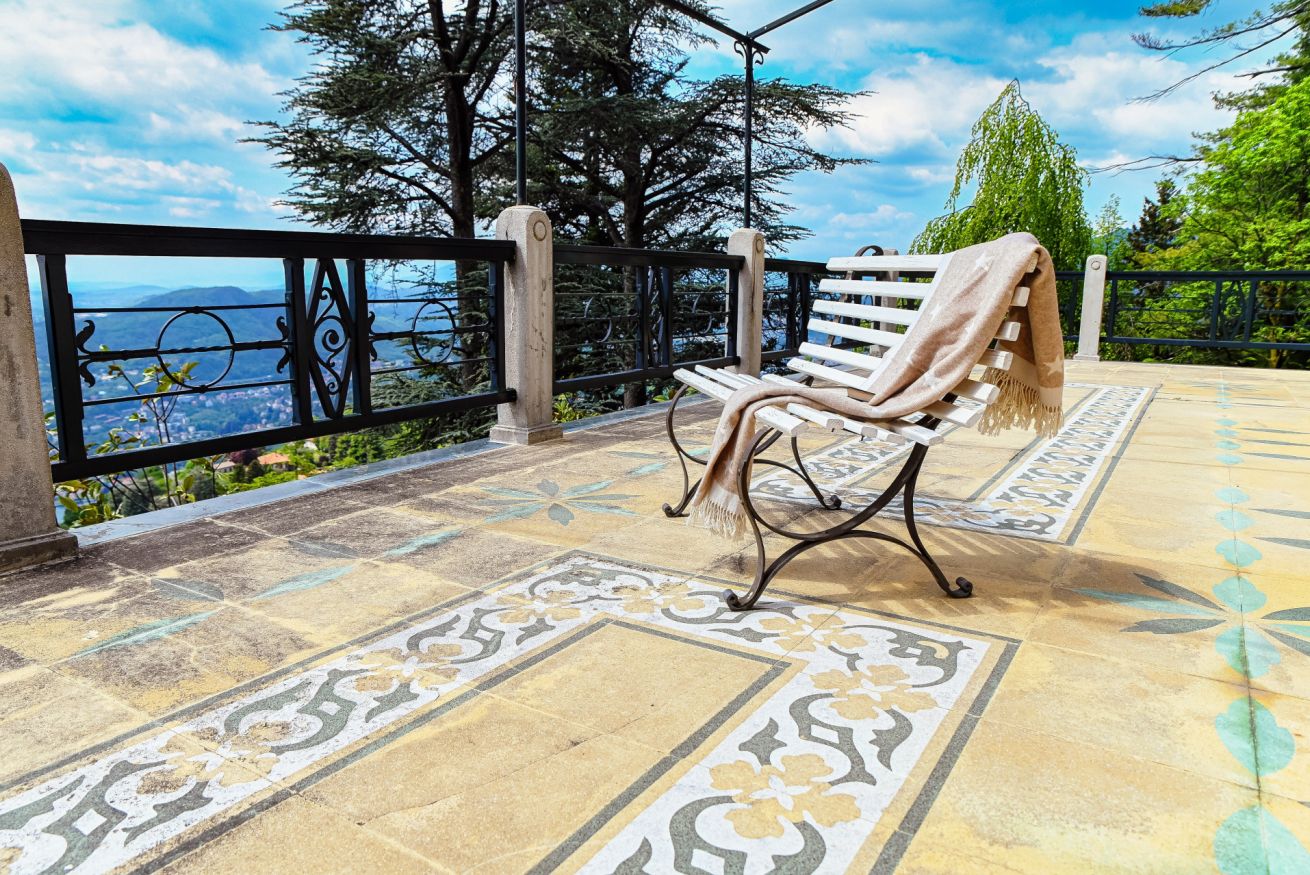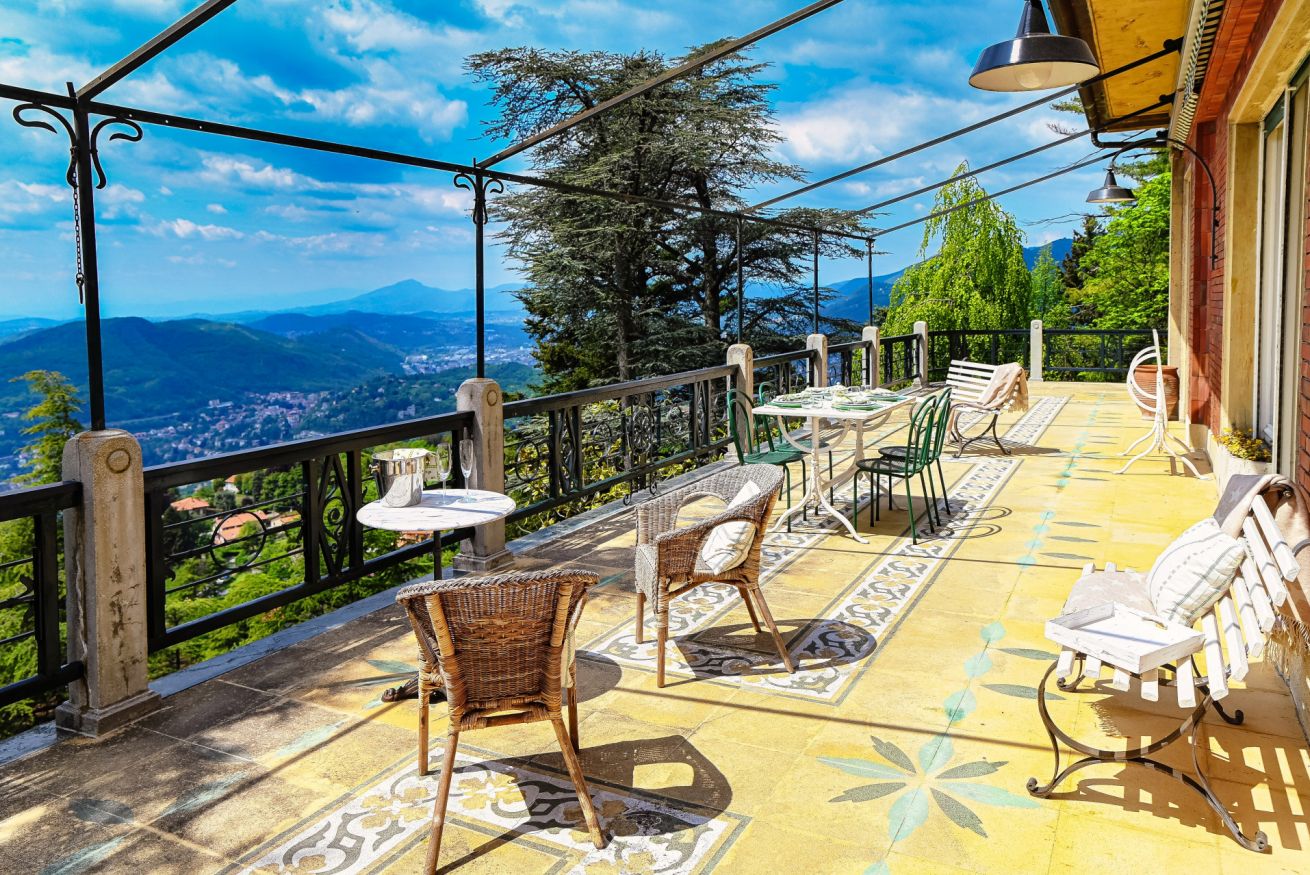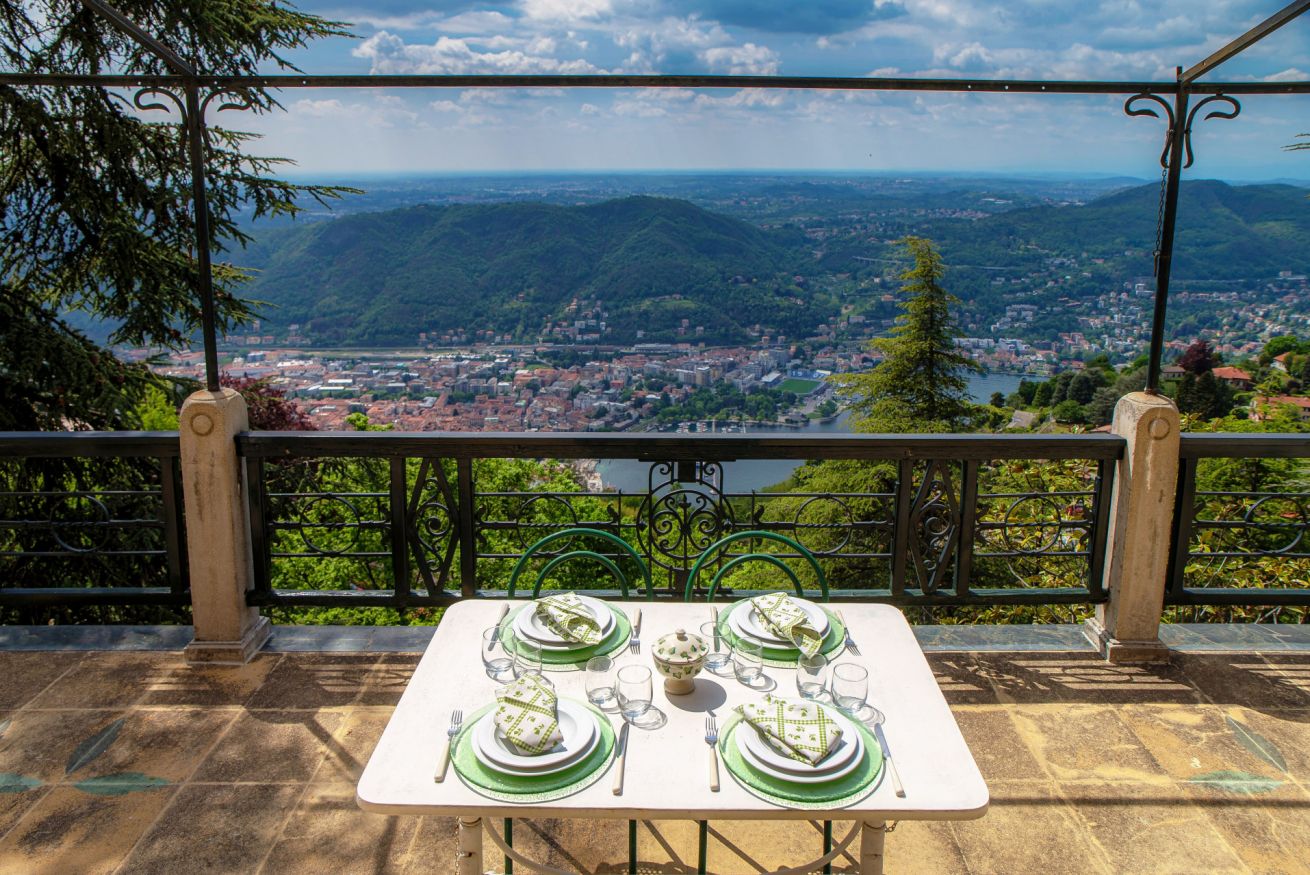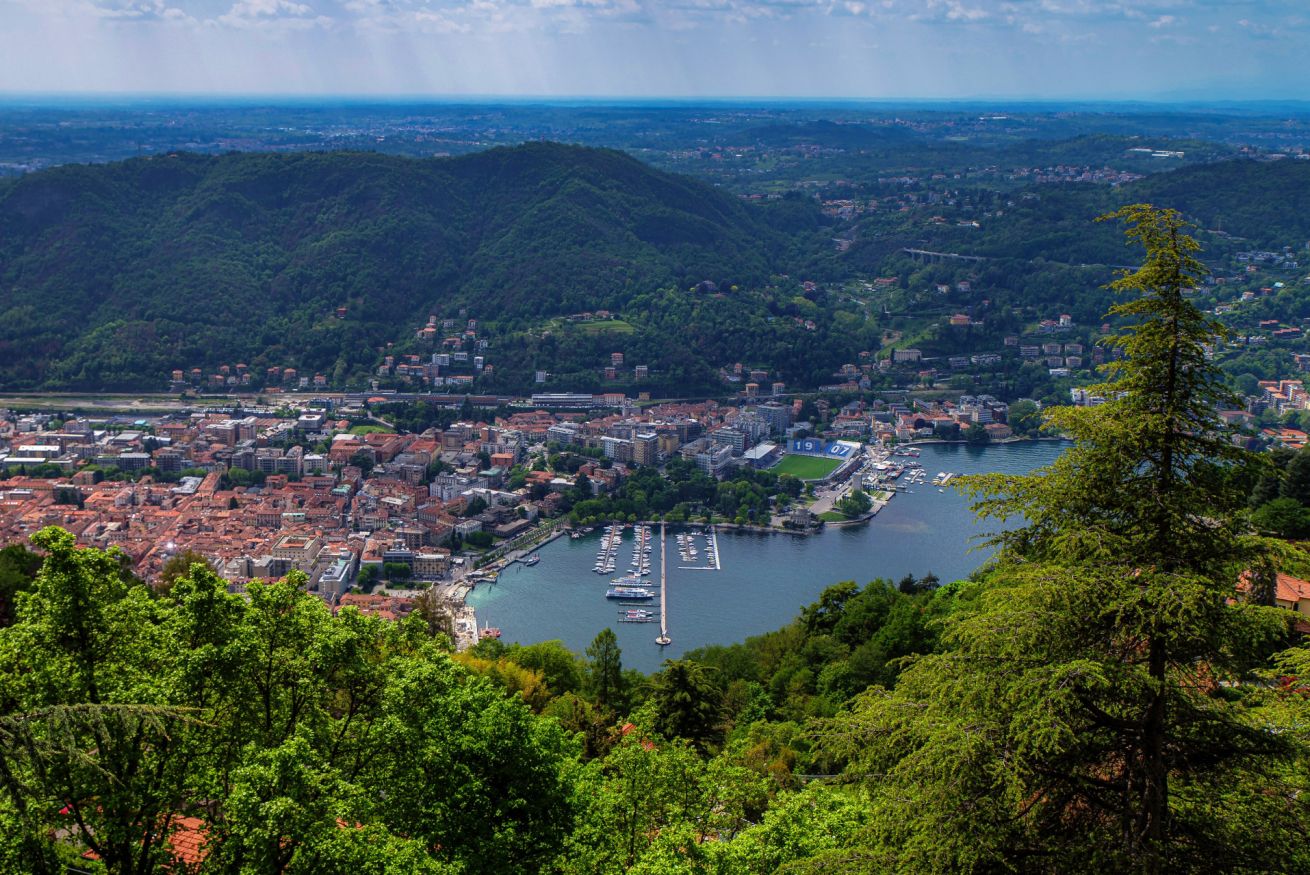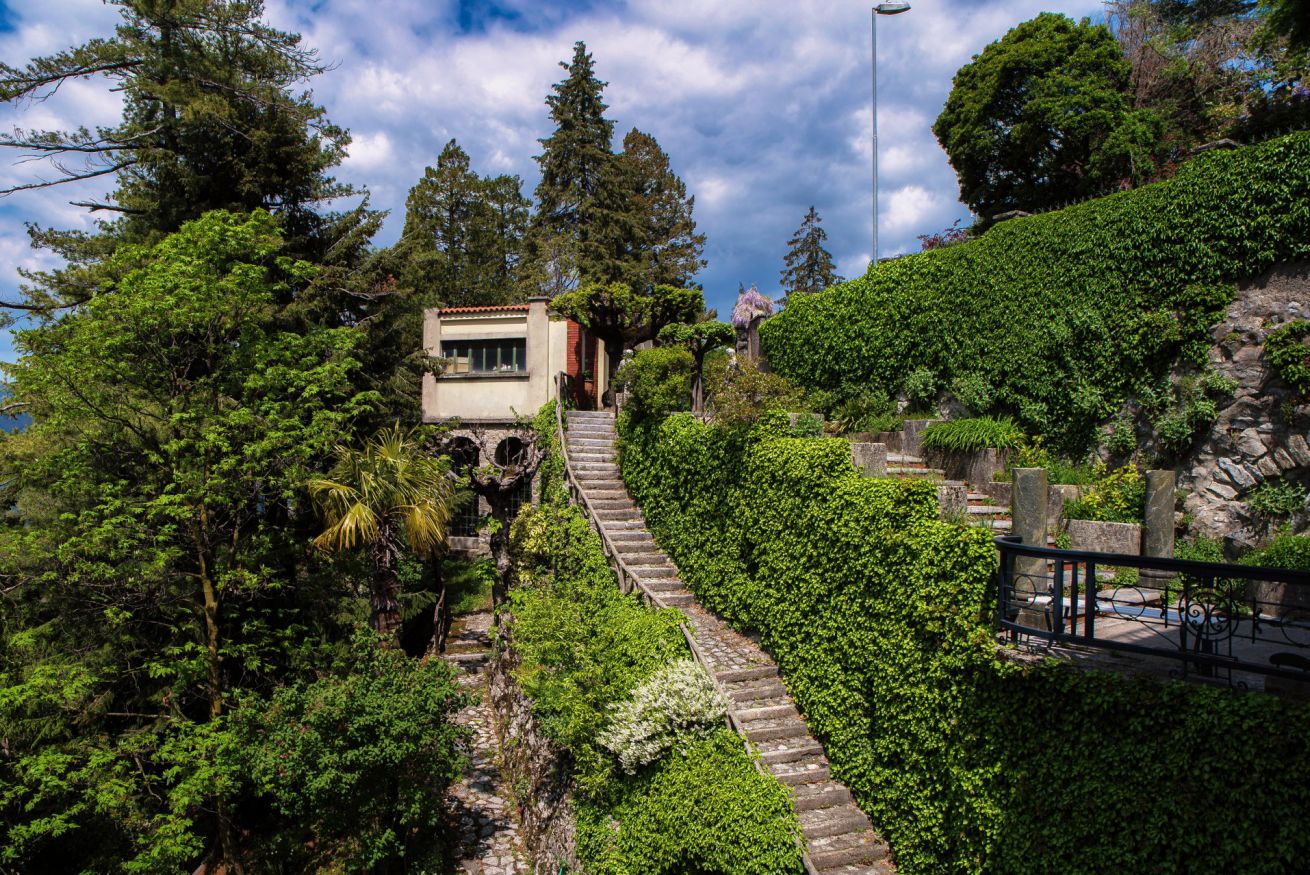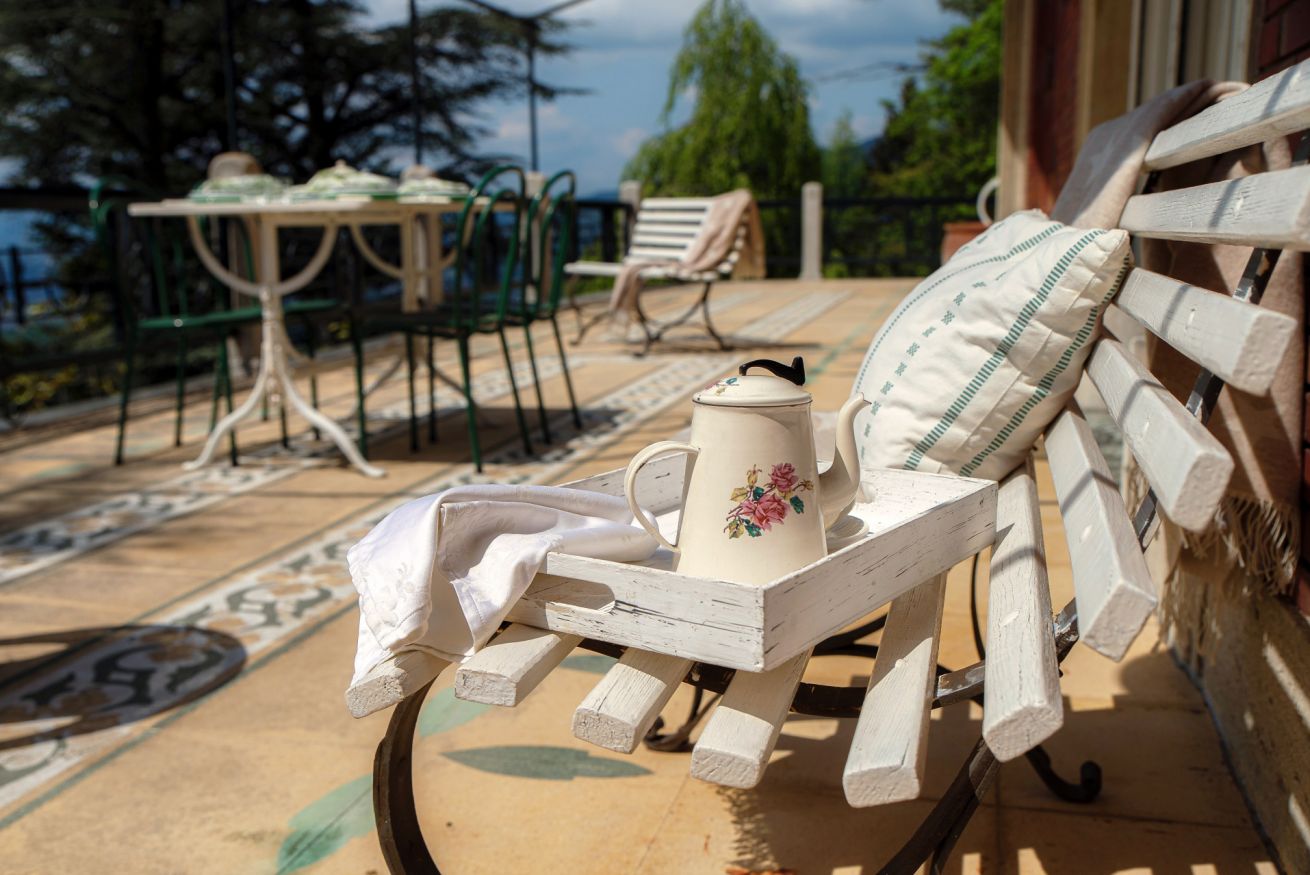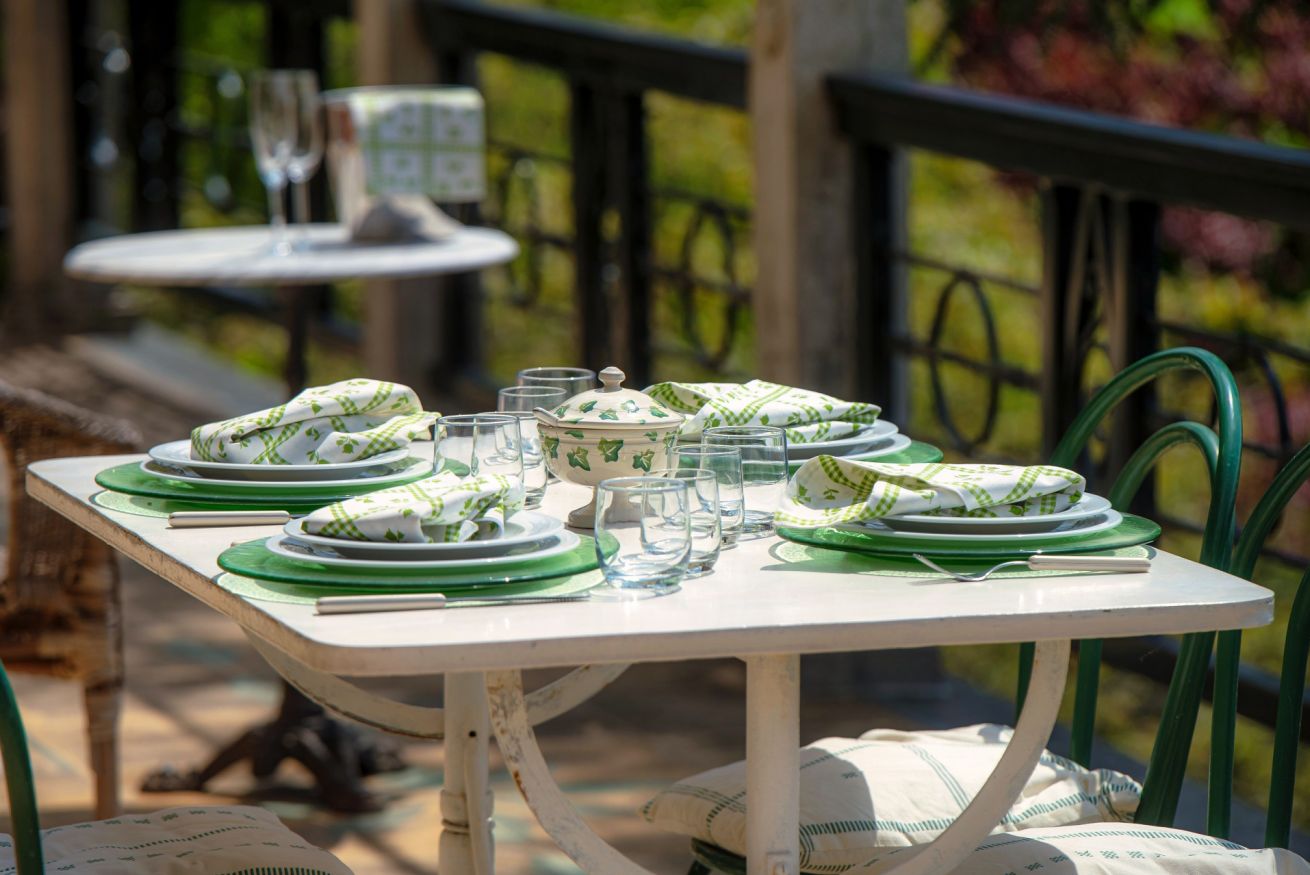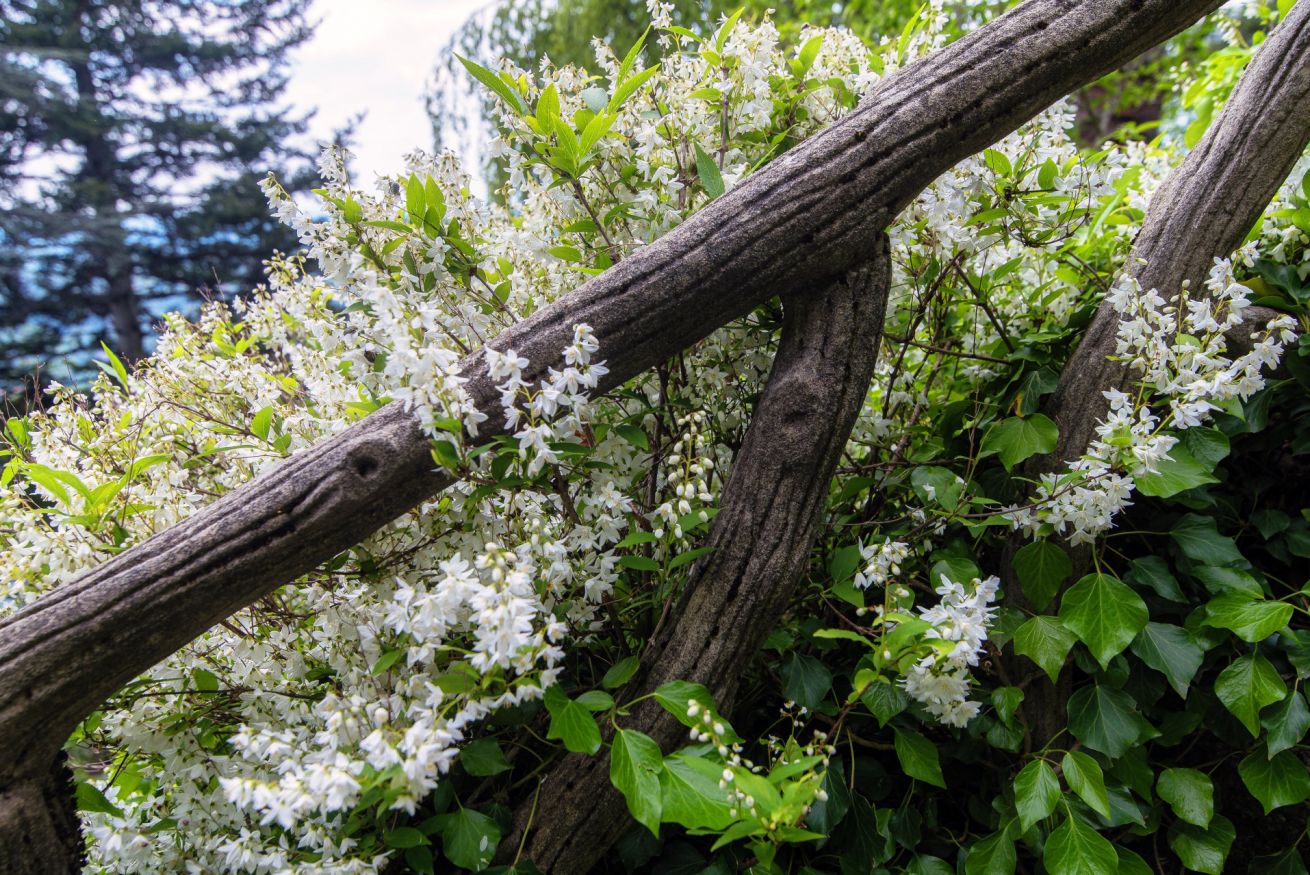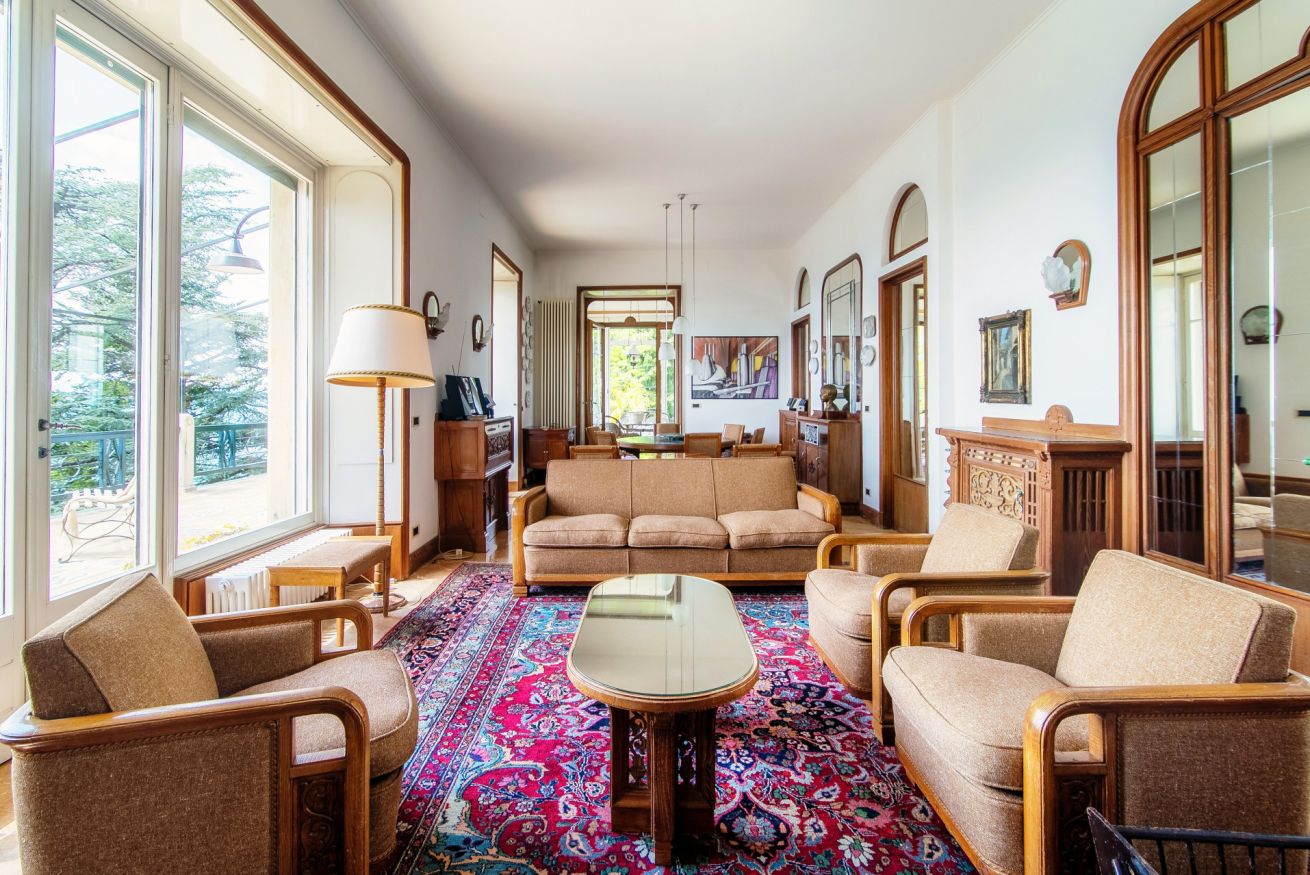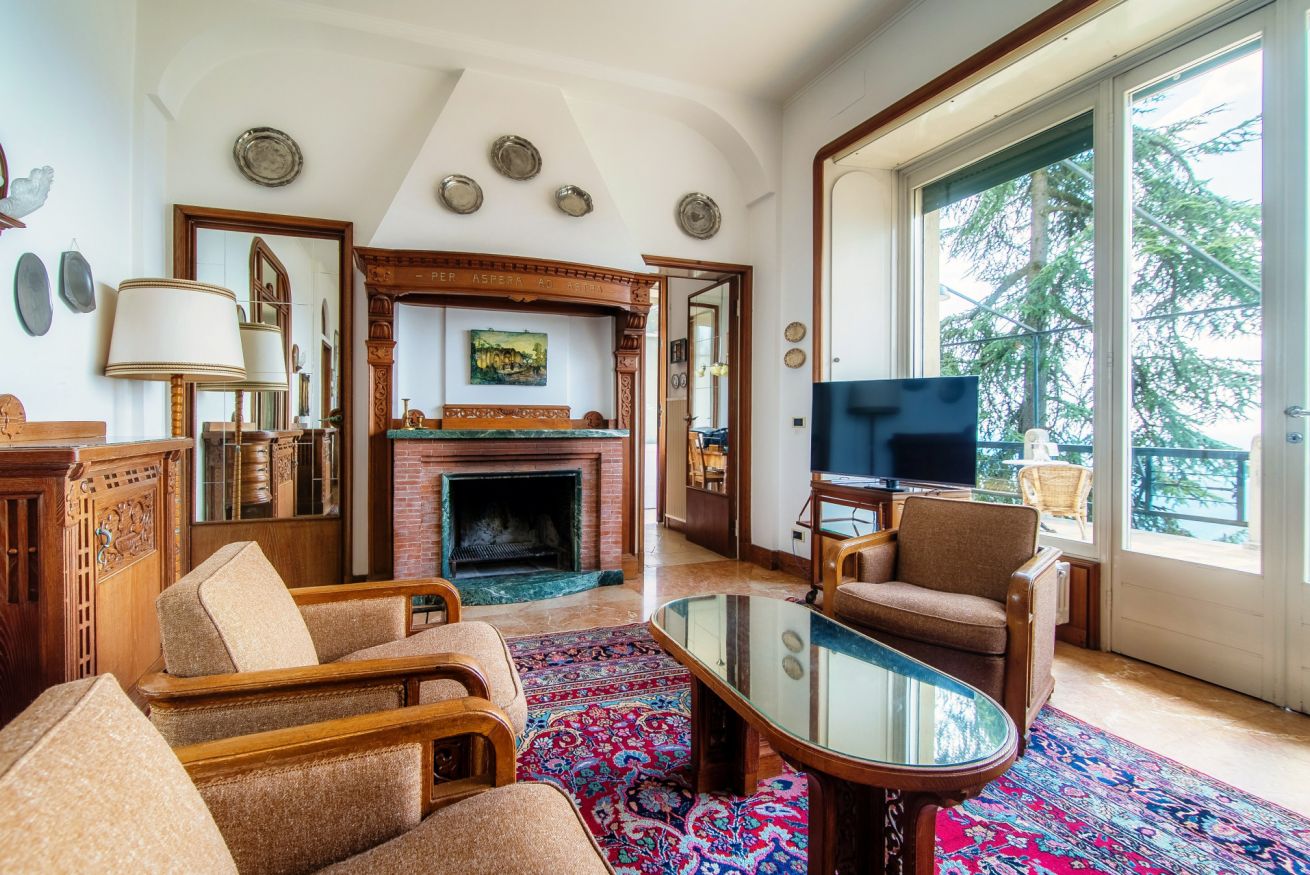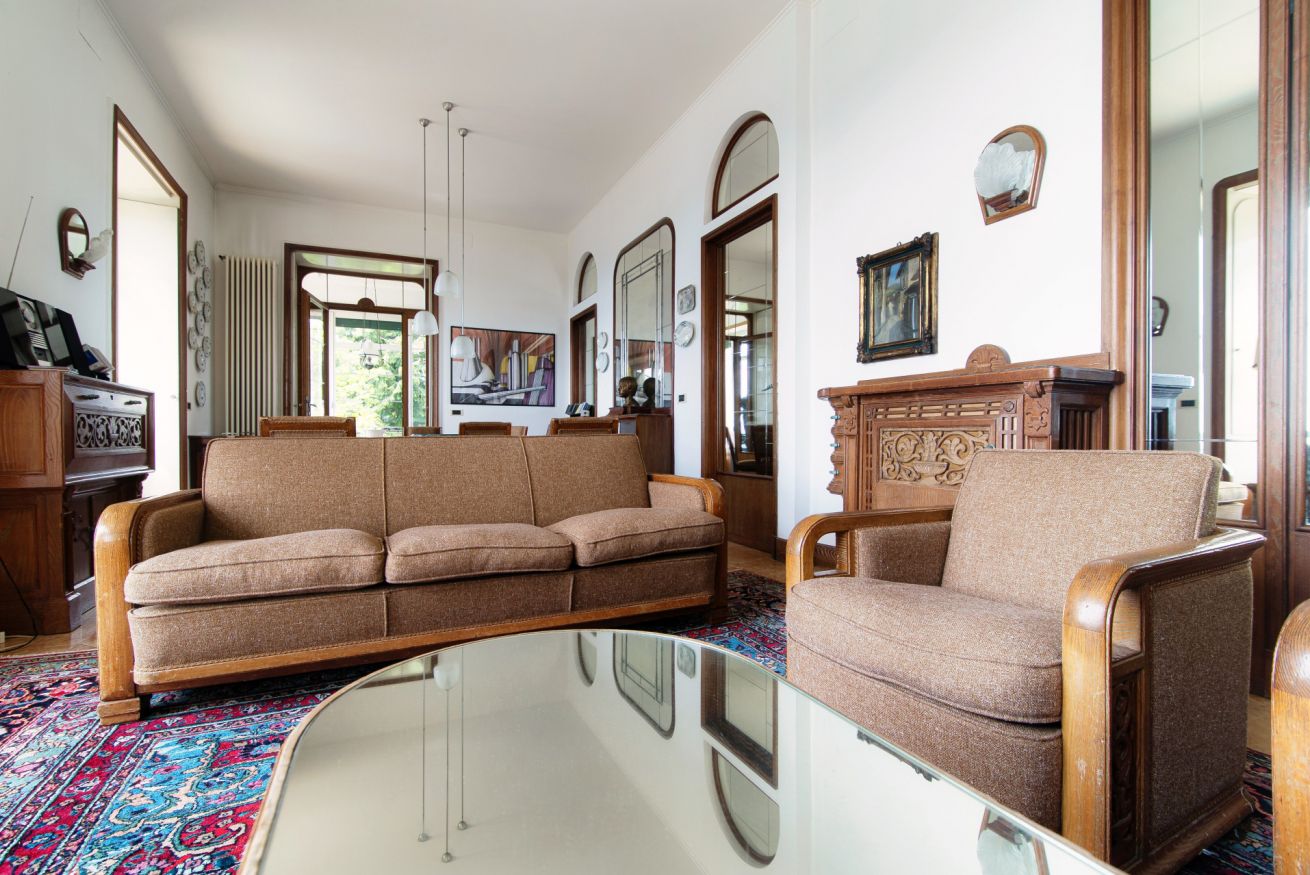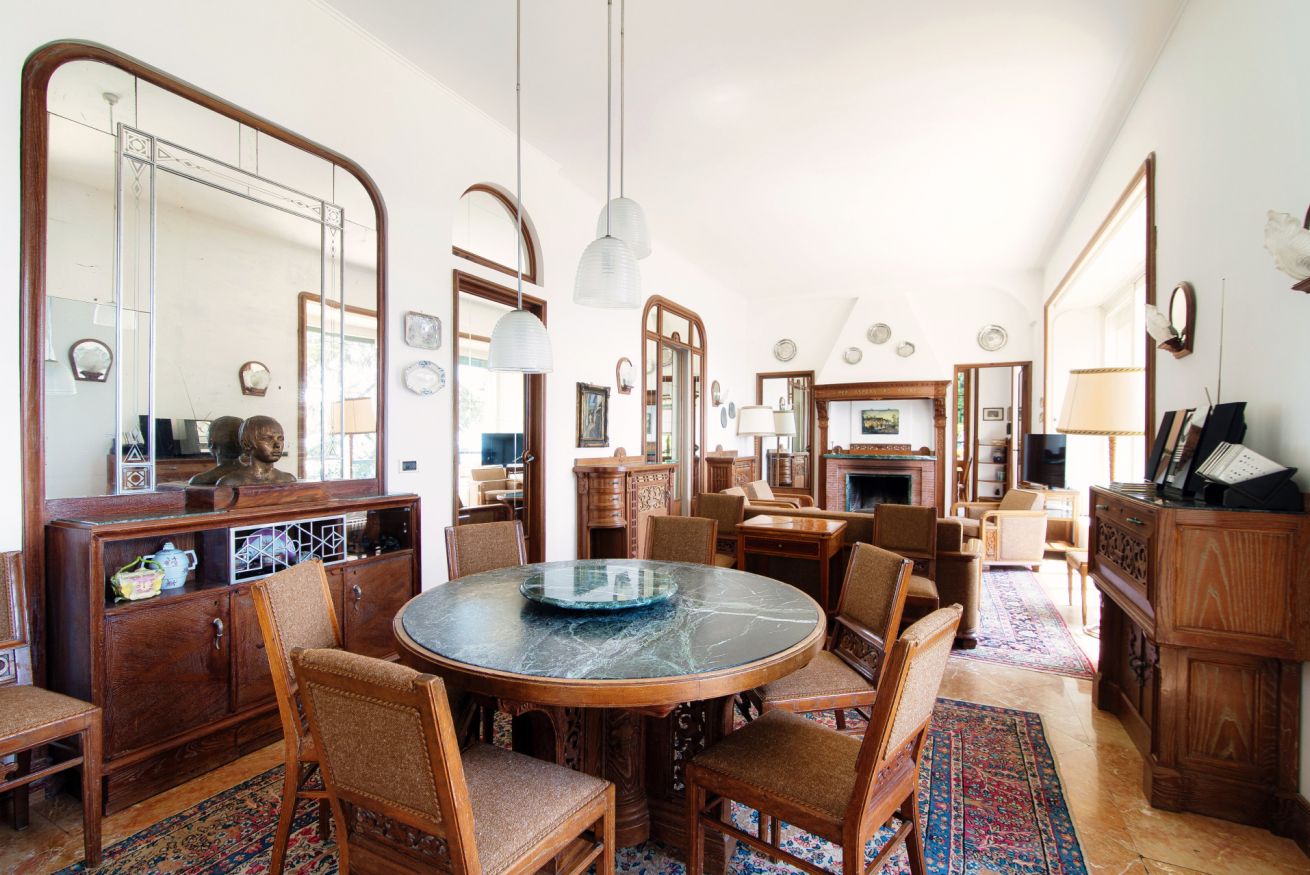 Fairy Tale - I Tigli
Apartment

- Via Nidrino 11 - Brunate
Description
GENERAL INFO
"Fairy Tale" - Villa I Tigli is a charming historic villa nestled in the captivating town of Brunate, overlooking the city of Como. This elegant villa is a true gem that will take you on a journey back in time. Its stunning architecture, lush park, breathtaking views of the city of Como, the surrounding mountains, and the Spina Verde di Como with the Baradello Castle all contribute to creating a magical and fairy-tale atmosphere. Furthermore, from this splendid residence, you can even enjoy magnificent views of the Monte Rosa massif and Monviso on the clearest days. Relax and unwind on the spacious terrace while admiring the sunset over the Swiss Alps; it will be a unique experience!

ADDITIONAL INFO
As soon as you enter the space, you'll feel as though you've entered a fairytale. Upon entrance, there is an orangerie with large windows and a garden view.
The villa's interiors are filled with vintage pieces, carpets, and antiques that transport you to a bygone era. The living room is airy and bright, filled with natural light. It opens to a large terrace which offers an inspiring view: the rooftops of Como, the lake, the nearby mountains, and the higher Alps in the distance.
The two floors on which the villa stands offer an excellent amount of space, more than enough to accommodate up to 6 people, thanks to the two double bedrooms and one bedroom with two single beds, each characterized by its unique style. The master bedroom features an en-suite bathroom with both a bath and a shower. The second bedroom has floral decorations, and the third bedroom is a corner room with two balconies and offers panoramic views. There is a second bathroom with a bath.
The villa is complete with all the necessary amenities.
As you retire to bed at night, you will be lulled to sleep by the gentle breeze and the peaceful sounds of the surrounding nature.

EXTRAS
In this property, pets are allowed at an extra cost to ensure allergy-friendly cleaning.
Baby beds are available at an extra cost.
Extra cleaning and linen are available at an additional cost.
Transportation can be provided, please contact us!

ACCESSIBILITY
To fully enjoy the park, mobility and comfortable shoes are required.
This property has two levels, connected by stairs. The bedrooms are on the second level.

PARKING
As you enter the courtyard, you will find a parking space for your convenience.

HIGHLIGHTS & HOME TRUTHS
>A magical ambience with breathtaking views of Como and the Alps.
>The winter garden offers an intimate space to enjoy drinks in the summertime.
>There is no air-conditioning in the villa, but the hilltop is cool and breezy even during the hottest summer days.

NEIGHBOURHOOD
Lake Como is renowned for its stunning natural beauty and picturesque towns, and the town of Brunate is no exception. Brunate is perched on a hill overlooking Lake Como and offers breathtaking panoramic views of the lake and the surrounding mountains. The town is dotted with luxurious villas that offer a glimpse into the area's rich history and culture.
These villas were once the summer residences of wealthy aristocrats who were drawn to the area's natural beauty and mild climate. Today, many of these villas have been restored and transformed into luxurious vacation rentals, offering visitors a chance to experience the grandeur and elegance of a bygone era.

GETTING AROUND
The villa is equipped with private parking, convenient for those who wish to reach the villa by car or motorcycle. Please note that the road to Brunate is narrow and may be challenging, especially with a larger car. Another option could be to take the funicular. The villa is just a 5-minute walk from the Brunate funicular station, approximately 200 metres uphill. The funicular allows you to reach the lakeside in just 7 minutes. During the summer season, there may be long lines at the ticket counter, so we suggest purchasing a ticket booklet in advance to avoid queuing each time - please note that ticket purchases can only be made in person at the ticket counter and not online.
In the city of Como and nearby towns, ASF Autolinee buses are in operation. Tickets can be obtained from the driver (cash only) or in designated places (bus station in Piazza Matteotti in Como, bars, and tobacco stores). Taxis are also available.
From the pier, a local ferry service will take you to Cernobbio, Torno, Bellagio, Varenna, Colico, and other lakeside towns. Please note – if travelling in high season, we advise you to be patient with long waiting lines at the ticket office. Tickets can also be bought online on the Navigazione Laghi website.
From Como San Giovanni station, there are regular trains departing to Milano Centrale and Switzerland (Lugano, Bellinzona, Locarno). From Como Nord Lago, there is a train connection to Milano Cadorna.
The nearest airports are Milano Malpensa, Milano Linate, and Orio Al Serio in Bergamo. It is possible to arrange a direct shuttle to and from the airport at an additional cost.
For more questions regarding transportation, please do not hesitate to contact us – we will be happy to help and ensure that you reach your preferred destination!

TIPS
>We advise you to take a day to visit the marvellous little towns around the lake. Como city is the urban centre of the area, but the little towns are gems with glorious lakeside villas.
>To travel and walk around Lake Como, especially in the little towns, comfortable shoes are a must.
>There are many public drinking-water fountains in the area, and the water is safe to drink unless stated otherwise. Tap water is also drinkable. You can carry your own refillable bottle!
>If you are looking for a relatively easy hike in the area and want to enjoy mountain views anyway, Lake Como Greenway is an easy-to-follow trail that doesn't require too much walking uphill. It connects the little towns from Colonno to Griante. A bus will take you from Como to the starting point in Colonno.
>You can hike Brunate-Como or Como-Brunate, there are two trails and the hike takes around 1 hour.
>Look for traditional restaurants where you can try local foods such as Lake Como fish dishes.
>In Italy, many shops (especially the little ones) and services are closed in the middle of the day, so be careful to plan your shopping accordingly.
>Lake Como is one of the deepest lakes in Europe and the deepest in Italy. Swimming and diving are prohibited in many areas and can be dangerous. For those who wish to dwell in the water, however, there are some options. In Como city, there is an outdoor pool near Villa Olmo, but swimming in the lake is not recommended and is mostly forbidden. There are beaches in other lakeside towns. A nice little beach awaits you in Careno. Please note that it can be crowded on weekends. Locals and visitors also enjoy travelling to Nesso where the bravest swimmers can jump into the lake from the ancient Roman bridge near the waterfall.
Lido di Bellagio and pebbly San Giovanni beach will be waiting for those who wish to travel farther and explore the beautiful town of Bellagio which lies in the middle of the two Larian branches.
>Lake Como is located in a mountainous region. The surrounding pre-Alps might not seem very high, but the climate is nevertheless affected by the nearby mountains, and temperatures can change quickly. Be particularly attentive to the weather when hiking, and bring some warm and waterproof clothes with you!

EXPERIENCES
There are so many great things to do around Lake Como! We can suggest and help you to arrange the following:
>Private boat rides
>Kayaks/SUPs in the lake
>Flights in a seaplane above the lake
>Yoga and meditation classes
>Wine tastings
>Cooking classes
>Hiking and foraging
>Mountain-bike tours
>Trekking in the mountains
>Guided tours to Milan

For more information, please contact us, and we will be thrilled to advise specific experiences that would suit your taste!

OTHER THINGS TO NOTE
Please note that all guests are required to pay a city tax of 1€ per night per person.
According to Italian laws, every guest's personal ID will be requested before check-in. In order to speed up the check-in process, we kindly ask all guests to fill out the online check-in form which is sent via e-mail along with the booking confirmation.
In this property, it is mandatory to separate the garbage. Recycling laws are strict in Italy.

Check-in: 15:00 - 19:00
Features
Check-in: 15:00 - 19:00
Check-out: 10:00
Standard occupancy: 2
Max occupancy: 6
Elevator: No